Welcome to Speedrun Sunday: that sadistic time of the week where we dare to challenge both your D-pad's durability and sanity's stamina with the ultimate test in video game bragging rights.
Hot off the dirt-clad kicks of our Mutant Mudds Collection challenge comes yet another ruthless run that will leave would-be heroes wishing they stayed in cryogenic sleep for a second century. That's right, fans of green-garbed heroics and hylian hi-jinx: We're polishing off our shields for a slippery sloped dash down Hebra Mountain in search of the speediest surfers Hyrule has to offer.
THE CHALLENGE
Who can surf down Hebra Mountain the fastest in Selmie's Advanced Course?
Our claim to fame is 01:31:17, which is sure to impress even the most mighty of Moblins among you. The hylian hero with the fastest time by Christmas morning will win a coveted $10 eShop card (North America), along with the illustrious title of Legendary Hero of Hebra.
THE RULES
Link must be wearing the Hylian Hood, though the rest of your outfit is up to you. Feel free to get creative!

There are no limitations on the shield chosen, so hop on whichever protective plate you like.

That said, participants must shield surf their way to the goal. No use of crazy, external methods to cheese your way to the finish line will be accepted.
The use of potions or food buffs is not allowed. Let's keep things au natural.

All submissions must be made using both the Switch's 30 second video capture feature depicting Link crossing the finish line and a matching

snapshot of Selmie shouting out your time (as shown in the image below).

The deadline for submissions was left intentionally vague to discourage last minute lurking. Make sure to share your times the moment you get them so you don't miss out on the prize!

Feel free to improve upon and submit new scores as many times as you like.

Switch version only.
Follow @NinWire and @cityw0k on Twitter and retweet this post to qualify for today's cash prize. After that, simply share your video and snapshot in the Twitter comments and we'll personally send both the prize and a social media shoutout Monday afternoon. Make sure to scribble your online alias using the Switch's editing feature so we know it was you.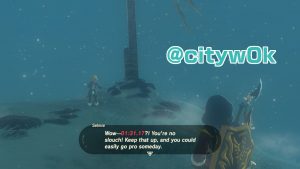 Remember, we'll be keeping score right here in the article all day, too, so you can easily keep track where your top rivals rank. Also, feel free to tune in to our Breath of the Wild livestream bright and early 9:00 a.m. PST where I'll personally be contending alongside today's top competitors for fame and glory. Who knows, I may even attempt something far more courageous than usual this time around you won't want to miss.
So whaddya say? Ready to open your eyes, raise your shields high and show that pompous snob Selmie what a real pro surfer can do? Afterall, "a [shield] wields no strength unless the hand that holds it has courage."
---
Legendary Hero of Hebra
1. @AlexChew_ [01:20:25]
Selmie's Second-rate Surfers
2. @CrimsonZEXAL [01:22:40]
3. @PixelSquid_ [01:23:12]
4. @SadSuya [01:23:25]
5. @CalvinieBobenie [01:24:74]
6. @cityw0k [01:28:73]
7. @haste132 [01:29:92]
Leave a Comment