Welcome to Speedrun Sunday: that sadistic time of the week when we dare to challenge both your D-pad's durability and sanity's stamina with the ultimate test in video game bragging rights.
Hot off the phantom limbed leaps of our Rayman Legends challenge comes yet another ruthless run that will leave you feeling so down and dirty not even Mario Sunshine's F.L.U.D.D. could wash away the shame. That's right, fans of super-soaked heroics and muddy misadventures: We're fueling up our jetpacks in search of the most efficient alien hunters Mutant Mudds Collection can muster.
THE CHALLENGE
Who can get the fastest time completing stage 1-4 in Mutant Mudds Super Challenge?
Our claim to fame is 00:00:43,73, which is bound to impress even the most malevolent of mudslingers among you. The water-pumped warrior with the fastest time by 12:00 a.m. EST will win a coveted $10 eShop card (North America), along with the illustrious title of Bravest Sludge Crusted Savior.
THE RULES
Got a favorite indie character? Choose whomever you like! I personally went with SteamWorld Dig's righteous robot, Rusty.

Abilities like the Power-shot, Extended Hover and Vertical Boost are all fair game.

All submissions must be made using the Switch's 30 second video capture feature accompanied by a matching leaderboard snapshot. Don't worry if the first few seconds of your run get cut off. It's the finisher that counts.

Switch version only.
Follow @NinWire and @cityw0k on Twitter and retweet this post to qualify for today's cash prize. After that, simply share both your video and leaderboard score in the Twitter comments, and we'll personally send both the prize and a social media shoutout to the winner on Monday afternoon. Make sure your in-game name matches your Twitter handle, or at the very least scribble your online alias using the Switch's editing feature so we know it was you.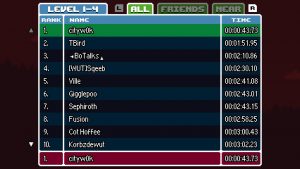 Remember, we'll be keeping score right here in the article all day, too, so you can easily keep track where your top rivals rank. Also, feel free to tune in to our Mutant Mudds Collection livestream at 4:00 p.m. PST where I'll personally be contending alongside today's top competitors for fame and glory.
So whaddya say? Ready to show those muddy minions who's boss? Put your gold diamonds where your mouth, pump up those water pistols and "Make it rain!"
---
Bravest Sludge Crusted Savior
1. @cityw0k [00:00:43,56]
Grade A Mutant Mudd Meat
2. @SeafoamGaming [00:00:47,60]
3. @autobotkirby1up [00:01:02,68]
Leave a Comment