Welcome to Speedrun Sunday: that sadistic time of the week when we dare to challenge both your D-pad's durability and sanity's stamina with the ultimate test in video game bragging rights.
Hot off the somersaulted flips of our freerunning Super Mario Odyssey challenge comes yet another ruthless run that will leave you feeling limp, limbless and at a total loss for words. That's right, fans of slaphappy heroics and Teensie tussled misadventures: We're winding up our fists alongside Rayman Legends in search of the greatest fleet-footed feats the Glade of Dreams has to offer.
THE CHALLENGE
Who can get the fastest time collecting 150 Lums in today's Daily Extreme Challenge – Murfy's Dungeon?
Our claim to fame is 00:35:91, which is sure to impress even the most tenacious of Teensies among you. The fastest time by 12:00 a.m. EST will win a coveted $10 eShop card (North America), along with the illustrious title of Number One Limbless Lum Lover.
THE RULES
Only Ray Plumber is allowed for the purposes of this challenge. I just couldn't resist adding a little flower power to the mix.

Fortunately, these dailies aren't one-and-done, so feel free to improve upon and submit as many scores throughout the day as you like!

Switch version only.
Follow @NinWire and @cityw0k on Twitter and retweet this post to qualify for today's cash prize. After that, simply snap two screenshots of your leaderboard score (as shown below) and share it in the Twitter comments, and we'll personally send both the prize and a social media shoutout to the winner on Monday afternoon. Make sure your in-game name matches your Twitter handle, or at the very least scribble your online alias using the Switch's editing feature alongside your fanciful feat so we know it was you.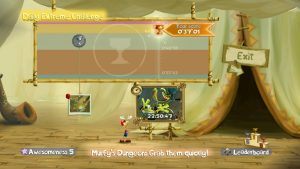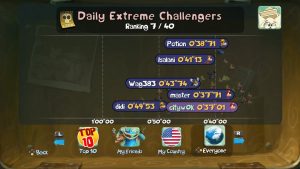 Remember, we'll be keeping score right here in the article all day, too, so you can easily keep track where your top rivals rank. Also, feel free to tune in to our Rayman Legends livestream at 6:30 p.m. PST when I'll personally be competing alongside the top competitors for fame and glory.
So whaddya say? Ready to put your platforming prowess to the test? Should the competition prove too fierce, remember the wise words of the Glade's jolly Globox, "It's only a video game. It's only a video game."
---
Number One Limbless Lum Lover
1. @mccgavin99 [00:35:88]
Second Rate Raymen
2. @cityw0k [00:35:91]
3. @JediMazterAndy [00:36:21]
Leave a Comment