Yesterday saw the release of Mario + Rabbids Kingdom Battle, the long-rumored crossover that truly had to be seen to be believed. Officially revealed at E3 earlier this year, most people didn't put a lot of faith in this game based on rumor alone — with good reason. However, after about five minutes of seeing the game at Ubisoft's presentation back in June, I was completely sold.
With the game now in our hands, I'm definitely excited to venture out into Mario's Rabbid-infested world, but I also can't help but think of other times when Nintendo has lent its star franchise to a wacky crossover, or vice-versa. I thought I'd take the time to look back through some of the red-clad plumber's most interesting outings with third parties.
Mario & Sonic at the Olympic Games
We're gonna hit the big one, right out of the gate. Announced back in 2007, Mario & Sonic at the Olympic Games was a historic collaboration between Sega and Nintendo. Sure, the two companies had collaborated before; after Sega got out of the console business and moved into developing software they worked together to create and publish the critically-acclaimed F-Zero GX and it's arcade counterpart, F-Zero AX. However, it would be another four years before the companies' mascots would share the spotlight in a single title.

In 2006 Sega was awarded the official license for the Beijing 2008 Summer Olympics, and approached Nintendo about including Mario in the festivities. Nintendo quickly agreed to partner with Sega, working with the team on quality control, and with Shigeru Miyamoto becoming a senior producer on the project. Nintendo and Sega felt that the setting of the Olympics was perfect for their rival mascots, given that the Olympics promote competitive sportsmanship, as well as providing an opportunity to interest young people in the events themselves. The collaboration was a definite success, with a Winter Games edition releasing two years later, followed by a release of a Mario & Sonic game for every subsequent Olympics since.
Tetris
This little crossover isn't anywhere near as obvious, since Mario takes a backseat to all the block-dropping action. The truth is, Mario and Tetris have a long history together, going all the way back to the early days of the NES and Game Boy. Before wireless connectivity was big, or even possible, really, Nintendo developed the Link Cable for one purpose. Was it for trading Pokémon? No, not at first — the Link Cable's original purpose was to allow players to compete against one another in games of Tetris. When two players connected in order to face off in Tetris, player one was represented by Mario, and player two by Luigi. If you won, your corresponding Mario Bro would jump for joy, while leaving the other brother to curl up and cry in shame — no, really, check it out in the screenshot below: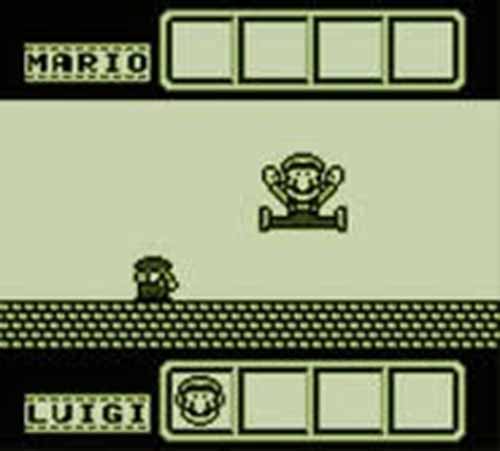 Mario was also featured on the victory screen of the NES version of Tetris, alongside other characters like Samus, Pit and Link, if you could get all the way through Type B Mode. There were also a few NES cartridges that had Mario and Tetris sharing the spotlight; the 3-in-1 cartridge featured Super Mario Bros., Tetris and Nintendo World Cup, along with a puzzle-focused cartridge featuring both Tetris and Dr. Mario.
The collaborations didn't stop there — in Tetris DS, most of the main levels are themed after Super Mario Bros. And Super Mario Bros. 3. Of course, these were all easy crossovers for Nintendo to implement, because it produced both the NES version of Tetris and Tetris DS, allowing the company to include any of its characters as well as bundle the game with its own titles as it pleased.
Mario Hoops 3-on-3 and Mario Sports Mix
I've gotta be up front here: Most Mario crossover games that have been released in the last decade or so have been sports related. There are plenty of Mario sports titles that don't feature crossover characters, though there is one sport in particular that received the Final Fantasy treatment. Back in 2006, Square Enix was working on a basketball game that was meant to be an original property, but felt that Mario would be a much better fit. After Square Enix approached Nintendo with the idea, it agreed to let Square Enix develop Mario's first full-on basketball title. The game mostly features Mario and his buddies, but five of the 21 playable characters are from outside the Mushroom Kingdom, courtesy of Square Enix. After winning various trophies in different tournaments, you can unlock Moogle, Ninja, White Mage, Black Mage and Cactaur as playable characters, all of them ready to play ball with the rest of Mario's friends.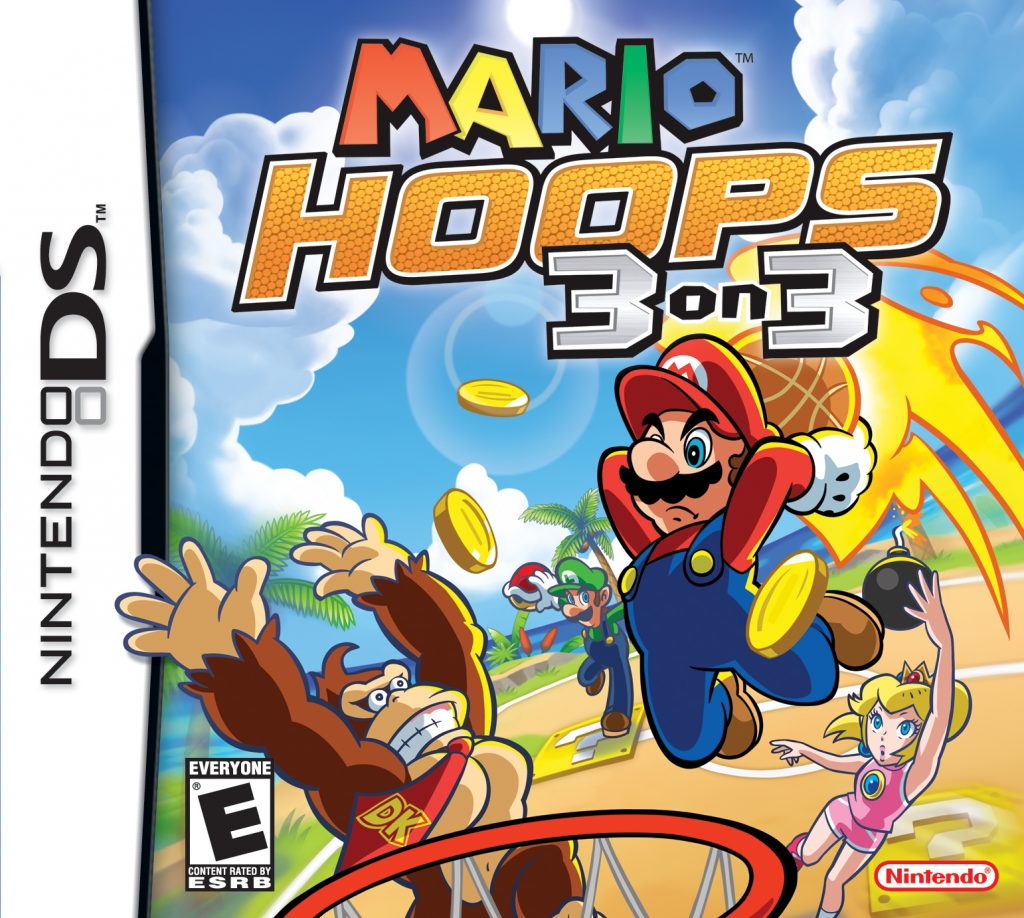 Square Enix would return to develop a sequel to Mario Hoops a few years down the line, this time featuring four different sports: Basketball, Hockey, Dodgeball and Volleyball. There are fewer playable characters in Mario Sports Mix, but all five of the Final Fantasy guests return, joined by Slime from the Dragon Quest series; all six characters are unlockable, and are the only unlockable characters in the game.
NBA Street V3 and SSX On Tour
Like I said, Mario's got a lot of sports game crossovers. This time around it's Mario and his pals who take a little bit of a backseat, with them becoming guest characters inside of a few EA Sports games. Mario Hoops may have been Mario's first basketball-centric game, but it wasn't the first time Mario had hit the court. The GameCube version of 2005's NBA Street V3 featured Mario, Luigi and Peach as playable characters as part of a deal between EA and Nintendo to feature Nintendo properties in a few EA games. While it was only a guest appearance from the three characters and not much else, NBA Street V3 did give us one thing that has stuck around in future Mario sports games: this game was the first appearance of Peach's current standard sport attire, the tank top and short shorts, rather than her pink minidress worn for Tennis and Golf.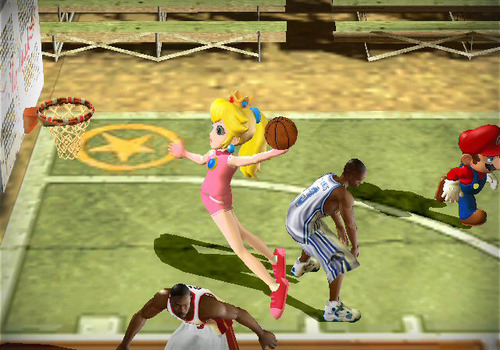 Another game that was part of the Nintendo/EA deal was SSX on Tour, with the GameCube version featuring the same three characters as NBA Street V3. This time there's more than just playable character cameos, though not by much. There's an entire track influenced by Mario, called Nintendo Village. It's designed like a standard SSX city-style track, but features Mushrooms, Stars, Fire Flowers and Gold Coins painted on the snow and featured on signs and billboards.
More to come
Though none of these crossovers are as intricate or world-mixing as Mario + Rabbids: Kingdom Battle, they show that the Big N loves to play nice with third parties and knows what it's doing when it comes to sharing its characters and properties. There are definitely more Mario crossovers out there, and plenty of games love to feature small references to Mario and his pals. Later this week we'll be covering some games with Mario Easter eggs and cameos, so let us know some of your favorites on Twitter and they could be featured!
Leave a Comment