After making a stop at Glendale, Arizona this weekend, Nintendo will be returning to the massive convention that is San Diego Comic-Con. For a total of four days, Nintendo will be transforming the Marriott Marquis & Marina hotel's ballroom into a gaming paradise where its booth inside the convention center will be channeling a bit of E3's New Donk City.
Yup, that's right; for the second time this year, Super Mario Odyssey will be playable in the United States, but only if you have an elusive SDCC badge. From Preview Night (Wednesday) to Day 4 (Sunday), you can try your hand at throwing Cappy. If you'll be attending the convention, you'll want to line up early — no matter where Nintendo goes it seems the demand to participate in the company's events gets higher and higher.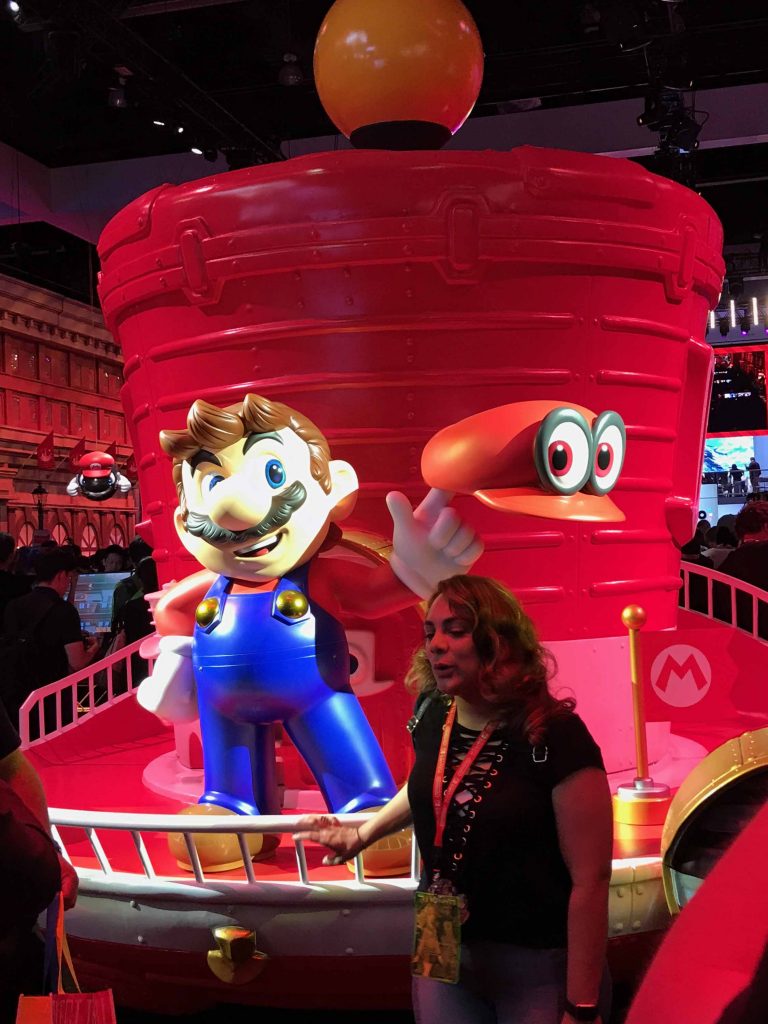 If you're badgeless then don't fret, the Summer of Play 2017 Tour stop at the Marriott Marquis & Marina is free to the public. Just like previous years, Nintendo will have multiple demo stations set up of new and upcoming games — sadly though, there won't be any Super Mario Odyssey here. Pokkén Tournament DX, Splatoon 2, Mario + Rabbids Kingdom Battle, EA SPORTS FIFA 18 and Flip Wars for the 3DS are some of the standout picks, which is pretty exciting, especially since some of these games haven't been playable to the public since E3!
Photo opportunities are returning! Just in time for Splatoon 2's release, there will be a Splatoon themed photo booth. There, fans can't only take photos, but they'll have some fresh weaponry to pose with thanks to Sheldon! Nintendo will also have Heidi O'Ferrall (@AtelierHeidi) and Leo Camacho (@LeoZombie) dressed as Inklings; they'll be available for photos during specific times.
What do you think? Does this all sound pretty good? Well, if you plan to make an impression as the biggest squid kid around, you'll want to head to the photobooth, stat! For the first 20 fans each day, Nintendo is promising "game-themed gifts."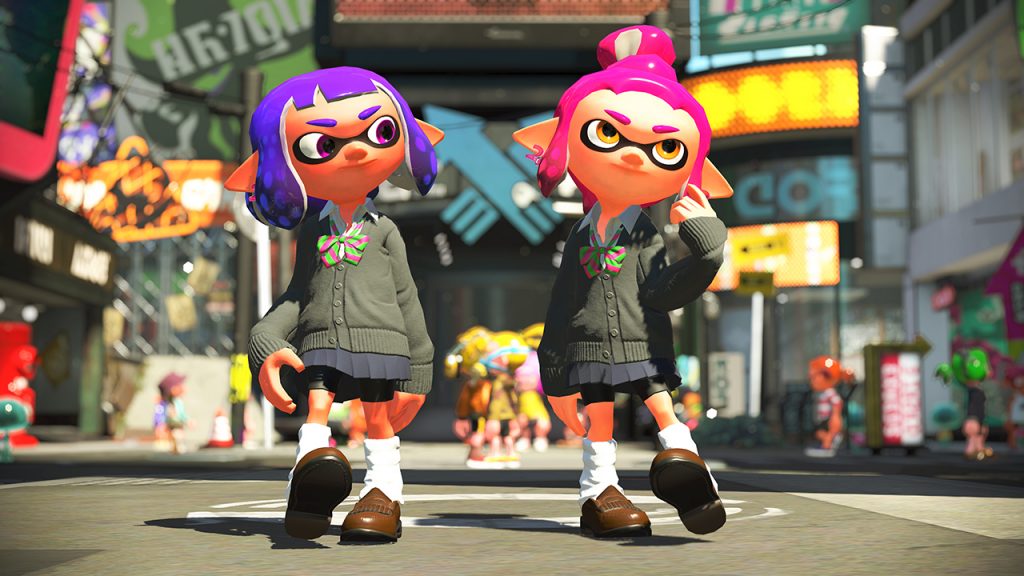 Lastly, like previous years, competitions of sorts will be held. Last year's triathlon — made up of Splatoon, Mario Kart 8 and Pokkén Tournament — is back, but with a 2017 roster. Splatoon 2, ARMS and Pokkén Tournament DX make up this year's lineup. Dubbed the Play Nintendo Challenge, fans can earn some swag and the winner of each tour de gaming will earn a t-shirt at the end. As someone who partook in this last year and proceeded to choke at the tie-breaking match with Pokkén Tournament, I can assure you these competitions are fun. Start practicing Turf War, Grand Prix and your Pokkén mains, as you'll only be able to compete on July 20th, 21st and 23rd.
Unsure if you want to go? Check out our experience at the first stop of Nintendo's Summer of Play 2017 Tour. Before you go though, definitely grab your QR code from My Nintendo so you can get that sweet, sweet My Nintendo water bottle.
If you want to check out the full press release, scroll on down:
REDMOND, Wash., July 13, 2017 – For anyone in San Diego between July 20 and July 23, Nintendo has a ton of fun activities planned at Comic-Con and the nearby San Diego Marriott Marquis & Marina hotel that people of all ages can enjoy. In addition to a playable version of the Super Mario Odyssey game at the San Diego Comic-Con booth, the San Diego ballroom of the Marriott Marquis & Marina will be transformed into a colorful Nintendo paradise – perfect for taking amazing photos and playing some great games starring some of Nintendo's most recognizable characters!
 
Visitors to the ballroom will be able to play upcoming Nintendo Switch games like Splatoon 2 and Pokkén Tournament DX, as well as experience the first hands-on time in North America with Flip Wars (previously known as Project Mekuru), a new multiplayer action game launching exclusively in Nintendo eShop on Nintendo Switch on Aug. 10*. In the upcoming game, players flip over panels – and opponents – by stomping the ground and using power-ups to outwit the competition. Attendees can also play select Nintendo 3DS games in 2D on the New Nintendo 2DS XL system before it launches in stores later this month. Fans can also participate in competitions sponsored by Nintendo for a chance to win prizes, catch a glimpse of the upcoming Super NES Classic Edition hardware and celebrate the launch of Splatoon 2 with special game-themed activities. And all of the events in the Marriott Marquis & Marina can be enjoyed by anyone in the San Diego area!
 
"Bringing our games and experiences directly to the fans is very important to us," said Doug Bowser, Nintendo of America's Senior Vice President of Sales and Marketing. "Since San Diego Comic-Con is full of so many Nintendo fans of all ages, it's the perfect place to let everyone enjoy many of our upcoming games."
 
Fans who want to show off their competitive side will have multiple opportunities to compete in an ongoing multi-game competition, the Play Nintendo Challenge, for the chance to receive cool giveaways and a chance to win a prize, while supplies last. These competitions are open to the public and will be hosted at the San Diego Marriott Marquis & Marina space at various times throughout the week. Participation will be on a first-come, first-served basis**. If selected, competitors will start with an eight-player Turf War match in Splatoon 2. The winning team of four will then compete against each other in the hit fighting game ARMS. The final two players will enter the finals with a one-on-one battle in upcoming Nintendo Switch game Pokkén Tournament DX. The Play Nintendo Challenge will be open 10 a.m.-7 p.m. on July 20 and July 21, and 10 a.m.-5 p.m. on July 23.
 
Playable games scheduled to appear at San Diego Comic-Con and the Marriott Marquis & Marina include the following:
 
San Diego Convention Center – Nintendo Booth (No. 235)

Super Mario Odyssey (Nintendo Switch)

San Diego Marriott Marquis & Marina
Nintendo Switch

Nintendo 3DS

Since Splatoon 2 launches during San Diego Comic-Con this year (July 21), fans will be able to take part in some extra-fresh Splatoon 2 activities. A Splatoon 2-themed photo booth will be set up at the Marriott Marquis & Marina to let fans take eye-catching photos with replicas of Splatoon 2 weapons. Two professional Splatoon 2cosplayers, Heidi O'Ferrall (@AtelierHeidi) and Leo Camacho (@LeoZombie), will even visit the booth at select times to celebrate the game's launch and take photos with fans. The first 20 fans per day that show up to the Splatoon 2 photo booth in Splatoon costumes will receive game-themed gifts.
 
Remember that Nintendo Switch and Nintendo 3DS feature parental controls that let adults manage the content their children can access. For more information about other features, visit http://www.nintendo.com/switch/ or http://www.nintendo.com/3ds.
 
*Additional games, systems, and accessories may be required for multiplayer mode and sold separately.
 
**Official rules for the Play Nintendo Challenge will be available at the Marriott Marquis & Marina prior to the competition. Each winner of the final Pokkén Tournament DX round of the Play Nintendo Challenge will receive a Nintendo-themed T-shirt. (ARV $21.25)
 
About Nintendo: The worldwide pioneer in the creation of interactive entertainment, Nintendo Co., Ltd., of Kyoto, Japan, manufactures and markets hardware and software for its Nintendo Switch™ system and the Nintendo 3DS™family of portable systems. Since 1983, when it launched the Nintendo Entertainment System™, Nintendo has sold more than 4.4 billion video games and more than 703 million hardware units globally, including Nintendo Switch and the Nintendo 3DS family of systems, as well as the Game Boy™, Game Boy Advance, Nintendo DS™ family of systems, Super NES™, Nintendo 64™, Nintendo GameCube™, Wii™ and Wii U™ systems. It has also created industry icons that have become well-known, household names, such as Mario, Donkey Kong, Metroid, Zelda and Pokémon. A wholly owned subsidiary, Nintendo of America Inc., based in Redmond, Wash., serves as headquarters for Nintendo's operations in the Americas. For more information about Nintendo, please visit the company's website at http://www.nintendo.com.
---
Source: Nintendo PR
Leave a Comment