The Friday prior to E3 I found myself undergoing the daily life of a Southern California resident: traveling through various freeways that, once said aloud, sounds like I'm making a fast food order for a party of ten. The CD selection of the morning consisted of me switching between Nintendo soundtracks, F-Zero and Mario Kart music. Heading over to Nintendo's Summer of Play Tour was an ideal way for me to celebrate summer early with my brothers, and after seeing the promise of swag for My Nintendo members at the event, we knew that it would be a fantastic day.
A NOT SO LONG TIME AGO…
Before I get started, let me give you a baseline of sorts. A couple years ago, I remember going to Nintendo's previous stop in Irvine, California to its Nintendo Play Tour 2014. The atmosphere was different: a bit quiet and subdued. This was after San Diego Comic Con, where Super Smash Bros. for Wii U and 3DS was playable for the first time, and Nintendo was still trying to sell the Wii U. The hardcore fan base came in droves to Comic Con where it took at least an hour in line to play Super Smash Bros. for 3DS. Here in Irvine though? No wait. My brother Chris and I proceeded to pummel one another with ease instead of being confined to Smash Run with the 3DS version.
That wasn't the only difference between the two cities' events. The demo stations around this particular tour showcased games that were already released (for the most part) — and for the 3DS only, too. If you wanted to play a Wii U game at all, you had to get a qualifying time from Mario Kart 7 to try your hand at Mario Kart 8. Not only that; the amiibo craze hadn't hit yet, and I don't recall there being a display case of prototypes to ogle over. While the tent setup was quite large, it never felt truly full with people.
SWITCH IT UP
Comparing that previous experience to this new one will show you exactly how much things have evolved at Nintendo events. The energy changed the moment my brothers and I saw Mario, specifically from some Mario Kart 8 Deluxe stock art, being displayed on an oversized electronic billboard screen as we were pulling into a parking lot. It read "Nintendo Summer of Play 2017" and my youngest brother responded back "Ohhh! Jen! Look! Mario!" Not even setting one foot out of the car, Nintendo had earned a point in its favor.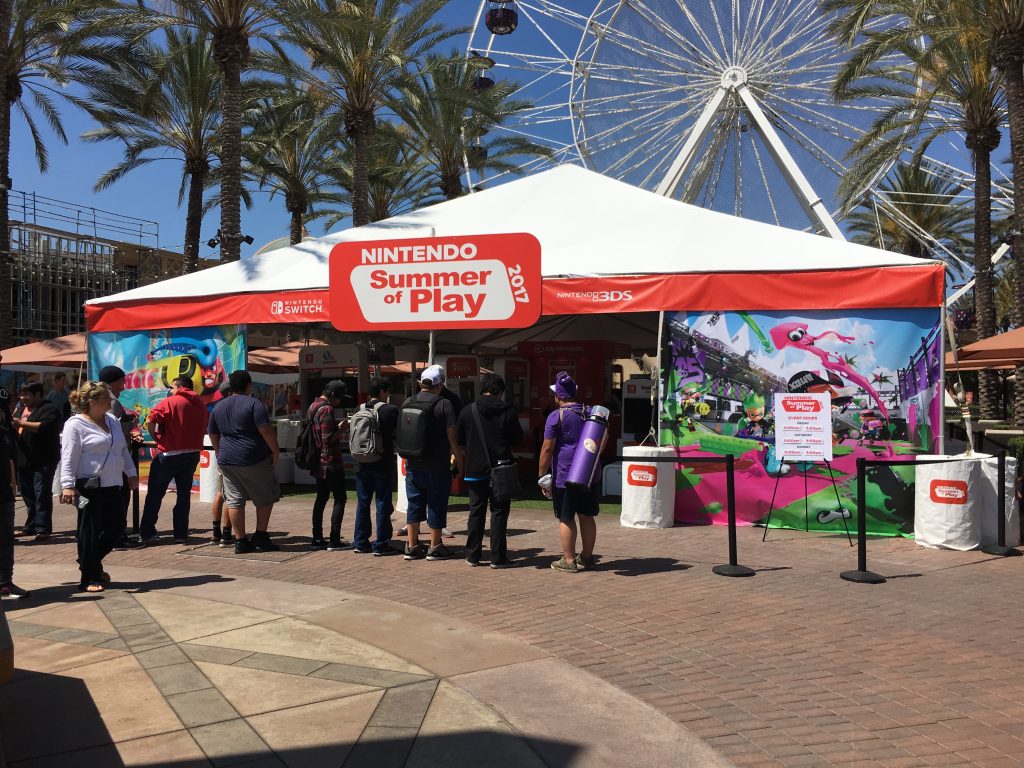 Slated from 11:00 a.m. to 9:00 p.m. at the Irvine location, a line had formed before opening. Arriving around 10:30 a.m., there were already about 40 people ahead of us. The tent structure from years' past was there — maybe slightly bigger — and if actually was, it wasn't by much. Staff was still getting things in order and meeting up to prep for what would turn out to be an onslaught of fans. They were also decked out with tour crew shirts with a full location list on the back, and the fronts of the shirts sporting logos from ARMS, Splatoon Squid and Mario Kart 8 Deluxe. From the outside, we could see that each game had its own demo station, with Nintendo's more recent and upcoming titles for Switch getting a wonderful themed setup. After waiting a while, a Nintendo Ambassador finally stepped out and had us all counting down for when the "doors" would open.
Upon entering, attendees would receive a Nintendo Passport. The card would act as your gateway to swag heaven. In order to pick up the holy grail of them all, the My Nintendo water bottle, you would have to fill out this card in addition to having your My Nintendo check-in QR code. There was no grab-and-go swag here, which was a smart move, given how fast items from the Switch Preview Tour made it onto eBay.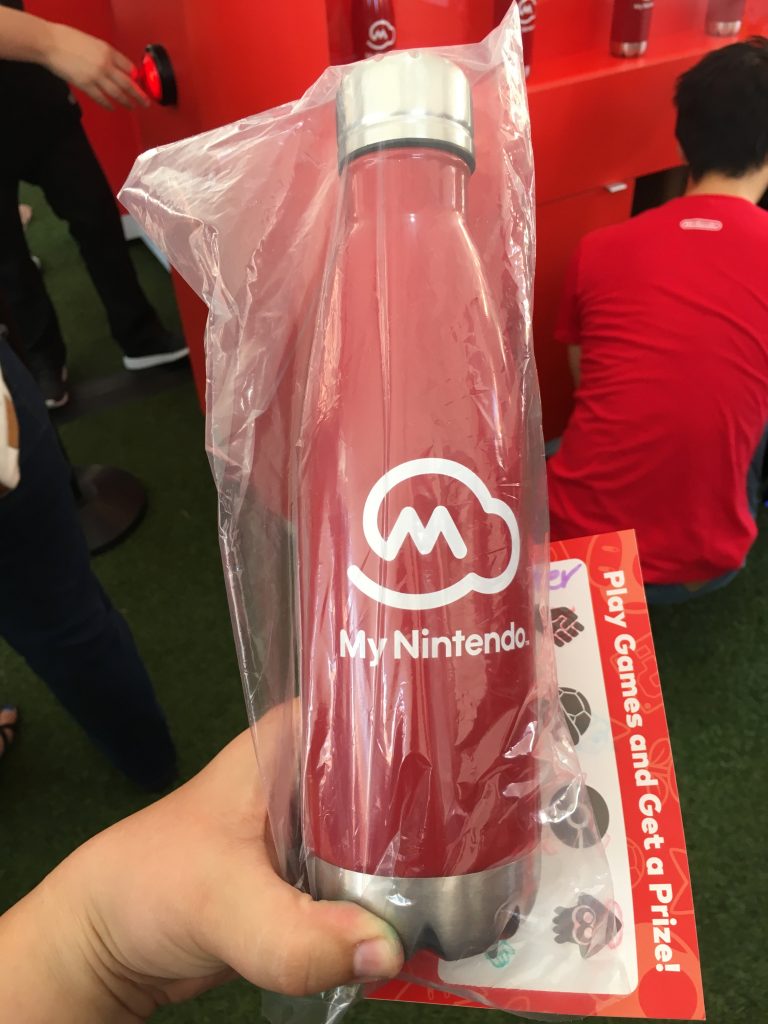 The Nintendo Passport had eight gaming icons: four Starmen from the Super Mario series that represented any game you wanted to play, and four specific game icons for ARMS, Mario Kart 8 Deluxe, Splatoon 2 and Pokémon Sun & Moon. Play a game, and you would get a stamp corresponding to what you played. Once all spots were filled, you could "spin" the prize wheel and receive a piece of swag. On top of that, the flipside of the card listed hashtags for the event (#SummerOfPlay and #Nintendo), and if you posted an image of the event via social media with at least both hashtags you could earn some bonus swag: a Nintendo Switch pin.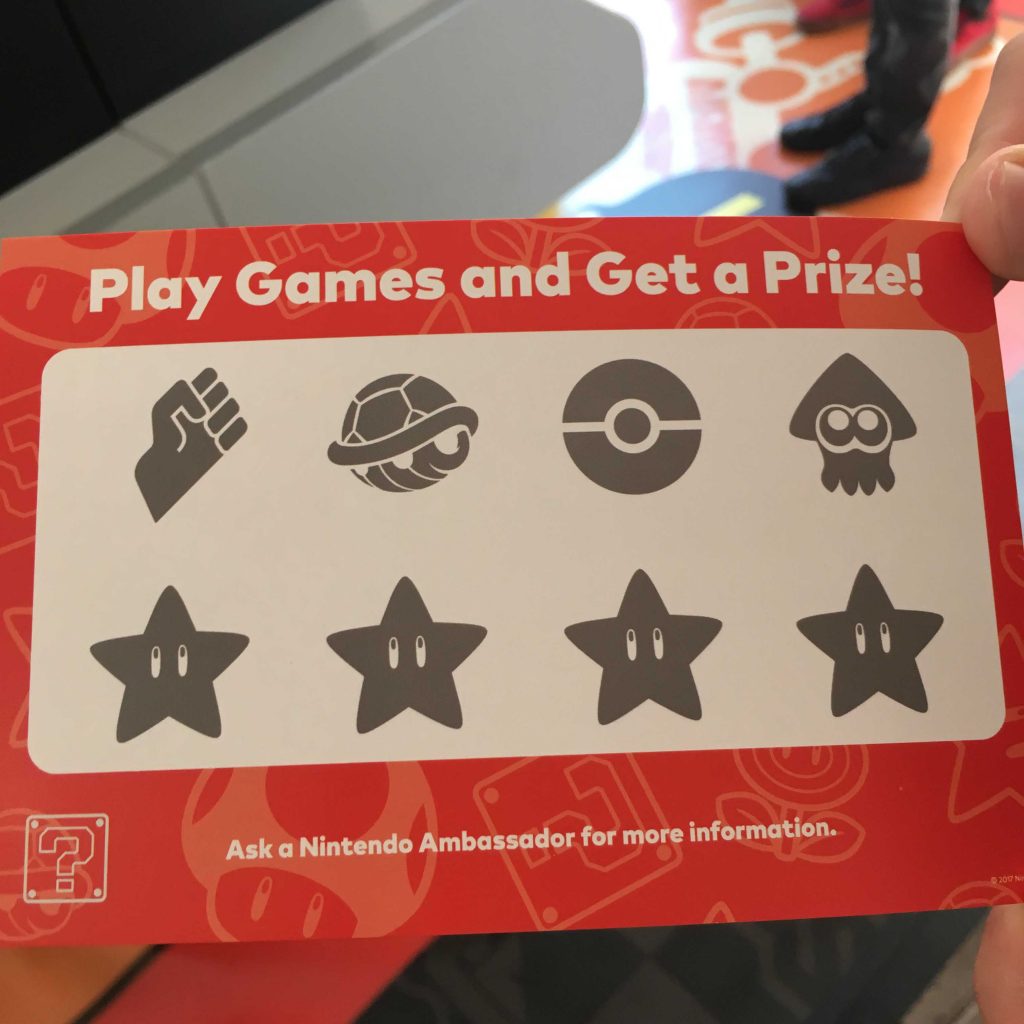 This sounds great in theory, but the demand put a slight damper on this part of the event. Nintendo Switch pins were gone in under two hours, and soon staff was using Mario Kart 8 Deluxe decal stickers as backup prizes for the social media sharing. My Nintendo water bottles were gone by Saturday afternoon — and it wasn't exactly a surprise that some made it onto eBay for an asking price of $49.99 or more. The prize wheel… Well, you were at its mercy. If there was a particular prize you had your heart set on, you would have to leave that wish behind before hitting the big red button. My brothers and I all spun the wheel, one right after the other, and we landed on the Splatoon 2 temporary tattoos prize twice (in a row) and then the Mario Kart 8 Deluxe decal sticker where you could pick from more than just Mario. If you're coming alone for the swag, you might be disappointed; luckily though, that isn't the main draw of the event.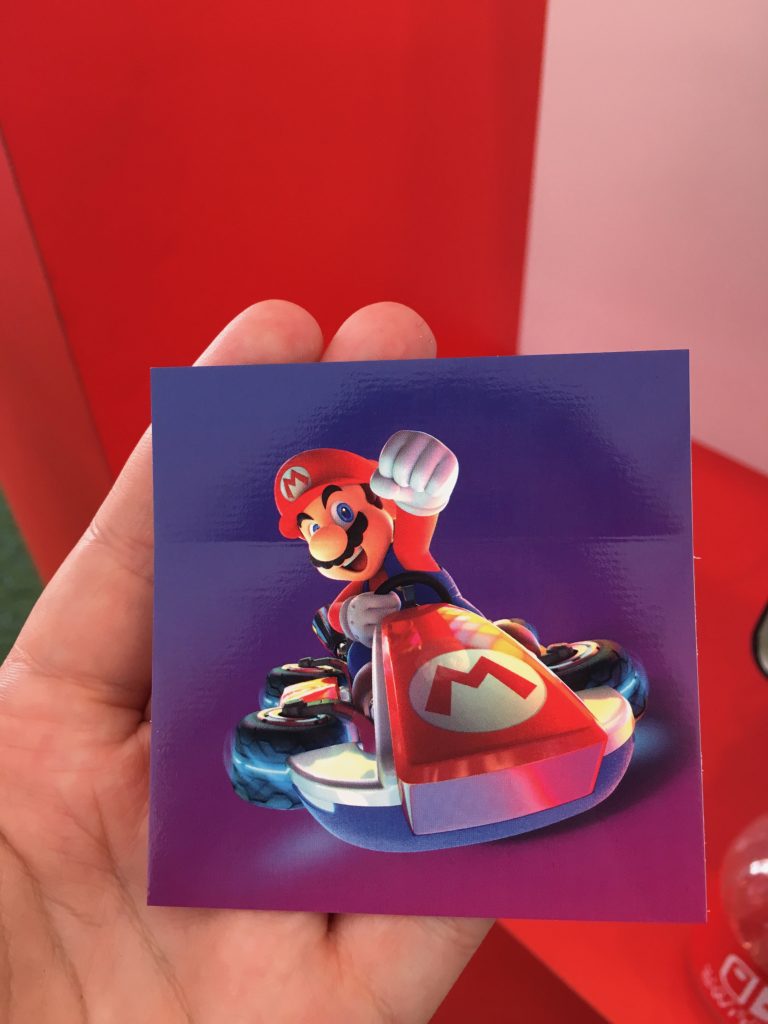 At the time I was there, ARMS wasn't released yet. The full game was available at the event, and under the watchful guise of the attendants, you could battle it out as Byte & Barq and Kid Cobra if you wanted to try them out during the Global Testpunch. Even better, the ARMS station was a themed fighting ring, so you could view all the throwdowns that were taking place while you waited in line. Splatoon 2 was one of the more popular setups — a giant TV screen in spectator mode showed off Turf War matches. Once making it in, you'd be seated at one of eight stations, all themed with numbered ink tanks attached to chairs. You also had options when it came to how you wanted to play: Pro Controllers with a docked unit, and the Switch in handheld mode. Attendees could play up to two Turf War matches — and if you happened to be a less experienced player, a tutorial level was available for practice ahead of time.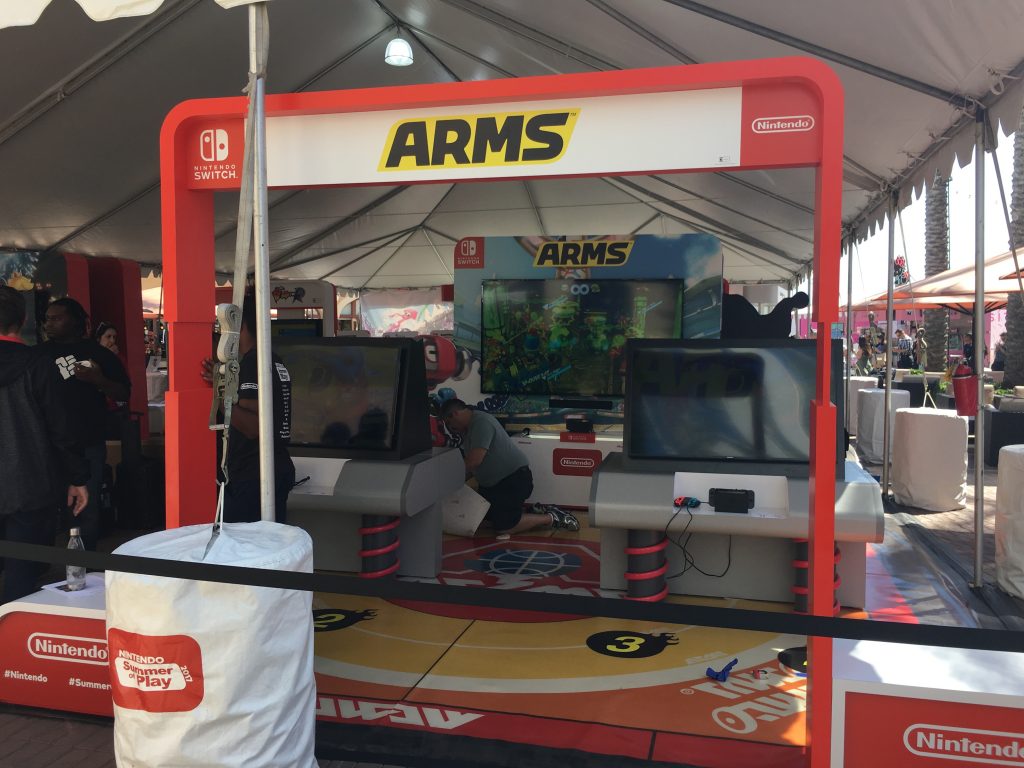 I was ecstatic to find that the New 2DS XL was a part of the tour. Located among various stations, but mainly in the Miitopia and Hey! Pikmin setups, the public could try out the handheld for the first time. For 3DS and 2DS fans (and collectors), this was truly great! Holding the unit for the first time blew my mind away — the system is extremely light, definitely much lighter than my New 3DS with cover plates. If this system causes the original 2DS "cake slice" or "toast" to retire, then the push for the newly designed system will have been a smart move on Nintendo's part. (And this is coming from someone who loves the original 2DS' design, too!)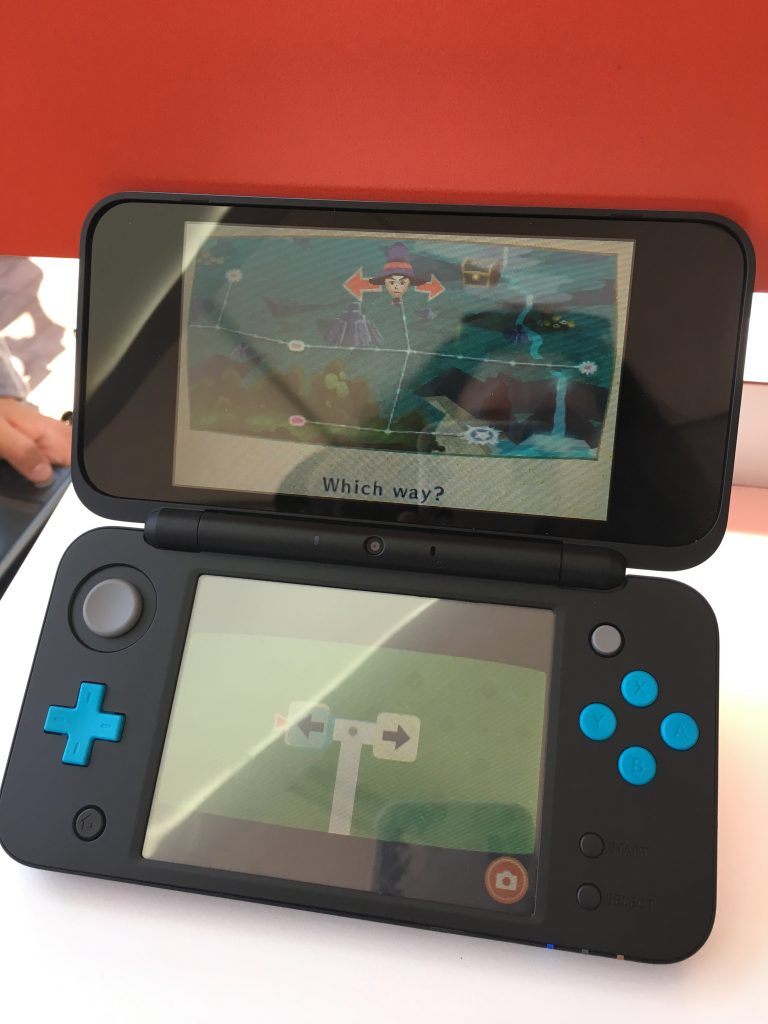 If you want a proper walkthrough of the event, then check out Play Nintendo's video of the Irvine, California stop. I'm not exactly sure when it was filmed, but I can guarantee you it wasn't when I visited. The venue was super crowded and there wasn't any room for filming equipment that Friday afternoon!
SWITCH 'N PLAY ALL DAY
Overall, the event was fabulous, but extremely packed. It was clear to see that Nintendo wasn't expecting the attendance and demand to be so high. Not only did you have fangirls and fanboys attending, you also had little kids mesmerized by the banners of ARMS and Splatoon 2, dragging their parents with them. What was once a shopping trip to the mall turned into a potential sale for Nintendo. Among the photos I snapped of the event, there's a huge number of families and kids playing games together — a key point that the Wii brought back to gaming, and a pillar that the Switch should stand on.

If you're worried about there not being enough My Nintendo water bottles or swag to go around when Summer of Play hits your city, then let me put that fear to rest. During the week of E3 I was able to chat with various Nintendo employees who were in charge of the tour. The Irvine stop provided a baseline for Nintendo to use, giving the team a better idea of how to accommodate crowds from here on out.
I, myself, will be checking out the stop in San Diego during Comic Con. The Nintendo Lounge is always a popular event that week (and free too — no badge required). With the addition of Pokkén Tournament DX, possible game tournaments throughout the weekend, and during the debut weekend of Splatoon 2, it'll be a fun event — a mini E3 for the fans. Maybe Nintendo can bring Super Mario Odyssey along for the convention, too? I'd be up for that!
Leave a Comment