Captivated by a crying child's traumatized trek through the nine circles of hell and the twin-stick tumblings of a certain sacred seedling, it's no secret that I've become quite the glutton for punishment afforded by the infamously challenging genre known as the roguelike. In fact, not a week goes by when Nintendo's contemporary console isn't graced with yet another nihilistic indie darling just begging to sap my sanity for all it's worth.
Enter GoNNER: A tough-as-nails platformer with frenetic flair well worth the price of admission it demands from your weary soul. Sure, GoNNER doesn't take a whole lot of risks, but what it lacks in innovation is more than made up for in style thanks to vibrant visuals, superb sound design and gritty gameplay that will keep you digging through its demonic depths 'till death do you part.
Just try not to lose your head in the process.
A BOY AND HIS BLUBBER
Players control Ikk, a sentient dew drop with a detachable head on a noble quest of love and friendship. In his search to gift a gargantuan space whale named Sally the perfect trinket, Ikk must run 'n gun his way through the deepest, darkest recesses of a nightmarish world filled with all manner of glowing red monstrosities just itchin' for a stitchin'.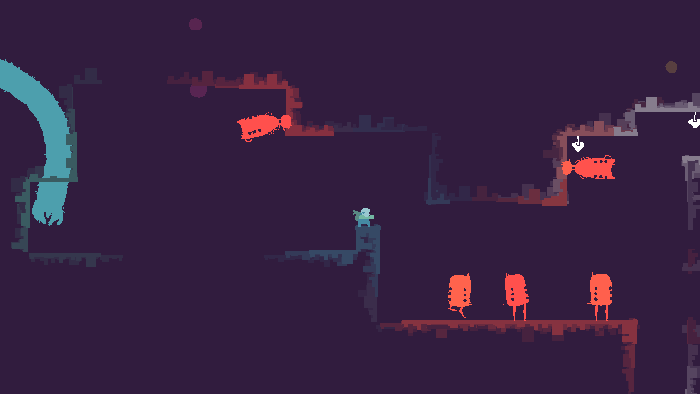 GoNNER's presentation proves nothing short of breathtaking, bursting at the seams with a sense of style ripped straight out of a necronomicon-inspired coloring book. A gorgeous neon, silhouetted aesthetic seemingly crafted in crayon gives this spooky, yet oddly adorable side-scroller an air of whimsy. As you traverse the underworld's tumultuous depths, stages are slowly stitched together as if being drawn at that very moment while an epileptic flurry of color intensifies with each masterfully maintained combo streak.
Beyond pretty pixels, Composer Joar Renolen and Sound Designer Martin Kvale absolutely kill it in the music department. Somber techno beats run rampant alongside melancholic melodies, complementing the dimly lit environments and eerie tone made persistent throughout your treasure seeking trek. Even the sound effects are equal parts harrowing and gratifying, from the deep gulps of an end level's worm-like creature as it swallows you further into the abyss to the pitter patter and pleasant pops of enemies being blasted into oblivion. It's no wonder the game won Best Audio at the 2017 Independent Games Festival, as it's clear a lot of time and effort went into perfecting its palette.
GONE SPELUNKING, BE BACK IN FIVE
Built on the backbone of its many roguelike brethren, GoNNER wastes no time reminding players that death looms around each and every corner — sometimes quite literally. Each procedurally generated run begins with the infamous scythe wielding specter himself plucking your noggin from his ghoulish garden, outfitting you with an arsenal of supernatural weaponry, and finally sending you off on your merry way to storm the gates of hell. This bountiful boneyard essentially serves as the game's hub world where any and all collected heads, guns and backpacks end up for use in future playthroughs.
These three item categories and their unique combinations form the heart of GoNNER's twisted gameplay and are crucial to master should you wish to escape the cavernous expanse unscathed. Heads drastically alter the way movement works — such as granting triple jumps or nullifying weapon recoil — as well dictate how much health your trigger-happy traveler comes stocked with. Guns, on the other hand, function much like you'd imagine, running the gamut from rapid-fire rifles and trusty shotguns to more fanciful affairs, like enemy piercing laser beams and lightning spewing cannons. Finally, backpacks award special abilities to be used on infinite cooldown, like instant reloading, temporary invincibility or a burst-fire barrage of bullets for your wielded weapon of choice.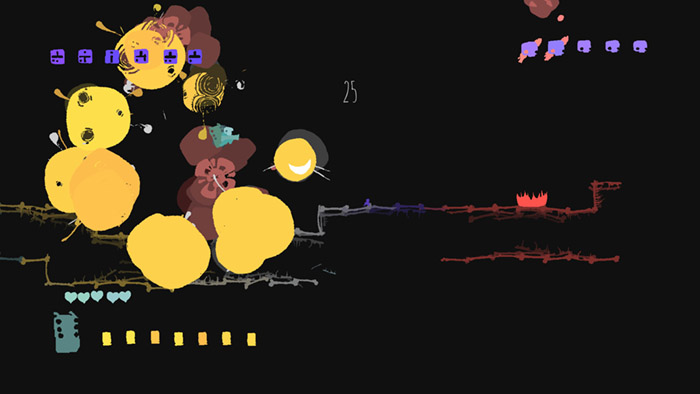 Considering the importance placed on proper gunplay and swift movement, it greatly benefits the blob-like being's livelihood to experiment with each and every possible loadout. While the pool of options on tap could stand to be fleshed out with a few more options, each gun has a different feel and kickback to it that makes mastering guns a joy, with some better suited for certain situations or stages than others. Personally, I had a blast mixing and matching unique combinations that catered to my own, unique playstyle as I slowly polished my skills enough to eventually reach the game's final big bad.
PRESS JUMP TO DIE
Make no mistake, dear readers; this game is balls-to-the-wall hard. Upon taking a single hit, the disjointed daredevil loses his cranium alongside whatever arsenal of super powered boomsticks and knapsacks you happen to be packing. Should you fail to pull yourself back together before that second death-defying blow, it's Game Over as Ikk explodes into a paltry puddle of goop regardless of how much health remains stashed in that thick skull of his. Fortunately, death, while frequent, never feels unfair — most always due to a lapse in judgement or basic platforming pitfall, rather than being dealt an unforgiving hand in stage generation or enemy layout. That said, it's still an absurdly stiff challenge that won't entice everyone, requiring hours of practice and patience to gain a proper feel for its fast and fluid physics and deep-seated nuances.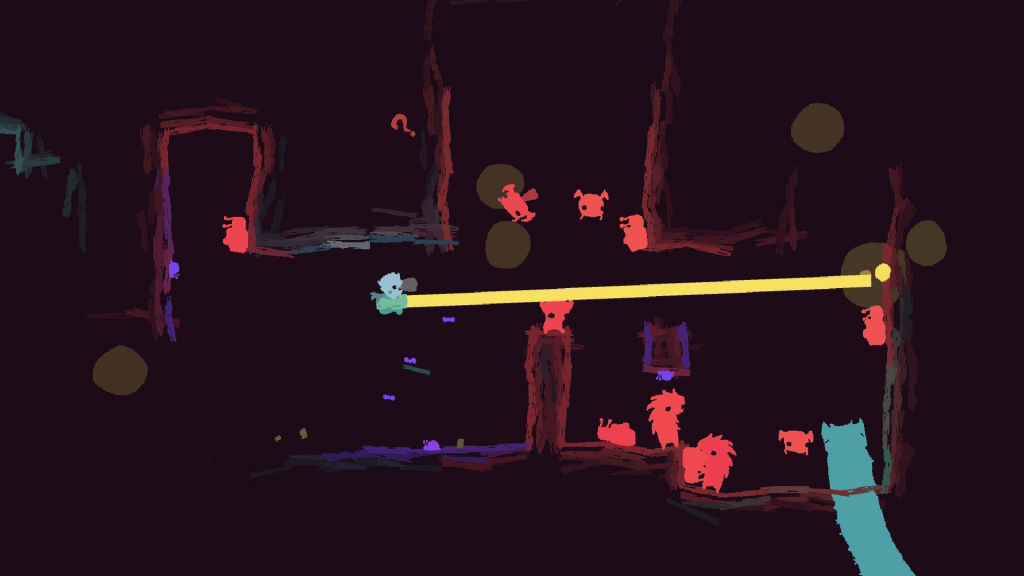 Which is great news for genre veterans, because like most expertly crafted roguelikes, our hero's headless hike through hell and back can be told in well under 20 minutes with a dash of pixel perfect platforming. In fact, consistent carnage is both encouraged and rewarded through a kill multiplier that significantly boosts your score with every five demonic denizens dispatched, dropping valuable purple glyphs in their wake. These rustic runes can be used as currency to swap loadouts in pre-boss shops or even barter with Death for an extra shot amongst the living should you succumb to premature decapitation. It's a clever risk/reward system that has you constantly questioning the merits of your current equips against the safety of having a backup life should things quickly head south.
GONNER WITH THE WIND
If you're a fan of tough, but fair games like Spelunky or The Binding of Isaac, GoNNER's sure to lay its hooks in you. It never ceases to surprise with its quirky romantic tale of blob meets blubber, ethereal aesthetics and addictive shooter gameplay. Bottom line, you'll need to keep your head on straight should you wish to overcome GoNNER's punishingly steep learning curve, though those with the patience to master its ballet of bullets will find one of the most stylish and rewarding roguelikes to descend on the Switch to date.
Now if you'll excuse me, I have a dinner date with Death and he doesn't like being stood up.
Leave a Comment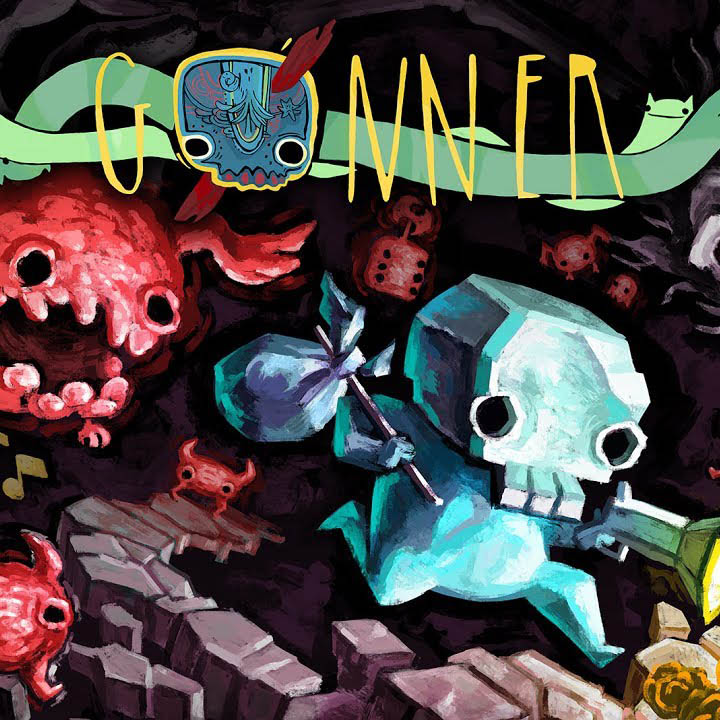 System: Nintendo Switch
Release Date: June 29, 2017
Categories: Action, Adventure, First-Person, Platformer
Publisher: Raw Fury
Developer: Art in Heart