This week in the Nintendo eShop: Kirby puffs up for his next blowout adventure, Vaccine returns to classic survival horror, and droves of shovelware flood every Nintendo system under the Angry Sun.
The discount aisle has been picked clean after last month's amazing E3 offerings and the Switch's debut Snake Pass sale. This week, both Trine and its sequel are 50% off for the next month on Wii U, while 3DS owners can pick up the zany chase 'em up Go! Go! Kokopolo 3D for just under $5. I personally found the DSiWare original to be pretty neat, marrying tough difficulty and twitch reflex gameplay with a fantastical sense of style and humor.
SWITCH DOWNLOAD SOFTWARE
Vaccine (Rainy Frog, $9.99) – Vaccine is a Resident Evil inspired return to the classic survival horror roots of the '90s, right down to the tanky controls and blocky PS1 era graphics. While some will surely find its polygonal aesthetic unappealing, there's something oddly charming and nostalgic about revisiting the experimental blip in time where 3D gaming was still getting its bearings. Narratively speaking, players navigate procedurally generated mansions populated with mysterious mutated creatures in search of a vaccine for their virus riddled friend. Adding to the tension is an omnipresent timer serving a stark reminder of just how much longer you have until your buddy becomes just another nightmare fueled creature to put down.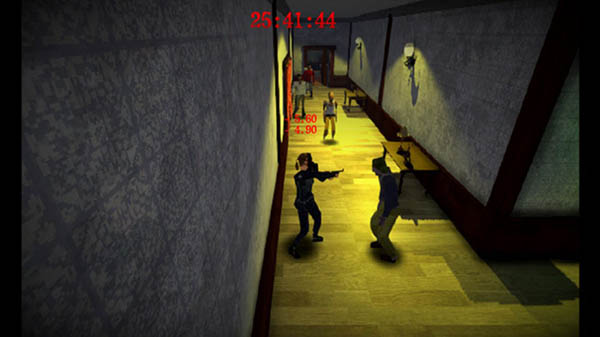 From what I can tell, the game nails the unsettling tone and hauntingly atmospheric music of its inspirational source material, and the leveling system adds a nice layer of depth and nuance to the whole experience. There's even an optional CRT filter to really sell the nostalgia angle. Did I mention it's made by the same team that brought you the fantastic '90s 3D collectathon platformer FreezeME? Give it a shot (heh) if you've recently been bitten by the horror bug.
Shephy (Arc System Works, $4.99) – The wild and wacky board game Shephy makes its digital debut today. This sheepishly single-player card game plays sort of like Solitaire (but not really) with the ultimate goal of increasing your sheep count from one to 1000. New to this video game reimagining, stalwart shepherds can try their hands at an all new story mode complete with special rules that add a challenging twist to its familiar gameplay. While I'm not typically a fan of digital card games, the hilariously endearing artwork alone has me hooked alongside its bargain bin pricing. Give it a shuffle on the Switch if you're itching for something a little different this summer season.
Implosion (Flyhigh Works, $11.99) – Implosion is a mech-based sci-fi hack and slash game making the leap from smartphones to Nintendo's shiny new system. Don't let the mobile moniker fool you: console-quality graphics, first-class voice acting and Hollywood-grade audio production assure the game won't be your common eShop drivel — especially if the insanely polished cinematic trailer is to be believed. Funny enough, it's being published by the good folks over at Flyhigh Works — responsible for pixel perfect gems Kamiko and Ambition of the Slimes — which makes the high production values and favorable review scores all the more intriguing. Give it a shot if you like well-designed action games with fast-paced progression, fun customization options and deep mechanics.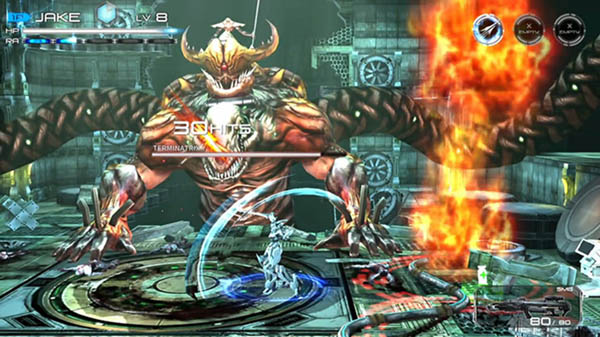 Bulb Boy (Bulbware, $8.99) – Bulb Boy is a spookily cute 2D point and click horror adventure about a boy and his bulbous, glowing head. The titular hero's brief, yet brilliant, battle to reclaim his home from all manner of monstrosities that go bump in the night oozes quality over quantity, perfectly illuminating the age-old struggle between light and darkness under a fresh coat of paint. Fantastic art direction, clever puzzles, genuine jump scares and plenty of other twists and turns provide an immersive sensory experience you won't soon forget.
Arcade Archives – Metal Slug 2 (Hamster Corporation, $7.99) – Rounding out the original trilogy (not sure why three came out before two) on Switch comes the critically acclaimed sequel to SNK's run 'n gun action game. Beyond its familiar and simple side-scrolling shooting, new weapons and vehicles enter the battlefield for some much needed gameplay variety, from single shot lasers and fire bombs to Vulcan cannon mounted camels and air-to-air missile-firing jet fighters. Character transformations also make their devious debut, most notably the hilarious side effect of becoming obese should you eat too many food items during a single game-life, drastically slowing down movement speed and altering various weapon stats. Unfortunately, it's far less superior to its upgraded remaster Metal Slug X, which fixed frequent slowdown issues of the original while adding tons of new elements to the mix — including retouched music, tougher stages and several new loadouts. Still, it's a far cry from terrible and still well worth the time of genre enthusiasts and fans of the series' tongue-in-cheek humor.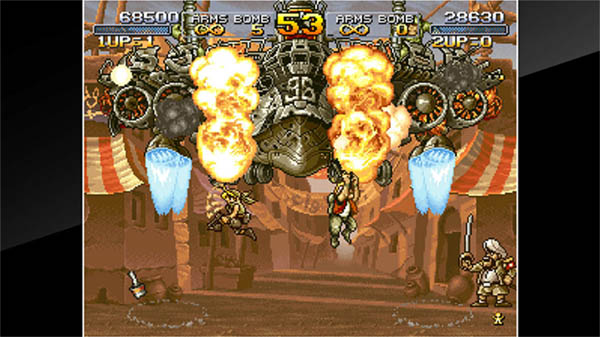 SWITCH ADD-ON CONTENT
Blaster Master Zero – EX Character: Shantae (Inti Creates, $1.99 | Free until 7/19) – Shantae joins the fight underground this week as the next playable character in EX Character Mode! Whip butt with her powerfully purple ponytail and master trademark bellydancing to transform into all manner of helpful critters. Remember, Shantae's free for anyone quick enough to make a wish on the Switch before July 19th, so make sure to boot up the game if you have it and download the half-genie hero as soon as possible.
3DS DOWNLOAD SOFTWARE
Kirby's Blowout Blast (Nintendo, 6.99) – Kirby's next Robobot minigame turned full-fledged adventure floats through 3DS systems today! An expanded version of Kirby 3D Rumble, Blowout Blast pits players as everyone's favorite pink puffball as he inhales his way through 25+ action-packed 3D stages, all while building points through crafty combos. Exclusive to this version are more fleshed out levels, unlockable challenges, and the return of beloved boss characters King Dedede, Kracko Jr. and many more. Did I mention it's amiibo compatible, too? Look forward to our full review in the coming days, which it's safe to assume will be handled by the Kirbster's number one fan and famous hamster pal himself, Ricky Berg.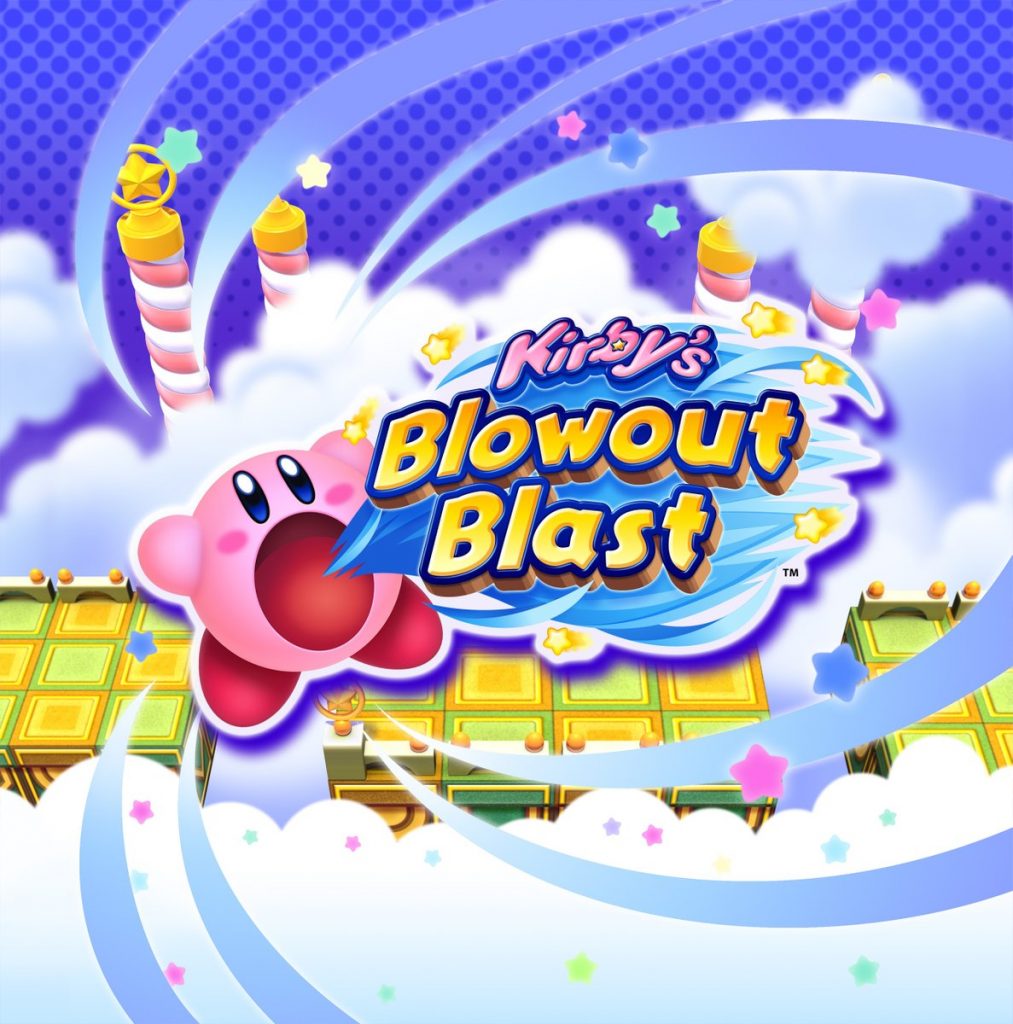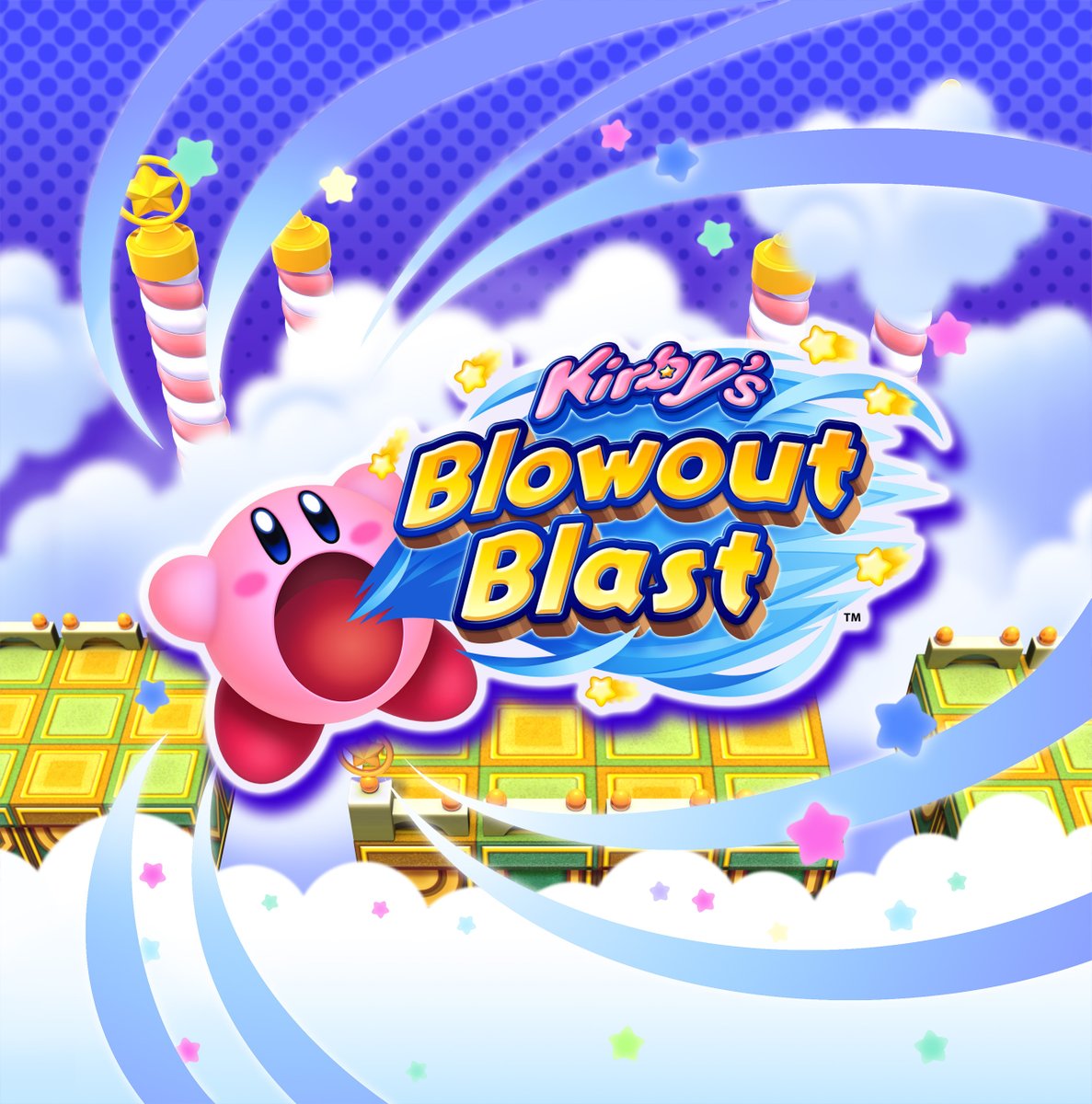 Crollors Game Pack (Nvriezen, $1.50) – I know what you're thinking: That missing apostrophe in the title is absolutely maddening! Unfortunately, the fun doesn't stop there — at least if the game's soulless description is any indication. Apparently, Crollors (ugh) Game Pack is a "collection of four games" (helpful) that lets you "play with your friends to see who is the best" (more helpful), yet specifically states it "does not have any multiplayer modes." (Wait, what?) Seriously, whoever's in charge of writing copy over at Nvriezen might not want to quit their day job. From the images on tap, we can glean these are mostly '80s arcade game knockoffs with poor presentation that most certainly don't live up to the "hours of gameplay" hype being advertised. Also, for some reason, stereoscopic 3D only works on New 3DS systems because, you know, it's already pushing its pixels to maximum capacity. Get your arcade jollies elsewhere, folks.
Stack 'em High (Starsign, $3.99) – Tired of your mom telling you to constantly clean up your room? Rebel against your bedtime barking overlords with Stack 'em High: a game about stacking toy cars, trains and stuffed animals on top of each other haphazardly. Yup, that's the entire game. I'm dead serious. Adding a little structure to the madness, each stage has different criteria in order to progress, such as timers or object caps, spread across multiple game modes. I can't say it's the prettiest of games to ever grace the handheld, though I'm sure there's an ounce of cathartic joy to be found in watching messy piles of junk topple to the ground.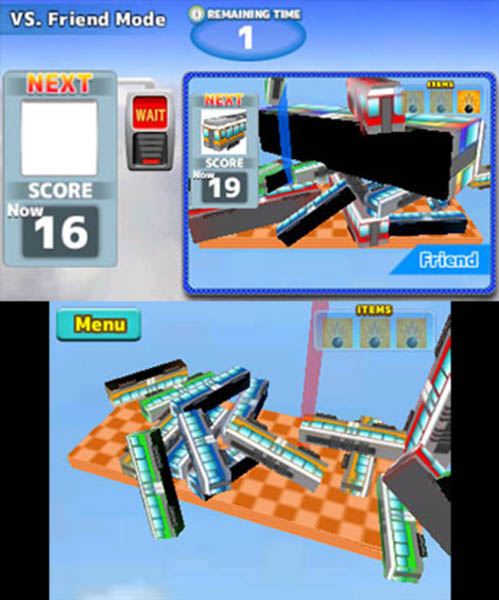 NEW 3DS DOWNLOAD SOFTWARE
TABLE TENNIS INFINITY (RCMADIAX, $1.49) – It's been awhile since RCMADIAX circled the eShop block. I'm sure it put all that extra development time to good use with its latest genius gameplay innovation… digital table tennis? Wait, it's not even actual table tennis? You just endlessly bounce a ball on a paddle? Super fantastic. Even the description is misleading, promising "the excitement of a ping pong table on the go." Look, I'm no professional ping pong player, but even I know it requires a table to play. You know, those things that stand on four legs? Sometimes we eat off them? Yeah, those things. Rant aside, you should probably save that buck fifty to put toward something better. I hear Ever Oasis is pretty good.
3DS ADD-ON CONTENT
Blaster Master Zero – EX Character: Shantae (Inti Creates, $1.99 | Free until 7/19) – Shantae joins the fight underground this week as the next playable character in EX Character Mode! Whip butt with her purple ponytail of power and master her trademark bellydance to transform into all manner of helpful critters. Remember, Shantae's free for anyone quick enough to make a wish on 3DS before July 19th, so make sure to boot up the game if you have it and download the half-genie hero today.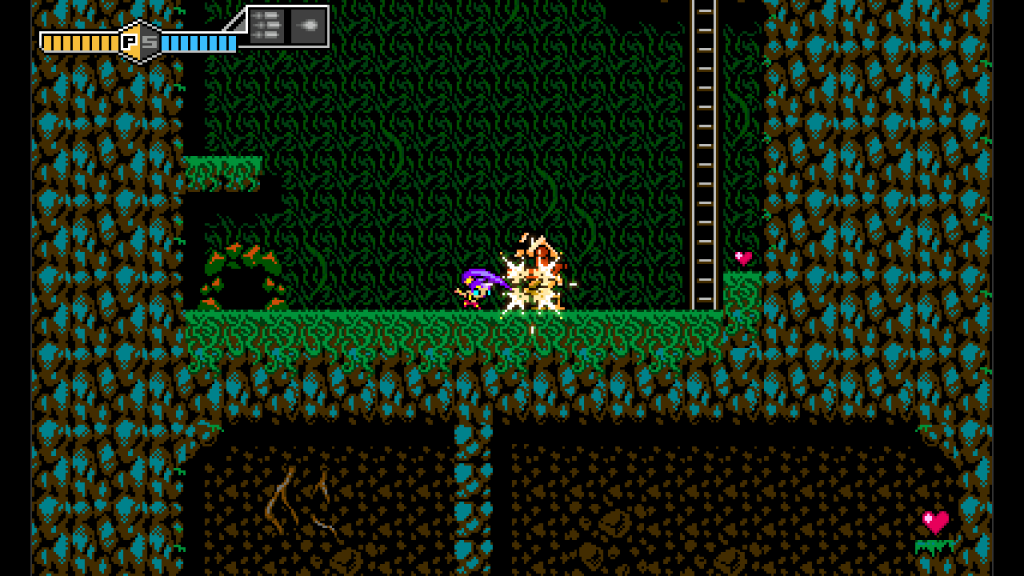 WII U DOWNLOAD SOFTWARE
Revenant Saga (KEMCO, $9.99) – The kings of mobile ports are back, this time bringing the lukewarmly received Revenant Saga over for Wii U owners to enjoy. Despite being one of Kemco's better releases, it's little more than your typical run-of-the-mill JRPG lacking in fresh game-specific mechanics to get too excited over. It does at least feature an intriguing cast of characters and a well-structured plot for genre fans looking for 20 hours to kill, though with so many better options floating around in the digital ether I'm not entirely sure it's worth booting your Wii U back up for.
Space Hunted (Ultra Dolphin Revolution, $2.99) – Looking for a budget Metroid title without all that pesky exploration mumbo jumbo? Intergalactic treasure hunter Jade Hunter is here to fill the void. Storywise, you find yourself stranded on an uncharted planet with the sole purpose of survival through 128 alien infested levels. It actually has a lot more in common with classic '80s arcade games than anything else, right down to its pixel presentation and short burst, puzzle solving platforming. The music's a little bland and repetitive – oftentimes ripped straight from classical offerings on tap in the public domain – though at least the stages themselves seem varied enough to justify its bargain bin pricing.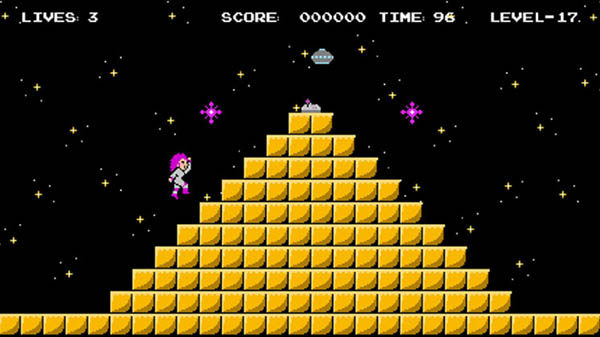 A Day at the Carnival (Thornbury Software, $12.95) – Be still, my beating heart! From the good folks over at Thornbury Software, creators of such classics as Shooting Range, Archery, and tons of other "affordable software using the shareware concept of marketing" comes A Day at the Carnival: an overpriced cacophony of mind-numbingly dull minigames commonly avoided at your local fairgrounds. Why anyone in their right mind would pay nearly $15 for this cancer-inducing eyesore is beyond all logic. Even by early '90s standards — the dawn of 3D gaming when the industry was still learning how to properly utilize the technology — I wouldn't have given this unholy abomination a second glance. At least the devs finally took their name out of the game's title. That's gotta count for something, right?
WII U VIRTUAL CONSOLE
Rayman Raving Rabbids (Ubisoft, $19.99) – Need a little Rabbid mania to tide you over until worlds collide in Mario + Rabbids Kingdom Battle later this summer? Ditching the franchise's trademark platforming roots, Raving Rabbids focuses on fun and frantic minigames designed specifically with the Wii Remote in mind. It's essentially Ubisoft's take on WarioWare featuring 70 wacky games chock-full of deeply varied gameplay and delightfully crass humor. Whether playing alone or with a group of your closest friends, fans of the Wii's waggle controls and penchant for casual play will find it one of the better games made available on the super successful system.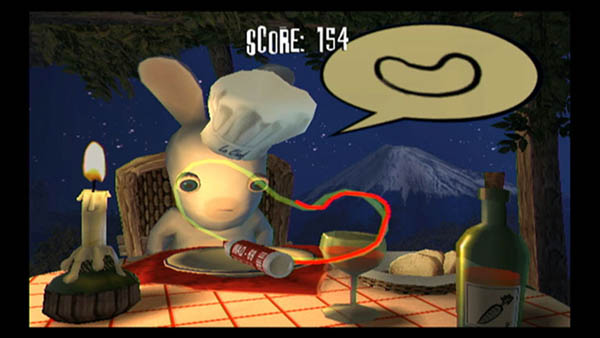 SPECIAL OFFERS AND DEALS
[3DS] Go! Go! Kokopolo 3D ($4.49 | 25%) until 7/13
[3DS] The Legend of Dark Witch ($2.99 | 25% off) until 7/13
[3DS] The Legend of Dark Witch 2 ($5.59 | 20% off) until 7/27
[3DS] Witch & Hero ($2.99 | 25% off) until 7/13
[3DS] Witch & Hero 2 ($2.99 | 25% off) until 7/13
[3DS] Frontier Days Founding Pioneers ($4.49 | 25% off) until 7/13
[3DS] Mercenaries Saga 3 ($4.79 | 20% off) until 7/27
[3DS] Fairune2 ($5.59 | 20% off) until 7/27
[3DS] Gourmet Dream ($4.00 | 20% off) until 7/27
[3DS] The Legend of Kusakari ($2.49 | 50% off) until 7/20
[3DS] escapeVektor ($3.49 | 50% off) until 7/20
[3DS] Pixel Paint ($2.99 | 25% off) until 7/13
[3DS] Sudoku Party ($4.00 | 20$ off) until 7/20
[Wii U] Trine Enchanted Edition ($7.49 | 50% off) until 8/3
[Wii U] Trine 2: Director's Cut ($9.99 | 50% off) until 8/3
[Wii U] Blue-Collar Astronaut ($5.00 | 50% off) until 8/3
[Wii U] VRog ($2.99 | 40% off) until 7/20
[Wii U] Ohayou! Beginner's Japanese ($3.99 | 20% off) until 8/11
[Wii U] Abyss ($0.79 | 60% off) until 7/27
[Wii U] Citadale – The Legends Trilogy ($4.95 | 45% off) until 9/7
Check Nintendo's website for the full list of deals available.

What games will you be downloading this week? Be sure to let us know in the comments!
Leave a Comment