Mr. Tsunekazu Ishihara, president and CEO of The Pokémon Company, and Junichi Masuda, an amazing jack of all trades from Game Freak, were the announcers in today's Direct. Hours after the event ended, Nintendo's various YouTube channels uploaded the eight minute presentation. Here's a general overview of what was covered.
Pokkén Tournament DX
Accidentally leaked via Japanese retailer Sinobi a little over a week ago, Pokkén Tournament was officially announced for the Nintendo Switch. Its full title is Pokkén Tournament DX, and with the title of Deluxe (DX) it appears that any big Wii U ports from Nintendo will carry this branding. The teaser for this title got some extra special love as it focuses on a story of two brothers. Along the way, our hero "Master Red" fights fellow Pokkén Tournament fighters and fans, training to defeat his brother in a friendly matchup.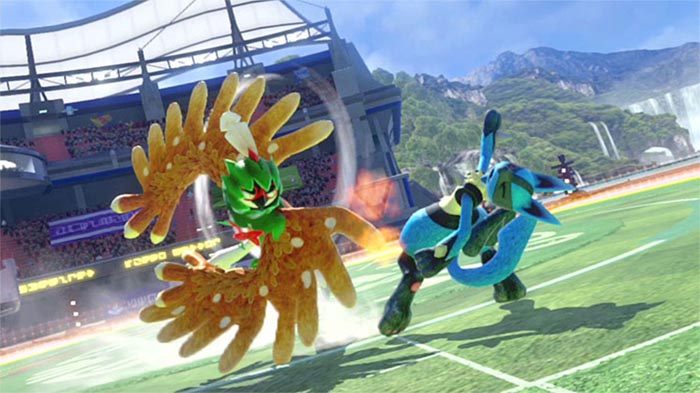 The game will be receiving additional fighters — beyond the new additions to the arcade version. Darkrai, Scizor, Empoleon, Croagunk and Decidueye will shake tournaments up now. Support Pokémon are also being added, as Litten and Popplio have been spotted in footage and on Famitsu's site. Online play has been tweaked with Ranked, Friendly and Group Match modes. Whether or not Nintendo's paid online service will be needed is up in the air, but the fine print in the trailer confirms the 2018 release date.
You'll be able to duke it out on September 22nd of this year!
Pokémon Ultra Sun & Ultra Moon
So much for reaching for the stars or looking for an eclipse; Pokémon Sun & Moon is taking a page out of Pokémon Black & White. Dubbed Pokémon Ultra Sun & Ultra Moon, this alternate story in Alola will have us encountering different versions of Solgaleo, Lunala and potentially even more Pokémon.
There will be a worldwide release of these titles on November 17th.
Pokémon Gold & Silver
Following last year's Virtual Console release of Pokémon Red/Blue/Yellow (and Green in Japan), we're getting the next generation: Pokémon Gold & Silver. While it may not be the fantastic remakes that are on the Nintendo DS at expensive secondhand prices, you'll be able to download the original versions onto your Nintendo 3DS on September 22nd. Just like the updates given to the first generation, wireless trading and Poké Bank compatibility have been added. No word yet on whether or not Pokémon Crystal will eventually be released; for now we can only hope that it'll make the jump at another date.
E3: 2017 Pokkén Tournament DX Invitational
First ARMS and Splatoon 2, and now a third title enters the ring?! Yes, that's right, Pokkén Tournament DX will have an E3 presence this year. The esports community will be having a fun-filled E3 as eight gamers will compete for signed memorabilia while throwing down some KO-worthy moves.
If you wish to experience the excitement from this morning all over again, you can watch the Pokémon Direct in its entirety here:
&nsbp;
Leave a Comment