Between Nintendo, Microsoft, and Sony confirming back in January that they would be skipping E3 in 2023, and Ubisoft pulling out just days before SEGA and Tencent did the same, E3 has been having a rough year so far. 2023 was set to be the first in-person E3 event since 2019, but with very little support from some huge partners, it looks like the Entertainment Software Association has made the tough call to cancel the event entirely.
IGN is reporting that the ESA sent an email to members today announcing the cancellation of the event. Per their reporting:
"The email said that while E3 'remains a beloved event and brand' that the 2023 version 'simply did not garner the sustained interest necessary to execute it in a way that would showcase the size, strength, and impact of our industry.'

The ESA concludes the email by reiterating its commitment to advocacy work."
Most organizations that have been traditionally present at E3 in the past have opted to host their own digital showcases this year, and of course, there are always other events taking place in the world of gaming this year, like Geoff Keighley's Summer Games Fest and PAX West, among others.
Update on Thursday, March 30th, 2023 at 2:30 p.m. PT | 5:30 p.m. ET: Press that applied for Media Passes to E3 2023 have started to receive emails confirming that "E3 2023 will not be taking place as scheduled."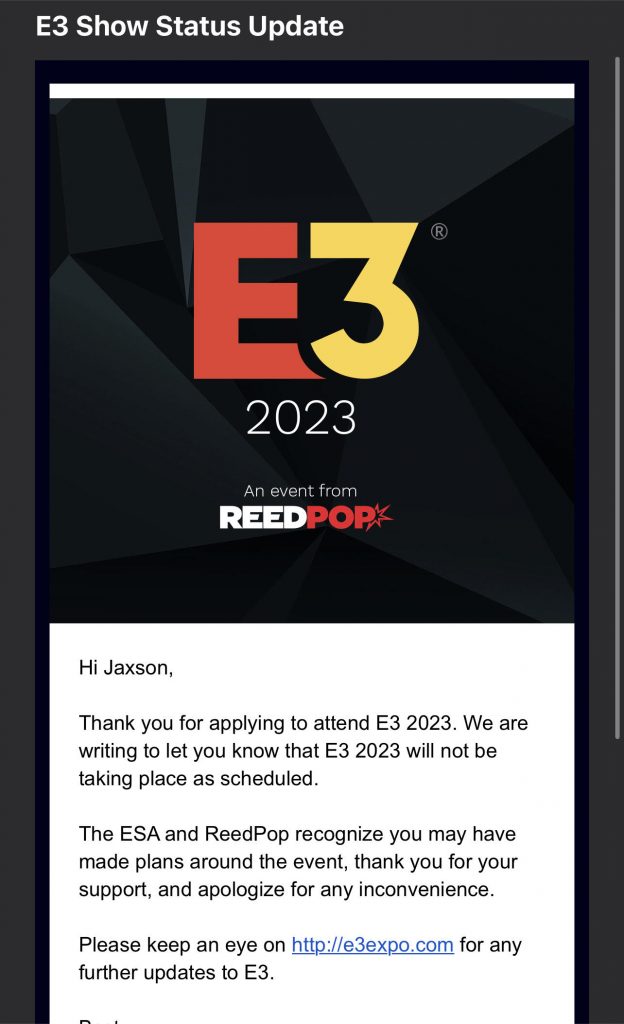 Leave a Comment