Ah, popularity polls. Picking favorites always has somebody steamed, but it can be fun to see which characters rank high compared to others. And in Southeast Asia, Sega and Atlus recently conducted a poll to see which Persona 5 Royal characters are most popular. The results:
Hero

Makoto Nijima

Kasumi Yoshizawa

Futaba Sakura

Goro Akechi

Ann(e) Takamaki

Yusuke Kitagawa

Morgana

Ryuji Sakamoto

Haru Okumura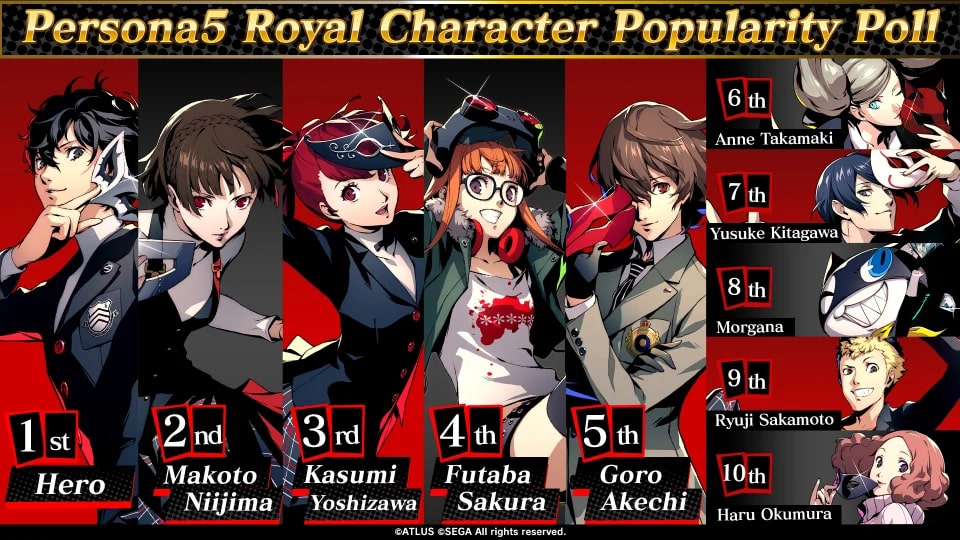 Obviously, this is a popularity poll that won't affect much beyond perhaps what merch Atlus makes or how they tool characters in future titles. But also, as a Yusuke and Haru fan, this deeply wounds me. How could this happen. How.
You can play Persona 5 Royal on Nintendo Switch right now. Persona 3 Portable and Persona 4 Golden are also releasing on the platform later this month, on January 19th. 
---
Source: Reddit
Leave a Comment