Another day, another Mystery Gift code for Pokémon Scarlet and Violet. This week, a sandwich ingredient-themed Mystery Gift promotion kicked off for the games. Each day, a new code is released, giving Trainers another chance to stock up on their picnic baskets.
Announced via the official Poké Times Twitter account (which is one of many official Twitter accounts run by The Pokémon Company), each code can be used once per save, per game, and until Sunday, December 18th, 2022 at 6:59 a.m. PT | 9:59 a.m. ET.
#サンドウィッチチャレンジ 2⃣日目🥪

📢本日のあいことば👇
LETTUCEBAC0N

1⃣ #ポケモンSV の「ふしぎなおくりもの」であいことばを入力
2⃣ランダムで食材を1セットプレゼント🎁
3⃣受け取った食材で、サンドウイッチを作ってみよう🧑‍🍳

みなさんの自信作、ハッシュタグ付けての投稿お待ちしてます😋 pic.twitter.com/d8EM08TIXx

— 【公式】ポケモン情報局 (@poke_times) December 13, 2022
Today's code is LETTUCEBAC0N. Just like the first code, today's code will give Trainers one of ten different reward sets. The possible rewards are the following:
5 Bacon, 5 Ham, 5 Prosciutto, 5 Chorizo, 5 Herbed Sausages, and 5 Hamburgers
5 Bacon, 5 Lettuce, 5 Tomatoes, 5 Cheese, 5 Mayonnaise, and 5 Mustard
5 Smoked Fillets, 5 Rice, 5 Wasabi, 5 Salt, and 5 Vinegar
5 Chili Sauce, 5 Jalapeños, 5 Curry Powder, 5 Wasabi, and 5 Horseradish
5 Curry Powder, 5 Rice, 5 Noodles, 5 Cheese, and 5 Eggs
5 Cherry Tomatoes, 5 Cucumbers, 5 Green Bell Peppers, 5 Avocados, 5 Red Onions, and 5 Watercress
10 Portato Tortillas, 10 Tofu, 10 Potato Salads, 10 Hamburgers, 10 Friend Fillets, and 10 Noodles
5 Bananas, 5 Strawberries, 5 Apples, 5 Kiwis, and 5 Pineapples
5 Whipped Cream, 5 Jam, 5 Yogurt, 5 Peanut Butter, and 5 Marmalade
30 Klawf Sticks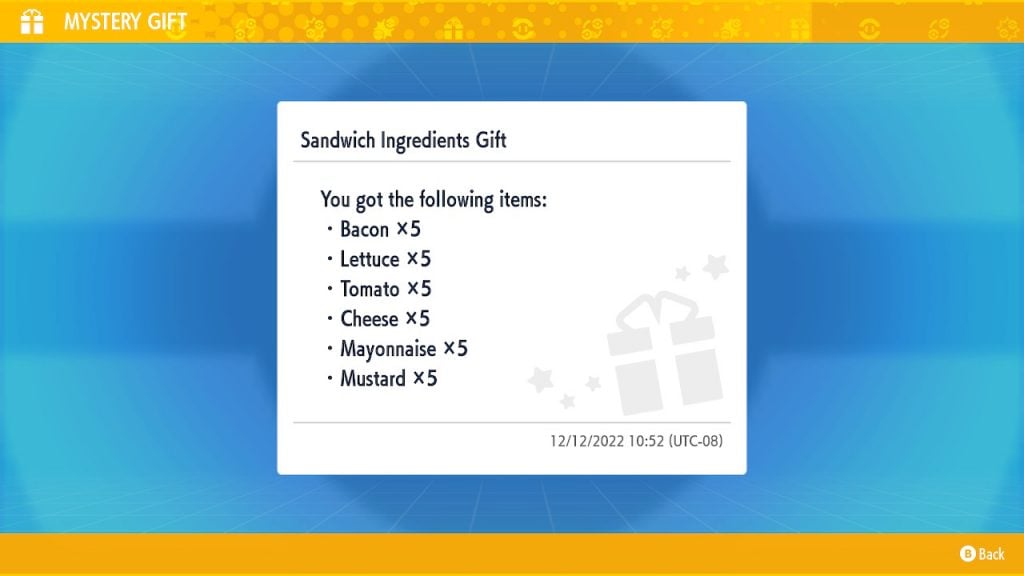 To redeem the LETTUCEBAC0N code, boot up your copy of Pokémon Scarlet and/or Violet and do the following:
Go to the Main Menu (by pressing the X button).
Select "Poké Portal".
Within the Poké Portal menu, select "Mystery Gift" at the bottom.
In the Mystery Gift menu, select "Get with Code/Password" and input the code.
If correct, you'll be prompted to select the reward that's associated with the code.
A short cutscene with a present will occur and you'll get your items (as shown in the screenshot above).
Note: The Mystery Gift function will need to be unlocked by going to the first Pokémon Center in your travels, located in Los Platos. This is estimated to be about 90 minutes of playtime due to the games' "tutorial" and story.
If you missed out on the previous codes, check out our previous articles:
Come back tomorrow for the next code and make sure to redeem all of them before Sunday, December 18th, 2022 at 6:59 a.m. PT | 9:59 a.m. ET.
Leave a Comment