And here they are! Announced back in September at the D23 Expo (and back when Disney Dreamlight Valley wasn't out for a week, publically), Woody and Buzz Lightyear can now come back to live in Dreamlight Valley. Oh, and it looks like someone else will be crash-landing in this update too!
In this new content update, shrink down to toy-size and meet Buzz Lightyear and Woody in the Toy Story Realm! Embark on a secret mission that just might see the Valley gain a new resident that is truly out of this world. Get your Valley in the spirit of the season with new and exclusive items included in the Festive Star Path!
Stitch (a.k.a. Experiment 626) has been shown off in previous key art for the game, but now he'll be living in Dreamlight Valley (provided you can unlock and complete his "character arrival" quest). These character additions aren't the only big change for Disney Dreamlight Valley. They're part of a bigger, "Missions in Uncharted Space" update that includes a game launch on Mac devices (still in the Early Access phase), bug fixes, new content additions, a new holiday-themed Star Path, and more. Patch notes for this update can be found on the official Disney Dreamlight Valley site.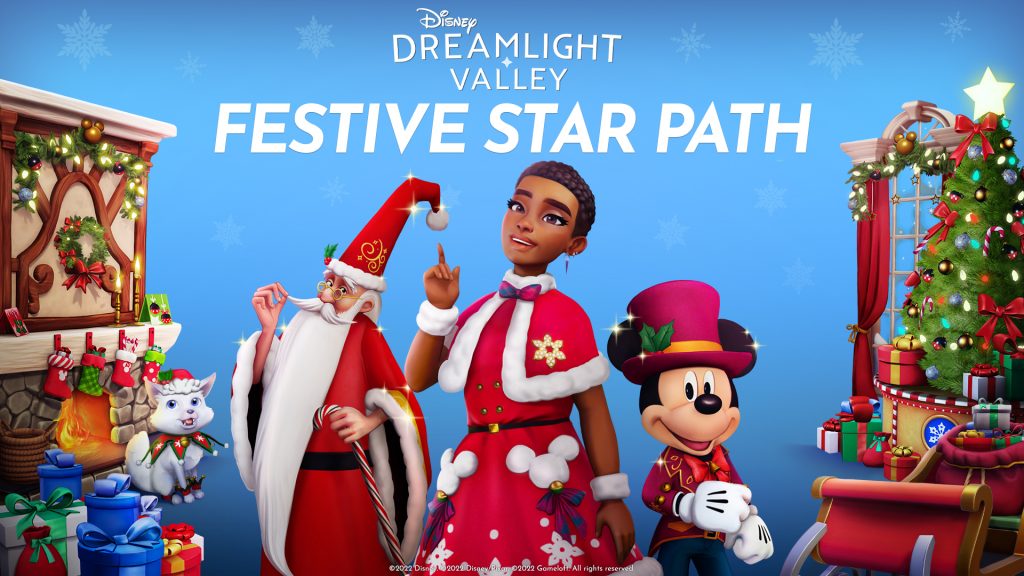 Back to the new Star Path. The Star Path, which is similar to a Season Pass, offers challenges to players and rewards them with clothing, furniture, motifs, and more. The last update's Star Path was all about Villians and Halloween, and since we're in December now, this time it's all about the holiday season. Even Merlin and Mickey can dress up, provided that you unlock these new outfits with enough "Present Points" (and in Merlin's case, his is locked in the Premium Star Path). While the Star Path skews more on the Christmas side of things (with furniture, clothing, and motif rewards), there are more holiday items and decorations that be crafted at your leisure – including a Kinara, a Menorah, and a variety of wrapped presents.
For players that are playing Disney Dreamlight Valley on multiple devices thanks to the Cloud Save feature, make sure to update all copies of the game before returning to Dreamlight Valley to check out the new update. Plus, keep in mind if you encounter any new bugs and/or other issues, check out the game's official bug tracker via a Trello board. There you can see which bugs have been reported as well as instructions for submitting reports for newly discovered bugs.
Disney Dreamlight Valley is currently in its Early Access phase and is available on Nintendo Switch. This second update is the last major one for 2022, yet more may be on the horizon next year as the game is scheduled to launch as free-to-play (with microtransactions available) in 2023.
Screenshots
Leave a Comment