Are you a big fan of Fire Emblem Warriors: Three Hopes? Are you a fan of physical media? Then you might be interested in the game's comprehensive soundtrack coming soon to Japan.
Split across four discs, the package comes with a whopping 118 tracks, making it the complete soundtrack. While this unfortunately means the game will likely not be receiving any major DLC, it's still nice to have all of the songs on physical CDs.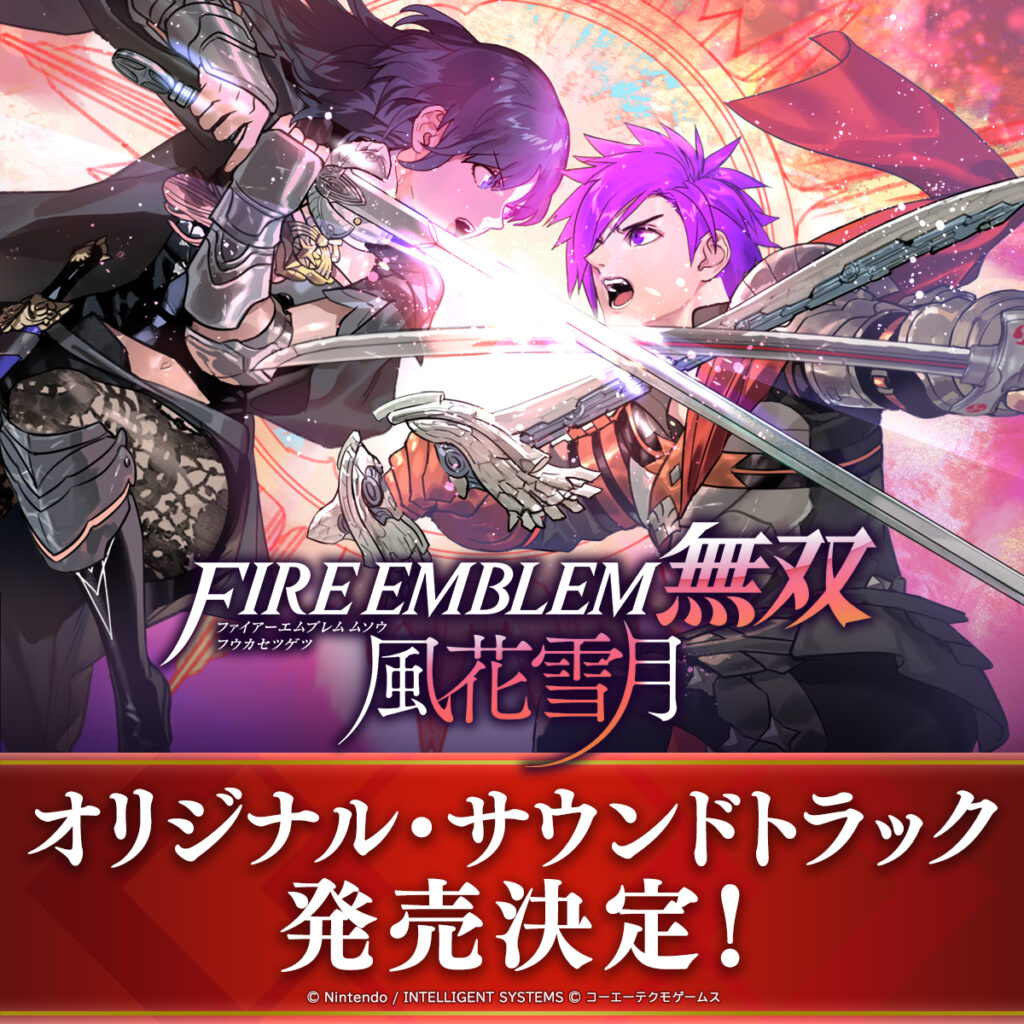 The album releases in Japan on March 22nd, 2023 and will retail for ¥4,950 (approximately $36 USD at the time of this writing).
Track list
Fodlan's Dawn Breeze
Dawn Breeze of Fodlan ~ Silence
Sky Ripping Meteor ~Senso
Sky Ripping Meteor ~ Silence
Roar of Hegemony
Roar of Hegemony ~ Silence
Horizon of Ambition ~ Senso
Horizon of Ambition ~ Silence
Distant Road ~ Senso
Long Road ~ Silence
Boundary between Heaven and Earth ~Senso
Boundary between Heaven and Earth ~ Silence
A storm revolves ~ Senso
A storm rolls around ~ Silence
Dust Corridor ~ Senso
Dust Corridor ~ Silence
Fire Emblem: Three Houses Main Theme ~Senso
Fire Emblem: Three Houses Main Theme ~ Silence
darkness
Darkness ~ Silence
Darkness (Sanctuary)
Darkness ~ Silence (Sanctuary)
Darkness (Abyss)
Darkness ~ Silence (Abyss)
Funeral Procession of Flower Fragments ~ Battle Song
Funeral Procession of Flower Pieces ~ Silence
Funeral Procession of Flower Pieces ~ Battle Song (Second Half)
Funeral Procession of Flower Pieces ~ Silence (Second Half)
At the top of this world ~Senso
At the top of this world ~ Silence
At the top of this world ~ Senso (second half)
At the top of this world ~ Silence (second half)
white melody
White Melody ~ Silence
White melody (second half)
White Melody ~ Silence (second half)
swear by my sword
I swear by my sword ~ ​​Silence
Iron-Blooded Battlefront
Iron-Blooded Front ~ Silence
alien journey
Foreign Route ~ Silence
dashing bond
Rushing Bonds ~ Silence
like lightning
Like thunder ~ Silence
battle blade burning
Burning Battle Blade ~ Silence
brilliant frenzy
Brilliant Frenzy ~ Silence
Strong Attack ~ Battle Performance
Strong Attack ~ Silence
Strong Attack ~ Senso (Decision)
Deathline ~ Senso
death line ~ silence
Deathline ~ Senso (Decision)
Roads that don't cross
Roads that do not cross – silence
Roads that do not cross ~ Senso (Conclusion)
Persevering Will ~ Battle Song
Persevering Will ~ Silence
Persevering Will ~ Senso (Conclusion)
something to kill
Something to Kill ~ Silence
What should be avenged (settlement)
"Gray Devil"
"Gray Devil" ~ Silence
"Gray Devil" (Conclusion)
Awakening ~ Dark Dawn
Awakening ~ Red Flame
Awakening ~ Blue phosphorus
Awakening~Yellow
sunless dream
writhing in the dark
heartless
Leading the four-colored flag
Burn the red flame
Sacrifice
with blue phosphorescence
As a golden flame
farewell
Garreg Mach Abbey
usual today
calm daily life
strong-willed
landscape without color
silence and meditation
I think of you
malice and suspicion
magic hand
on thin ice
looking for tomorrow
clown's tune
cry in the moonlight
quiet passion
ominous sign
monologue
Laughing in the sunlight filtering through the trees
void
Opening ~ Crest of Fire
military boots guidepost
what you have won
good stuff cheap
heart to heart
Red Flame Team – Part 1
Red Flame Team ~ Part 2
Seirin no Jin ~ Part 1
Seirin no Jin ~ Part 2
Huangsheng no Jin – the first half
Huangsheng no Jin – second half
charred circle
omen
war
dawn
Finale ~ Girl of Fresberg
Meteor shower
at the end
go through the battlefield
Leave a Comment