Update (9/8/2022): It looks like SplatNet 3 has been added to the Nintendo Switch Online mobile app today and is already functioning!
---
Just like Splatoon 2, Splatoon 3 will be getting its own dedicated app within the Nintendo Switch Online mobile app. Featured in today's Splatoon 3 Direct, we got a look at SplatNet 3 and some of the features it'll offer.
While SplatNet 3 is, for the most part, similar to Splatoon 2's SplatNet 2 there are some differences. Here's what was covered in the presentation as well as a few other things we noticed.
Home
Instead of seeing some player stats, the Home screen features a rotating banner of notable features (i.e.: "My Outfits"), a section showing off which of your Nintendo Accounts friends are online, and icons taking you to the following sections: SplatNet Gear Shop, Freshest Fits, History, Wandercrust Tour, Catalog, Album, Weapons, Stages, Hero Mode, View Replays, QR Code Reader, and Settings.
Plus, at the bottom of the screen, there's a menu bar dedicated to the following topics: Home, Schedule, Battles, and Salmon Run.
Battles
It's the Battles tab with a whole new look! Here you'll be able to check out the stats from your last 50 battles. See what victories or defeats you've earned in Regular and Anarchy matches, along with how many turf points you've acquired, what weapon was used, which map was in play, and more.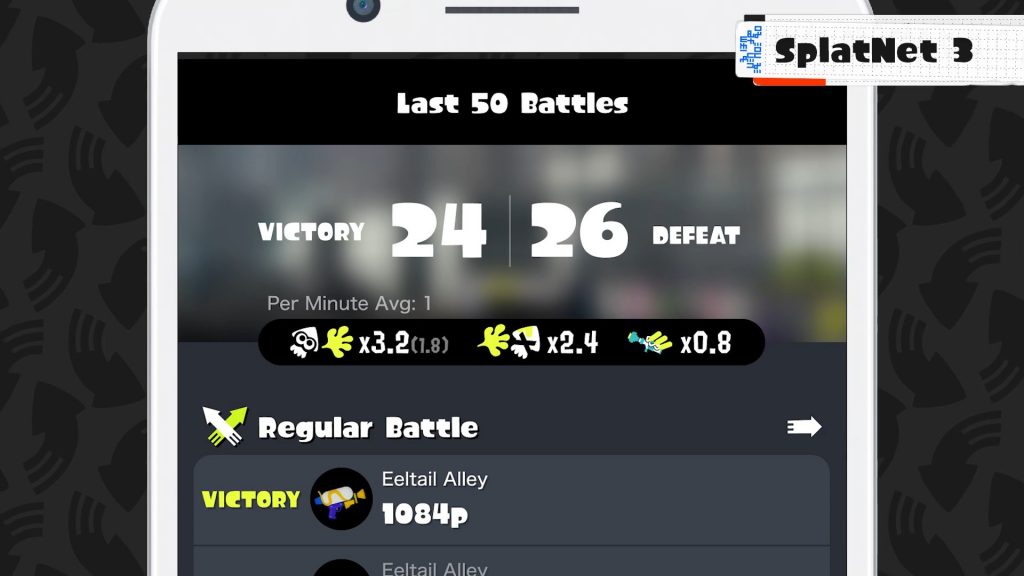 SplatNet Gear Shop
Annie, from the original Splatoon, is still running her shopping enterprise on SplatNet. For the SplatNet 3 version, it appears that a variety of gear will be featured throughout the day (referred to as "The Daily Drop"). Instead of individual gear rolling out every two hours, SplatNet 3 will feature "special in-game gear" from a particular brand (i.e.: Zekko) and availability may be a full 24 hours. As for what makes this gear so special it could be one of a few reasons: that this gear isn't sold in Splatoon 3 or, like the original SplatNet, this gear has different primary abilities. We won't know for certain until the app is up and running.
Wandercrust Tour
Crusty Sean is seeing the world and you can help him along! This feature appears to be "replacing" the Lifetime Inkage stats, where all your points earned from multiplayer matches are compiled. SplatNet 2 compared your "lifetime turf inkage" to famous landmarks and issued out wallpaper rewards at select milestones. For SplatNet 3, it looks like you'll be trading in points to help Crusty Sean in his many journeys. The flavor text hints at Crusty Sean handing out souvenirs too, but the Direct left things vague. While, yes, wallpaper rewards were confirmed within the app, there's the possibility of in-game content. Who knows what treasures Crusty Sean will find…
History
Another section of stats, but this time it's all about your Inkling or Octoling. See what weapon and gear you currently have equipped (and their main/sub weapons/abilities), how long you've been playing Splatoon 3, your all-time best rank, total wins, the total amount of Turf Inked, badges owned, and your favorite weapons.
SplatNet 3 will be available alongside Splatoon 3's launch on Friday, September 9th. All you need is to download the Nintendo Switch Online app for mobile devices and log in with your Nintendo Account (if you haven't already). From there, you can always check in to Splatsville without booting up the game and see what maps are currently active, your stats, and more!
Leave a Comment