Indie-pop band OFK's episodic adventure will soon roll out on Nintendo Switch, PlayStation 5, and PC. Last seen in May during Nintendo's Indie World Showcase, that "Summer 2022" release date holder now has a concrete date. Starting on Thursday, August 18th, you can follow the lives of OFK's members (Itsumi Saito, Jey Zhang, Luca Le Fae, Carter Flores, and Debug) with the first two episodes of We Are OFK.
The announcement was made today on the official social media channels for We Are OFK with a release date trailer. Plus, you can hear a snippet of one of the game's singles, "Fool's Gold".
We Are OFK follows the lives of four friends in their 20s as they attempt to break into the music business, fall in and out of love, and figure out how to pay rent and make art in Los Angeles.

Features:

5 Episodes of the interactive animated series
5 Interactive Music Videos: with debut tracks performed by OFK
Fully-voiced interactive dialogue from a star-studded cast
Emotional texting, thirst texting, meme texting, emoji spamming
Original Los Angeles locations. You're gonna love the boba shop it's wild
Overall, there are five episodes in We Are OFK and they'll be released in batches. Episodes 1 and 2 will be available on Thursday, August 18th. The remaining three episodes will be released weekly: Episode 3 on August 25th, Episode 4 on September 1st, and Episode 5 on September 8th. Since we're a little over two weeks away from the game's release, Nintendo has opened digital pre-orders on the Nintendo eShop today and has thrown in a 10% discount (get the game for $17.99 instead of $19.99).
For a physical version, iam8bit has got you covered (and Black Screen Records is in charge of the distribution in Europe). They'll be selling exclusive physical editions of the game for Nintendo Switch ($34.99) and PlayStation 5 ($29.99). Along with a physical copy of the game, each includes a reversible cover and a 3D papercraft kit of Debug (the cat). Yet, copies are currently scheduled to be shipped out in Q3 2022 (July – September). For those looking to experience We Are OFK on Day 1, a digital copy is your best bet.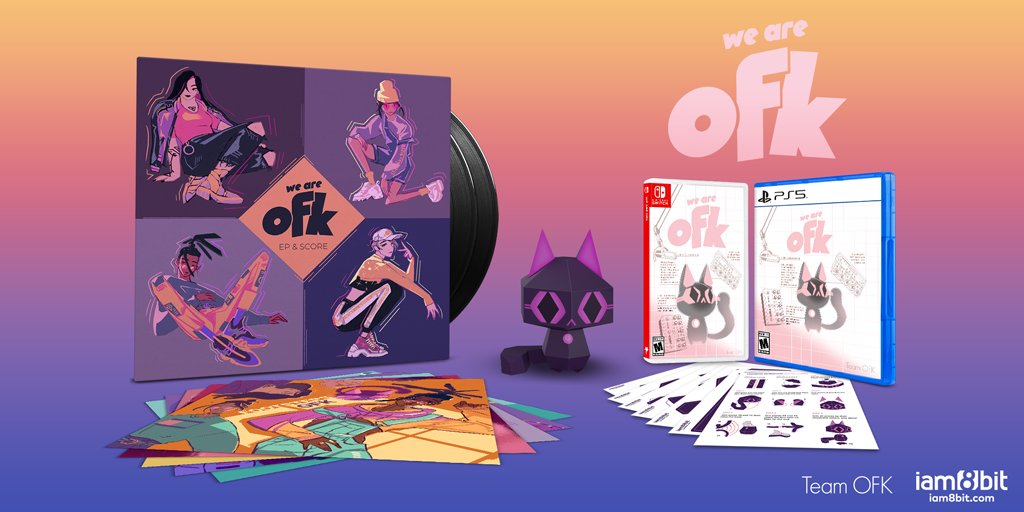 That's not all from iam8bit though. Since We Are OFK is about the indie-pop band OFK, a vinyl album release is also available to pre-order. Shipping in Q1 2023 and priced at $41.99, the 2xLP includes the band's entire debut EP (with prints for each single), exclusive acoustic tracks, and select tracks from the game's original score.
While you wait for We Are OFK's release on Thursday, August 18th, you can pre-save the band's EP and listen to their first single "Follow/Unfollow" on multiple music streaming services.
Leave a Comment