The wait for Bayonetta 3 continues! We haven't seen much of the title since the Nintendo Direct back in September 2021 and with no first-party Nintendo Direct in sight, we'll take whatever bread crumbs we can find.
Thanks to Redditor XDitto on r/NintendoSwitch, they noticed a change on Bayonetta 3's official page on Nintendo's site. Previously (as of Wednesday, July 6th, according to the Wayback Machine), Bayonetta 3's ESRB rating was still RP – rating pending. That's no longer the case today. No surprise, Bayonetta 3 is rated M for Mature due to "Violence, Blood and Gore, Partial Nudity, Strong Language". Compared to the first two games, Bayo 3 is just missing Intense Violence and Suggestive Themes. Checking the ESRB's official site, however, shows no mention of the third game.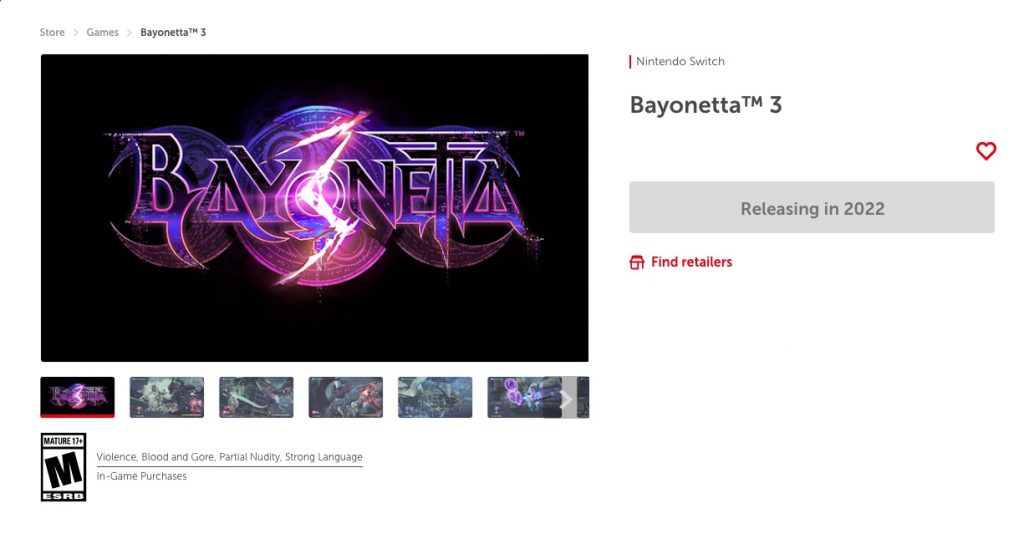 That's not all though. Under the ESRB rating, one other detail was shared – "In-Game Purchases". It's vague, but this is the first that Nintendo has mentioned additional paid content for the title. Time to guess if this one little line means DLC, cosmetics (without a doubt this is likely), or other purchasable downloads.
Sadly, for amiibo fans, this updated page has no mention of amiibo support. There's still time though for this to change! Bayonetta 3 will be here soon as it's still scheduled to be released sometime in 2022.
Leave a Comment