The following article contains possible spoilers for an unannounced Fire Emblem game and includes screenshots of the game in development (allegedly). If you do not want to see these screenshots/be spoiled, turn back the hands of time by not going forward to read this article. 
While Fire Emblem fans have been eagerly awaiting the release of Fire Emblem Warriors: Three Houses and partaking in the demo Nintendo released last week, rumors of a new Fire Emblem game suddenly emerged this week. Leaked by Emily Rogers (longtime leaker and contributor for Nintendo World Report), she posted a bullet point list of a new Fire Emblem game that's been in development and allegedly finished. She also confirmed another member of the Famiboards community, NateDrake, has knowledge of this game and has been posting teases of it over the last few months.
This is where the rumor saga typically ends – perhaps with the addition of other journalists, insiders, etc. that have connections and confirmed they've heard similar reports. Instead, about a day after the rumor made the rounds online, a set of four images of the game in development appeared on the r/fireemblem sub via Reddit.
This is your final warning if you do not wish to see the images.
Shared by user miasmadelta (a recently made account on Reddit), they confirm that this brand-new Fire Emblem game exists and reiterate some facts initially shared by Rogers: that the game is made between Intelligent Systems, Koei Tecmo, and Gust (known for the Atelier games), features a protagonist with red and blue hair, and that the game has been completed "for some time." They also add-on that some aspects of the cancelled Fire Emblem game for the Nintendo Wii have been incorporated into this new one and that there a "many new characters." Along with bringing up the long-rumored (and hoped for) remake of Fire Emblem: Genealogy of the Holy War, they also shared four screenshots of this new Fire Emblem game.
Note: miasmadelta doesn't give a date for these screenshots, but mentions that they're "quite old at this point, and obviously not of great quality."
While many were eager to call these fakes, especially since the text is in Chinese (Koei does have a Chinese division that has worked on Fire Emblem games). Plus, one character was simply named "WWWWWWWW" (the equivalent of lolololol). Other fans did note that, based on the images, the game looked to be utilizing whatever engine was used for Fire Emblem Warriors. Some fans even took a stab at translating the images – finding other details like a day/night system, summoning Fire Emblem characters via a "ring" mechanic, character names (Anna returns?), and some early lore (mentioning of a character with the title of "Lord").
Then, less than 24 hours later, one more image was shared.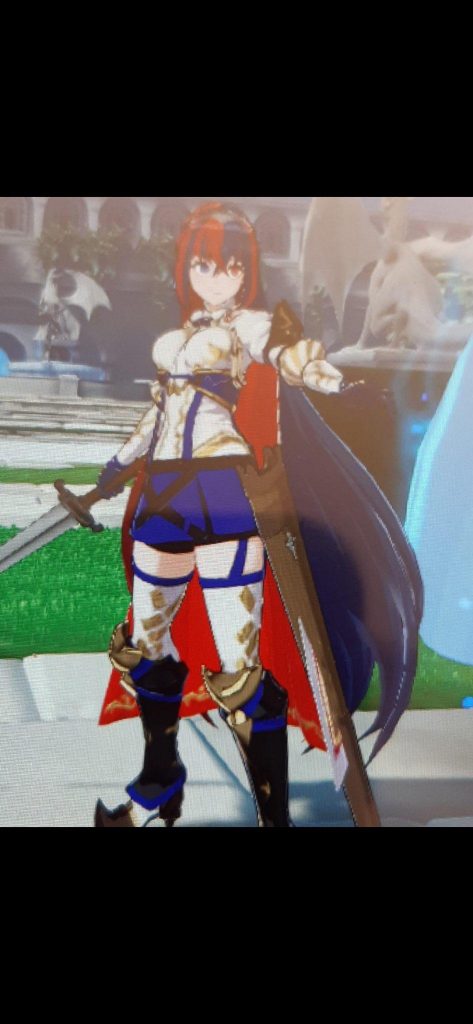 Initially shared in r/anime's discord server by "Rønin," the above image made its way onto the r/fireemblem sub. "Rønin" shared more details about the game, which were compiled by Reddit user Is_J_a_Name in the r/fireemblem thread. Here's what "Rønin" shared:
The above image is from a December 2021 build of the game.
The game might be called Fire Emblem Engage (Writer's Note: if so, could be styled as Fire Emblem: Engage)
The game revolves around some sort of Ring
Lords from past games can be summoned
Multiplayer with Online PVP and Co-op missions
The game will have one route (unlike the recent entries that have route splits)
The game's central hub is smaller in size (Writer's Note: doesn't mention if this is in reference to Three Houses, which had a large hub)
Some possible character names: Diamant (the name of this game's prince), Louie (a tank), and Yunaka (a rogue)
There are unique classes in this game: Princess, Tamer, Gold Knight, and Prince are mentioned
Now with an image of the game's red/blue-haired protagonist from the front vs. the back, and the new details, it looks like a possibility that these images are real. That these are from a new, unannounced Fire Emblem title that was meant to be a 30th anniversary game. Comparing the new image to the initial four, you can even spot this protagonist was the "WWWWWWWW" character in the second image. Therefore, they're namable or were at one point in development.
No more screenshots or details have appeared yet, but in their stead, the Fire Emblem fandom is already making fanart of the new protagonist. Due to her red/blue color hair and the amount of Crest toothpaste jokes for Fire Emblem: Three Houses, she's been lovingly referred to as "Toothpaste-chan" (but referring to Colgate's color scheme). At least, that nickname has stuck. You'll still find plenty of imagery featuring raspberry-blueberry ICEE slushies, Rocket and Fire Cracker popsicles, Fruit Roll-Ups, and more.
If all these rumors are true, fans are now wondering when this game will be announced and possibly released. Supposedly, Nintendo has a Direct scheduled for Wednesday, June 29th, and while it's barely a week after the release of Fire Emblem Warriors: Three Hopes, it's still possible for Nintendo to include it in the presentation. Plus, this finished Fire Emblem game could fill in Nintendo's empty release slot for October 2022. If not, then we could still see this reappear in a different Direct and given a 2023 release or get a YouTube vid from someone showing how they made the screenshots in Photoshop.
At this point, though, I'm leaning towards the game being real. Rogers has been consistent in her leaks. As for the images, that's 50/50. The most recent image certainly looks like something out of Gust's design department. And while it's extremely busy (how many belts/straps do you need and we're mixing in red/blue/white/gold/black into one character!?!??!) perhaps this is the trade-off in having Gust take part in developing the title.
For now, we'll just have to wait for a possible announcement during the upcoming Direct or a future one… or put on some clown gear once it's proven to be fake.
Leave a Comment