Splatoon 3 may be launching this summer, but that doesn't mean the fun will stop in Splatoon 2. After hosting various online competitions the last few years, Nintendo is calling all Squid and Octo Kids again for another official splatdown. Welcome to Splatoon 2 Turf War February 2022 tournament!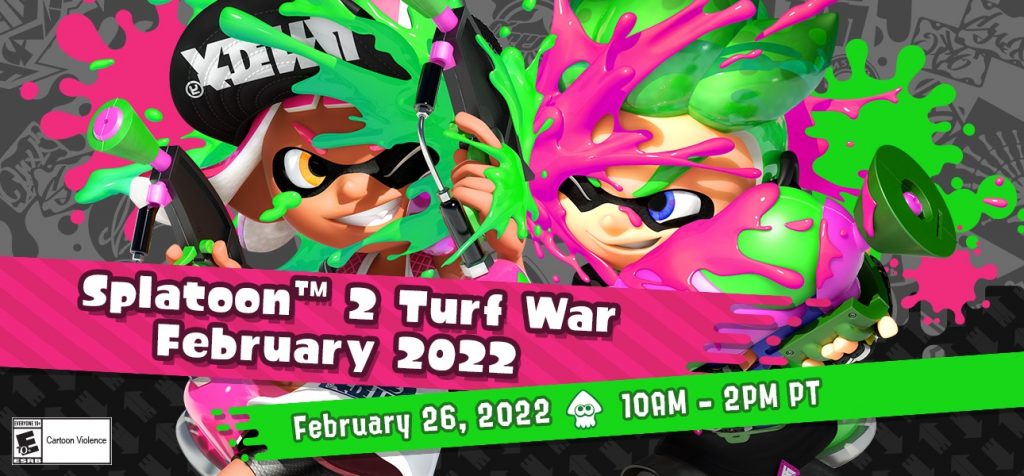 The inktastic action begins on Saturday, February 26th at 10 a.m. PT. Nintendo is still accepting submissions for teams of four via Battlefy. All team members must be located in the US, Canada, or Mexico and "have access to a Nintendo Switch system, Splatoon 2 game, reliable high-speed internet connection, and a Nintendo Switch Online membership." Entrants from Mexico must be 18 years or older, whereas competitors from the US (including D.C) and Canada must be 13 years or older.
With any competition, there are prizes to be won. Each team member in the top four teams will get a swag package that includes Nintendo Gold Points and a Nintendo Switch Carrying Case. The top team will get a Grand Prize package that also includes a Splatoon 2 Turf War February 2022 Trophy, Splatoon 2 Jacket, and a backpack.
Registration is available until the tournament starts on Saturday, February 26th at 10 a.m. PT. After that, matches will be happening until 2 p.m. PT the same day. To register, get three friends that are ready to "Woomy!" their way to the top with you, and apply on the Battlefy event page. Additional rules are also available there too.
Leave a Comment