Super Rare Games has partnered up with Hidden Fields and MWM Interactive for its next physical Nintendo Switch release. The atmospheric horror Mundaun, which was released earlier this summer on the Nintendo Switch via the Nintendo eShop, has secured the 60th spot in SRG's physical game collection.
Mundaun is a lovingly hand-penciled horror tale set in a dark, secluded valley of the alps. Explore various areas full of secrets to discover, survive hostile encounters, drive vehicles, fill your inventory and solve a variety of hand-crafted puzzles.

Unique setting – Immerse yourself in the unique setting of an alpine world where reality and myth intertwine, interacting with eccentric inhabitants with their own obscure spoken language
Hand-penciled art – Experience a gorgeous greyscale aesthetic, thanks to hand-penciled textures that give off a one-of-a-kind haunting vibe
Beware the alps – Explore varied and open levels, from green meadows to snowy peaks, while solving puzzles integrated into the game world – but beware of the creatures roaming the landscape…
Overcome your fear – Find out the dark secret behind your grandfather's death, battling against a fear resistance factor, diabolical creatures, and supernatural happenings to discover the truth
Only 4,000 copies of Mundaun will be printed for this release and sales open on Thursday, November 25th at 10 a.m. PT | 1 p.m. ET (a.k.a. Thanksgiving in the US). Mundaun's run hits all the checkboxes in SRG's physical editions – each copy of Mundaun will come with the game on a physical cartridge, case, interior art, a full-color manual, exclusive sticker, and 3-card booster pack. Copies of Mundaun cost $36.32 each and are limited to two per customer. Additional card packs can be purchased too for $3.36 each with a limit of five packs per customer.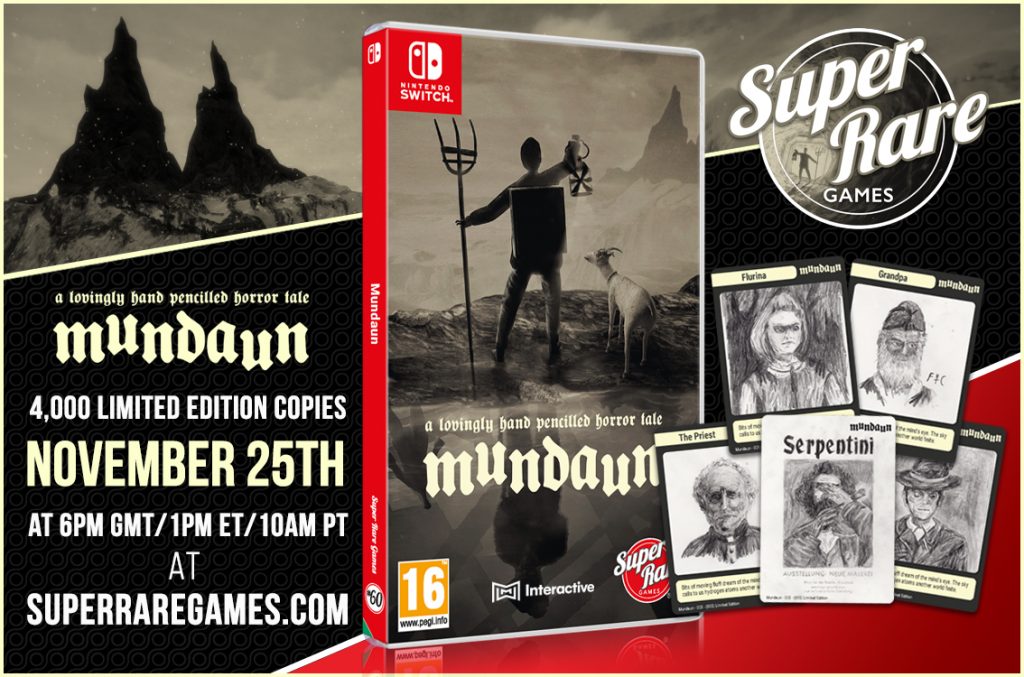 If you're interested in adding this penciled horror title to your physical collection, make sure to set your alarms for next week or skip the wait and order the three-game pack that includes it, the first Super Rare Shorts (Heaven's Machine), and the next unannounced game only at Super Rare Games' site.
Leave a Comment