Previously, Target announced it would be offering an exclusive journal as a bonus with all pre-orders placed for the Pokémon Brilliant Diamond and Shining Pearl Double Pack. Unfortunately, that bonus seems to have been cancelled for some. Thanks to @Wario64 and @GamerTank117, we now know that some people are receiving notices from Target stating that the journal bonus has been cancelled "due to supply chain challenges and delays" and will be replaced with a $20 Target eGift card. Those receiving the message will have their gift cards arrive in their email inboxes within 24 hours.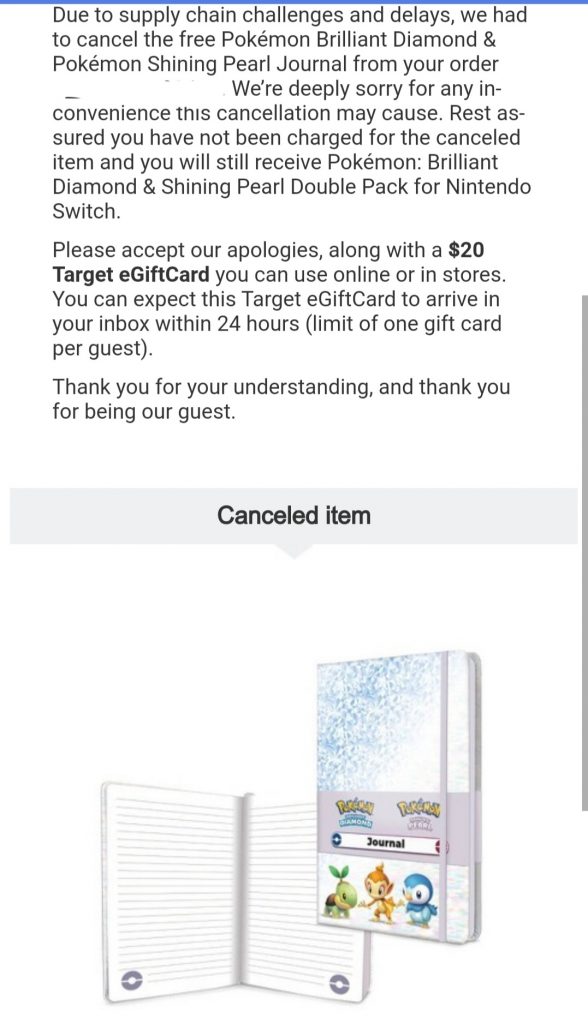 This update comes as no surprise really, not with all of the shortages we're seeing across all sorts of products and parts (the Nintendo Switch being one of the many impacted by a supply crunch). The news is definitely a bummer for those who were excited about this particular journal bonus — still, Target's at least addressing the issue and is attempting to make up for the inconvenience.
For more information about all of the goodies retailers are offering in North America, make sure to check out our Pokémon Brilliant Diamond and Shining Pearl pre-order bonus guide.
Leave a Comment