Alright, now it's time to duel with amiibo! After surprising amiibo collectors earlier this year, the mysterious amiibo cards that were made for Yu-Gi-Oh! Rush Duel: Saikyou Battle Royale!! have now been unveiled.
In case you need a refresher, Konami updated the game's official site back in April. On there, the three Yu-Gi-Oh! TCG cards that would be included in the first print run of the game were announced. Off to the side of that announcement was another card promotion in the works, but this time it involved brand new amiibo cards! Other than how many amiibo cards there would be and what they would unlock in-game, the only other details available were how to acquire them. Unfortunately, it involved pre-ordering multiple copies of the game, as one copy would give you a blind bag card. Ouch!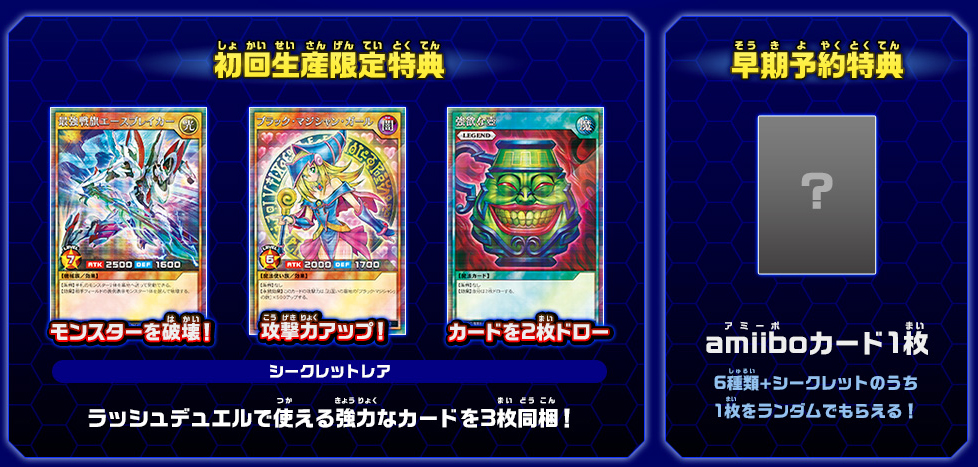 Unsurprisingly, pre-orders sold out rather quickly due to that particular detail. Now with the game releasing in Japan, it seems that some amiibo card "packs" have been sent to retailers to give out on a first come first serve basis. Just search the game's Japanese name on Twitter, and you'll find various tweets like the ones below:
明日発売‼️
遊戯王ラッシュデュエル最強バトルロイヤル
入荷しております、amiiboカードは入荷数以下しかありませんので先着順とさせて頂きます。
私も楽しみにしておりました、明日買って夜遊ぶぞ😆 pic.twitter.com/u5uBYBvg6K

— トレスタ※8月は毎日大会!! (@toresuta_n) August 11, 2021
本日発売
ニンテンドーSwitchソフト
遊戯王ラッシュデュエル
最強バトルロイヤル

当店でも販売いたします!!

amiiboカードも少量ございます!
先着でお渡ししますのでお早めに! pic.twitter.com/jYNpRwkl4o

— カードボックス日本橋店 (@Cardbox_Japan) August 12, 2021
You'll also spot fans posting what cards they've acquired and what they're willing to trade. As for Twitter user @ruko_sky6, they managed to obtain a full set and shared an image of all seven cards online (via Twitter and their site, QP Games).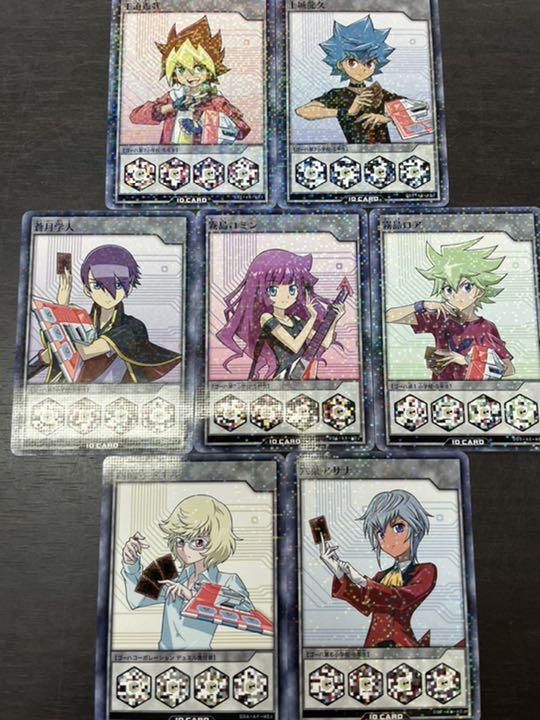 From left to right. Top row: Yuga Oudou and Tatsuhisa "Luke" Kamijō. Middle row: Gakuto Sōgetsu, Romin Kirishima, and Roa Kirishima. Bottom row: Nail Saionji and Asana Mutsuba (the "secret type" card).
Each of the seven cards focuses on a character from the Yu-Gi-Oh! SEVENS anime. As stated in a previous announcement, the amiibo cards unlock customization options – specifically the Duelist Avatar, Card Sleeves, Deck Cases, Duel Fields, and play voice-acted lines from the specific character amiibo card when scanned.
Along with the game's release, a free demo has been released on the Nintendo eShop. To play it for yourself, all you need is a Japanese My Nintendo account to access Japan's Nintendo eShop and download it. The game is also available to import from a variety of sites, including Play-Asia (you can save 5% with the code NINWIRE at checkout). Of course, make sure to read these listings carefully, as Play-Asia specifies that it's "[n]ot guaranteed that all orders will come with the three exclusive cards and the seven amiibo cards. (Random chance to receive these exclusives)." For a completely digital experience, you can just pick up the game (and without any cards) via Japan's Nintendo eShop.
Yu-Gi-Oh! Rush Duel: Saikyou Battle Royale!! will release in the west sometime this fall..
Leave a Comment