Since the beginning of the pandemic, retro video game prices have gone through the roof with classic Pokémon, Zelda, Mario, and pretty much every other first party Nintendo franchise, selling for ten times what they were going for just a year prior. Some believe the incredible rise in prices was due to the isolation people have endured during the pandemic, driving them to purchase nostalgic games from their youth. Others think that Wall Street investors are snatching them up as a long term investments. Whatever the reason, retro game collecting is quickly becoming a hobby for the super rich, which was made ever-so-apparent during a recent gaming auction held by the folks at Heritage Auctions.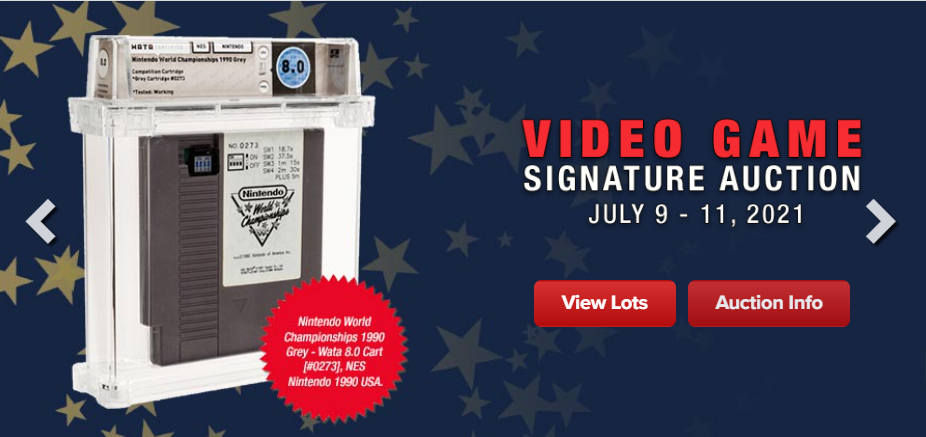 Before I go too much further, I should mention that every title I'm about to mention has gone through a grading process. Companies like WATA and VGA inspect box and seal integrity and offer a score from 0-10, depending on the condition. A separate score is often given to the seal itself; in WATA's case, ranging from a C to an A++. The higher the grade, the more potential value. Regardless of how you feel about the game-grading industry and how it's shifting the market for retro game collectors, the hard truth is clear: it's not going anywhere anytime soon, especially after seeing the massive success of this weekend's auctions.
So, now that you understand a bit more about the process, let's talk about what sold, and for how much! I've included some of the biggest sales below:
Chrono Trigger – SNES – (WATA 8.5 A+) – $28,800
Mike Tyson's Punch-Out!! – NES -(WATA 8.0 A) – $84,000
Final Fantasy III – SNES – (WATA 9.4 A+) – $96,000
Mario Bros. – NES – (WATA 9.0 A+) – $156,000
Super Mario Bros. – NES – (WATA 9.0 A) – $228,000
The Legend of Zelda – NES – (WATA 9.0 A) – $870,000
Super Mario 64 – N64 – (WATA 9.8 A++) – $1,560,000.
🎉#HERITAGELIVE #WORLDRECORD!! Super Mario 64 – Wata 9.8 A++ Sealed, N64 Nintendo 1996 USA just sold for $1,560,000 at #HeritageAuctions, smashing previous mark of $870K, set Friday at Heritage for The Legend of Zelda! https://t.co/SUgiijkkzL#SuperMario #Nintendo #N64 #WATA pic.twitter.com/rHpTuZl95l

— Heritage Auctions (@HeritageAuction) July 11, 2021
You read that right. A copy of one of the most highly produced Nintendo 64 games sold for a whopping 1.5 million dollary-doos. Once again, this is not a game with a particularly high rarity. In fact, I'm looking at a flawless (although not sealed) complete in-box copy of the game as I'm writing this.
While the grade on this auction's copy is impressive (if you're into that sort of thing), I struggle to see how a piece like this retains its value in the long run. Maybe it's a rich person thing that I'm just too poor to understand, but only time will tell if this is the new normal or just a pandemic-fueled craze.
Leave a Comment