Spike Chunsoft has revealed what their cryptic Nine Eyes countdown was leading to: and as many suspected, it was a sequel to AI: The Somnium Files, the stellar 2019 vn-adventure game by madman Kotaro Uchikoshi. Dubbed nirvanA Initiative, it stars Mizuki Okiura, daughter of the last game's protagonist and also the greatest video game character of all time (disclaimer: author is biased but also correct) now grown up and working with Aiba, her dad's partner from the last game. The reveal trailer shows her playing Zero Escape on her Switch before pulling out a hi-tech modified cyber upgrade of her trusty iron pipe from the previous game, and the fact that I'm writing this sentence out right now brings me nothing but sheer unbridled joy.
The game will release in Spring 2022, with pre-orders open soon: including for the quite pricey $119.99 collector's edition, which includes a PVC Aiba figure from GoodSmile, an artbook by character designer Yusuke Kozaki, and a soundtrack by composer Keisuke Ito (who both return from the first game).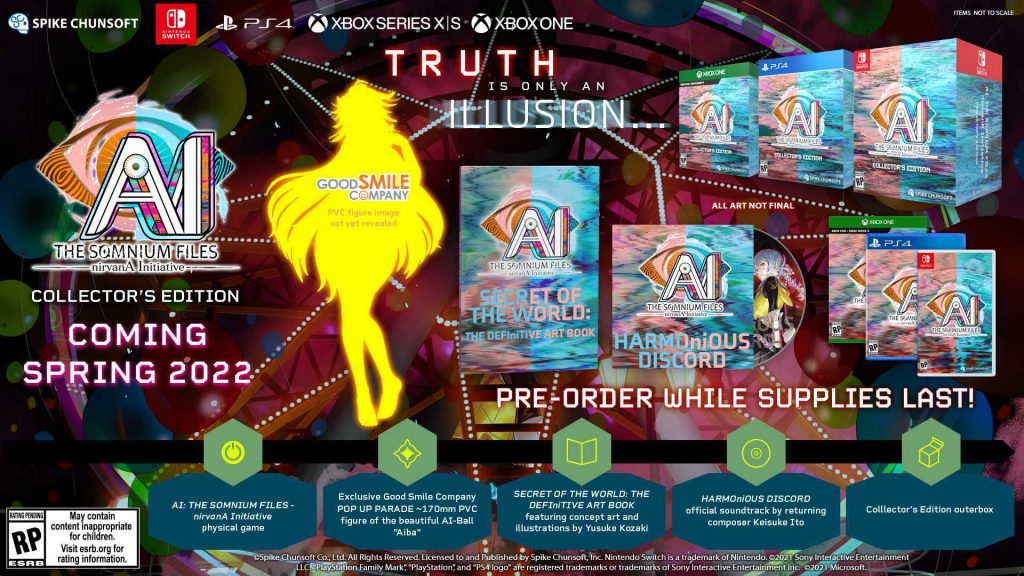 The fact that the trailer confirms the game is from "team ZeroEscape" basically confirms that the crew who handled the first game and the ZE trilogy is on it, which is all the more reason to get hyped. We'll be sure to notify you as soon as preorders open. Until then, you can buy the first game at a discounted price on Steam and PSN (and we'll be sure to let you know if it's discounted on the eShop, which it almost certainly will be).
Leave a Comment