If you're experiencing issues downloading content onto your Nintendo Switch since updating to the latest firmware, you're not alone. All one needs to do is type the error's code number (2123-1502) into the search feed on Twitter to see just how widespread this issue has become. Upon doing so, countless tweets in a variety of languages will pop up, all sharing their frustration with the current inability to download new titles and updates. The issue has affected some of the team here at Nintendo Wire, as well. I hopped onto my Switch just this morning and hurried to download the latest patch for Hyrule Warriors: Age of Calamity, only to find this dreaded error code in its place, mocking me.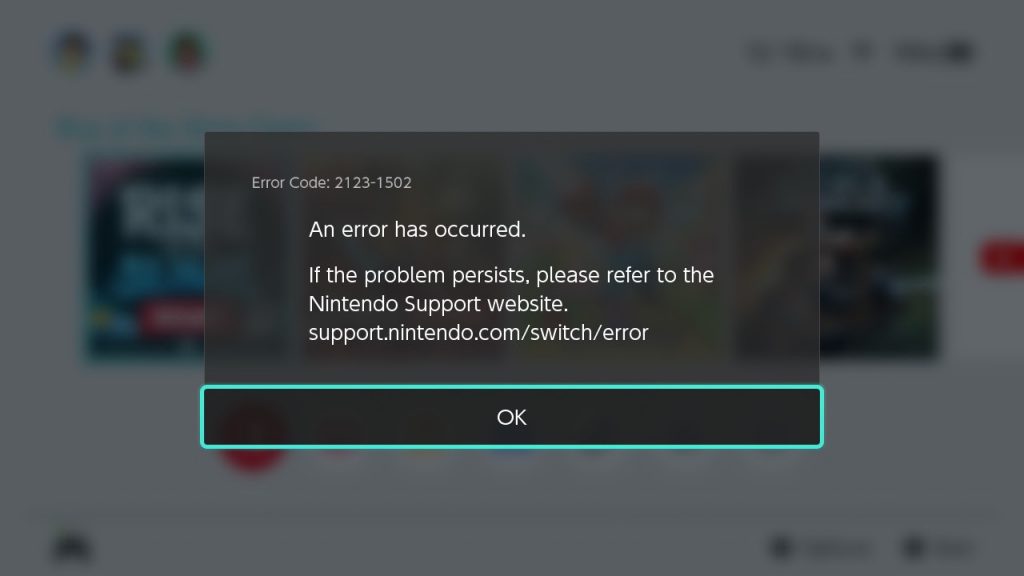 Earlier this month, Nintendo released the version 12.0.3 firmware update for the Switch. Like most updates, this particular firmware patch was supposed to add more stability to the system's software. Sadly, the update has done quite the opposite, leaving many Switch owners unable to download game updates and software from the Nintendo eShop. While Nintendo initially pulled the patch from circulation after the issue was found, they resumed its distribution that same day.
We're well over a week on since the firmware update dropped, and while there's still no official fix in place just yet, there are a few workarounds that some have begun to discover and share online. From using a direct ethernet connection while downloading software to spamming the A-button while selecting update to download, the band-aid solutions found online can range from somewhat helpful to outright dangerous to the integrity of your data. No matter what anyone tells you, do not remove or insert an SD card while the system is on! There are fail-safes within the Switch's firmware to try and prevent data corruption when this happens, but it's never worth risking all of the data on your SD card for the sake of a single download.
While we patiently wait for a permanent fix for this issue, the most reliable source for a safe temporary solution would be Nintendo's own help page on the matter. Among the fixes listed, I've personally found canceling and re-attempting the download until it works to be the most consistent solution.
We'll be sure to share an update on the matter as soon as Nintendo releases a permanent fix, so stay tuned here at Nintendo Wire for the latest info. In the meantime, good luck with your downloads!
Leave a Comment