Summer storms are brewing in Pokémon Sword and Shield, causing frog-inspired Pokémon to take up residence in the game's Pokémon Dens. From now until Sunday, June 6th at 4:59 p.m. you'll want to visit the Galar region and take part in some Max Raid Battles. According to the official Pokémon site, "[b]e on the lookout for a torrent of Pokémon appearing in Pokémon Dens, including Venusaur, Politoed, Croagunk, and Seismitoad. Lucky Trainers may even come across a Gigantamax Venusaur or a Shiny Politoed."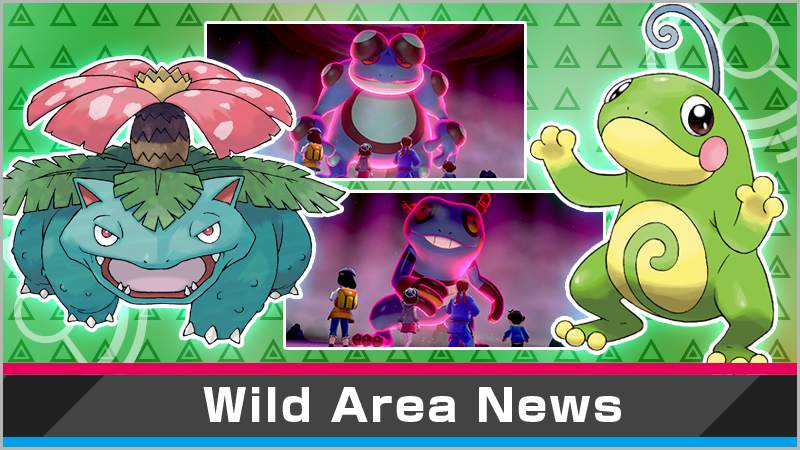 To access Pokémon Dens, just follow the instructions below:
For an opportunity to encounter these Pokémon in a Max Raid Battle, you'll need to connect your Nintendo Switch system to the internet through Y-Comm or by selecting Mystery Gift in the X menu, then selecting Get the Wild Area News. After that, whenever you see a pillar of light shining from a Pokémon Den, you can walk up to the Pokémon Den and interact with it to start a Max Raid Battle with a Dynamax Pokémon. Usually, there'll be an extremely small possibility a Gigantamax Pokémon will appear instead of a Dynamax Pokémon, but during an event, certain Gigantamax Pokémon are more likely to appear.
Don't worry if your heart is set on some Dynamax Adventures this weekend, as "[t]his event does not affect the Pokémon encountered within Dynamax Adventures."
Leave a Comment