It's been over a month since Dead by Daylight's upcoming Resident Evil DLC was announced, though we've had very little to go on regarding its content besides the new, chapter-exclusive Umbrella Charm item seen in the initial teaser. Publisher Behaviour Interactive has now loosened its barricades on the survival horror game's next installment, giving us a release date of Tuesday, June 15th, and revealing two new Survivors and the new Killer.
Resident Evil protagonists Leon S. Kennedy and Jill Valentine will be playable and will be hunted by the Nemesis from Resident Evil 3. Their designs are based on their appearances in the recent RE2 and RE3 remakes, and the chapter will be situated in a new map based on the R.P.D. police station from both games.
Please note: As you'd probably expect, the following trailer contains blood and violence as the game is rated M for Mature (17+).
More details and footage were also revealed during the official Dead by Daylight 5th Anniversary Broadcast. At the 50:50 mark in the video below, you can see footage of the R.P.D.'s entrance, main hall, library, and many other various rooms and hallways which look just as they did in the aforementioned remakes. Despite the familiarity fans of the remakes may experience playing through Dead by Daylight's version, Product Manager Justin Banks also teases, "Of course, there's also going to be a twist in there since the Entity is doing its own nightmarish version of it."
Leon's unique Perk, which "will add a new type of gameplay to Dead by Daylight," will allow players to spawn a unique item, a Flashbang, inside the match." Players will not need to equip the Flashbang in their loadouts before a match. Unlike Leon, Jill's unique Perk wasn't specified, though it is said to "highlight her intensive training and her high adaptability in impossible situations."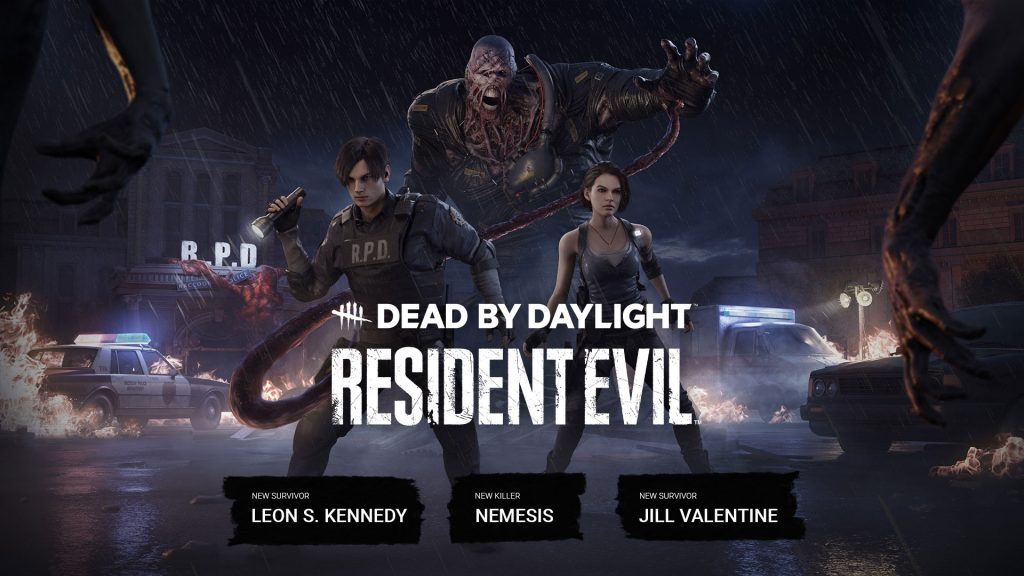 As for the Nemesis, his unique power is called "T-Virus," which allows the tyrant to unleash a special tentacle attack that can infect Survivors. "Infected Survivors are going to be sick. They will cough, they will vomit, so they're going to be easier to spot," Banks explains. "And they also become vulnerable to the next tentacle attack which will not infect them, but will damage them instead." The Nemesis's power will grow with each infected Survivor, extending the reach of his tentacle. Survivors can use vaccines, which are situated around the map and in a limited quantity, to cure infection.
The Nemesis also has another unique aspect that he will introduce to Dead by Daylight. "For the first time ever, this Killer is assisted by AI characters," Banks reveals. "So we are adding zombies to the maps when you are facing the Nemesis. Zombies are patrolling the area and Survivors need to be careful of both Nemesis and them so that they don't get bitten and infected by the zombies."
Dead by Daylight's new DLC is part of the Resident Evil franchise's 25th-anniversary celebrations, which also includes the upcoming Netflix-exclusive, CG-animated series Resident Evil: Infinite Darkness.
Leave a Comment