Popular streaming service Netflix has released a new trailer for its upcoming exclusive CG-animated series, Resident Evil: Infinite Darkness, and there is a ton of details to unpack crammed within its two-minute runtime. One such key detail is that the series now has a release date of July 8th, 2021.
Along with new characters and locales, the trailer features vomiting zombies, infected rats, and a new tyrant that promises to "show you fear." For those unfamiliar with the Infinite Darkness plot, the series stars Resident Evil 2 protagonists Leon S. Kennedy and Claire Redfield, who get caught up in a viral outbreak at the White House.
The Resident Evil Portal has also released new artwork for the series.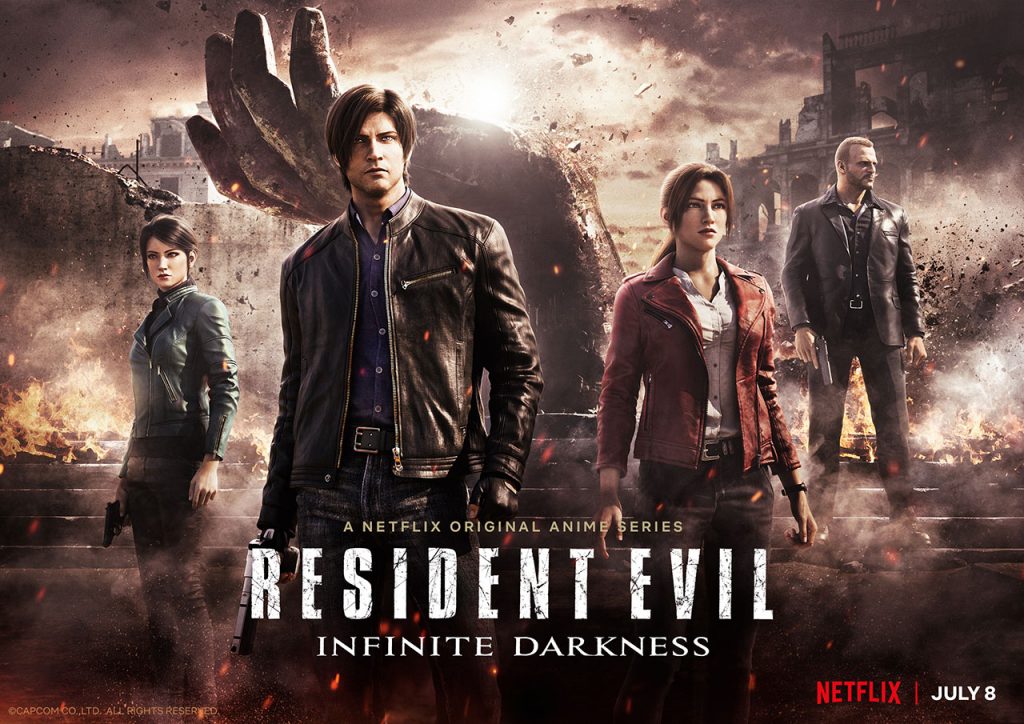 A new synopsis on the Portal reveals some new plot details. The character seen speaking to Leon at the beginning of the trailer is known as Jason, who was the leader of US Army group Mad Dogs. In the year 2000 (six years prior to the main events of Infinite Darkness), the Mad Dogs refused orders from the command center to investigate a fallen US special forces helicopter that was intervening in the Penamstan civil war. Instead of corpses, the team found the "the supposedly dead special forces moving in strange ways."
In the present day (2006), Leon and Jason are among four agents invited to the White House to investigate a hacking incident on a top secret file related to a biology laboratory in Shanghai. After the duo team up with the SWAT team to take down a mysterious zombie horde at the White House, the group head to Shanghai in "a cutting-edge submarine" and are attacked by "a swarm of rat-like Bio Organic Weapons." It's also revealed that Claire is in Penamstan when she discovers the strange drawing ("drawn by a nonverbal boy") that leads her to an investigation at the White House.
The voice actors of the 2019 Resident Evil 2 remake, Nick Apostolides and Stephanie Panisello, are set to reprise their respective roles in Resident Evil: Infinite Darkness.
Leave a Comment