Worldwide fashion retailer H&M has been switching gears behind the scenes over the last few years. The fast-fashion giant has been working towards sustainability, so much so that the company has been making strides to meet "the goal of only using recycled or other sustainably sourced materials by 2030[.]" A lofty goal, the company showed off one of its sustainability solutions last October – an in-store recycling system dubbed Looop.
Today, they're bringing Looop into the digital world of Animal Crossing: New Horizons. Announced today alongside a partnership with actress Maisie Williams (now a Global Sustainability Ambassador for the company), H&M Looop Island is now open to promote recycling as well as be "the first-ever Animal Crossing: New Horizons clothing recycling station."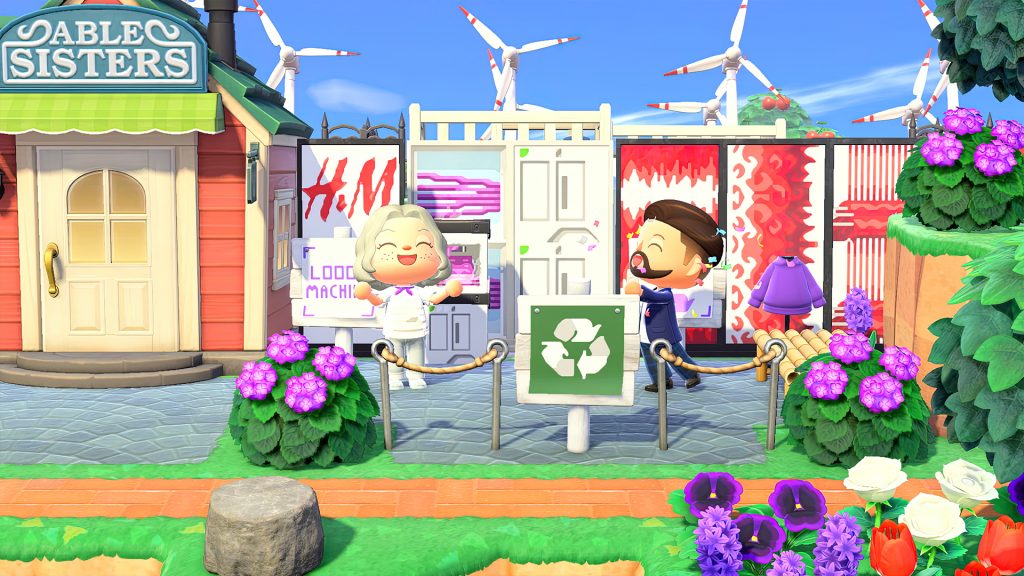 The first joint action is the launch of H&M Looop Island in Nintendo's hugely popular game Animal Crossing: New Horizons on 13 April. Named after H&M's recently launched garment recycling machine, which takes old clothes and recycles them into new ones, H&M Looop Island has been completely designed with a sustainable theme. Players can explore the island and recycle their game outfits into new ones in the first ever Animal Crossing: New Horizons clothing recycling station the Looop machine.

"Being part of this initiative together with Maisie Williams to drive for change within the fashion industry by encouraging our customers and fans to reuse, remake and recycle unwanted garments, is something we at H&M are very ambitious about. We've employed the creative spaces found in Animal Crossing: New Horizons as an exciting way to create a unique showcase of our vision.The future of fashion needs to look different, and we want to be a part of this solution" says Pascal Brun, Global Sustainability Manager H&M.
You can visit H&M Looop Island by requesting a Dodo Code at the official @Looop Twitter account throughout the week. Currently, H&M hasn't provided a Dream Address to visit their island at your leisure.
This promotion checks off nearly all the boxes of Nintendo's usage guidelines that were released last year in response to how New Horizons was being used for marketing purposes. While it might land in a gray area concerning the "do not leverage the Game as a marketing platform that directs people to activities or campaigns outside the game" rule, the same can be said for other notable marketing collabs from last year.
Leave a Comment