Following the debut of the Pokémon TCG Happy Meal promotion at McDonald's this week, it took less than a day for opportunistic individuals to buy and scalp the card and toy packs online for ridiculous amounts of money (cases containing 150 packs were listed for $1,000+). 
Quickly, Pokémon fans took to social media blasting scalpers and even those who bought dozens of Happy Meals to "unbox" and giveaway. Many also were notifying McDonald's and multiple news outlets reached out for comments from both McDonald's and The Pokémon Company. 
Today, IGN reported that they received the following statement from a McDonald's spokesperson (emphasis is our own doing):
"We love seeing fans' passion for our limited-time Happy Meal promotion celebrating 25 years of Pokemon. With such significant demand for our promotional Pokemon TCG cards, and some fans even going to extreme lengths to get them, we're working quickly to address shortages and also strongly encouraging restaurants to set a reasonable limit on Happy Meals sold per customer. We want to offer the full Happy Meal experience to as many families as possible, and help ensure everyone is able to get in on the fun!"
Also covered in IGN's reporting, "McDonald's made clear its policy that full boxes of Happy Meal toys should not be sold to customers, and that toys must be distributed in stores by employees only." Sadly, that's a little too late given the current state of the third-party seller's market.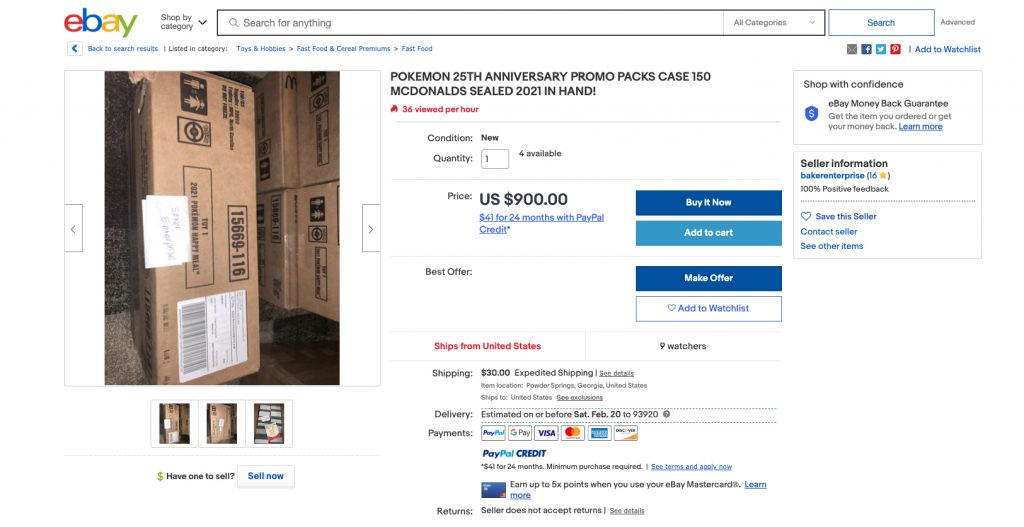 Four available for the low, low price of $900 + $30 expedited shipping.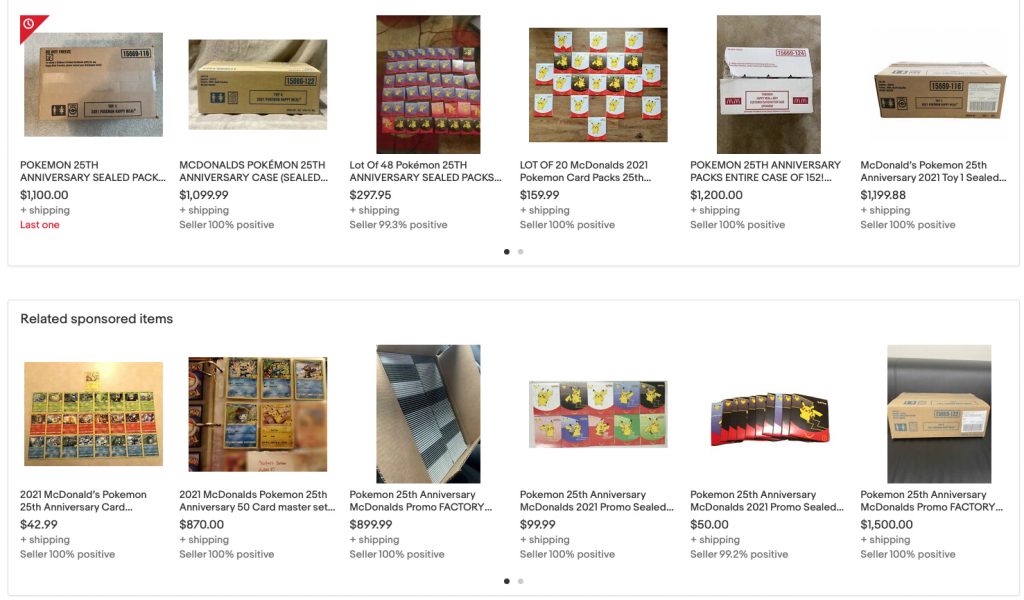 But wait – there's more!
Hopefully, these next batch of shipments are properly tracked and precautions such as order limits that can't be overridden in McDonald's ordering system (which seems highly unlikely due to McDonald's statement, but a Pokémon Trainer can wish). Will there still be people who will try to profit off of these cards? Oh, absolutely, without a doubt. The real question is will they be stuck with cards and toy packs they can't seem to sell, given the push to restock affected stores. Here's hoping they'll find themselves in company with a particular Team Rocket grunt trying to peddle off Slowpoke tails for 1,000,000 Pokémon Dollars.
Leave a Comment