Update (Friday, February 19th, 2021): The Pokémon Company officially announced the distribution on pokemon.com today.
Pokémon Trainers in the United States, Canada, Australia, and New Zealand can add Shiny Toxtricity to their collection by visiting their local GameStop (U.S.) or EB Games (Canada, Australia, and New Zealand) store from Friday, February 19th to Thursday, March 18th.
"Trainers located in the US can obtain a code by using the Pokémon Pass app inside their local participating GameStop. Curbside pickup is also available. For the no-contact option, park or stand outside the front entrance of your local participating GameStop, open the Pokémon Pass app, and follow prompts for curbside pickup to receive a code for your game.

Trainers in Australia and Canada can obtain a code by visiting EB Games. For curbside pickup in Canada, Australia, and New Zealand, upon arriving to the store, please either knock on the front door or call the store to notify the staff that you have arrived and are waiting outside. Request a code from a sales associate, and they will bring one out to you."
With the code in hand, it's time to redeem it in Pokémon Sword or Pokémon Shield via Mystery Gift (Get with Code/Password option). Your sparkly Toxtricity will be:
Level: 50

Ability: Punk Rock

Held Item: Throat Spray

Moves:

Overdrive
Sludge Wave
Boomburst
Rising Voltage
---
It looks like one of Galar's most radical-looking Pokémon is coming to a GameStop near you in just a few weeks. According to a post in the Pokémon Sword & Shield subreddit, Shiny Toxtricity will be distributed via the Pokémon Pass app.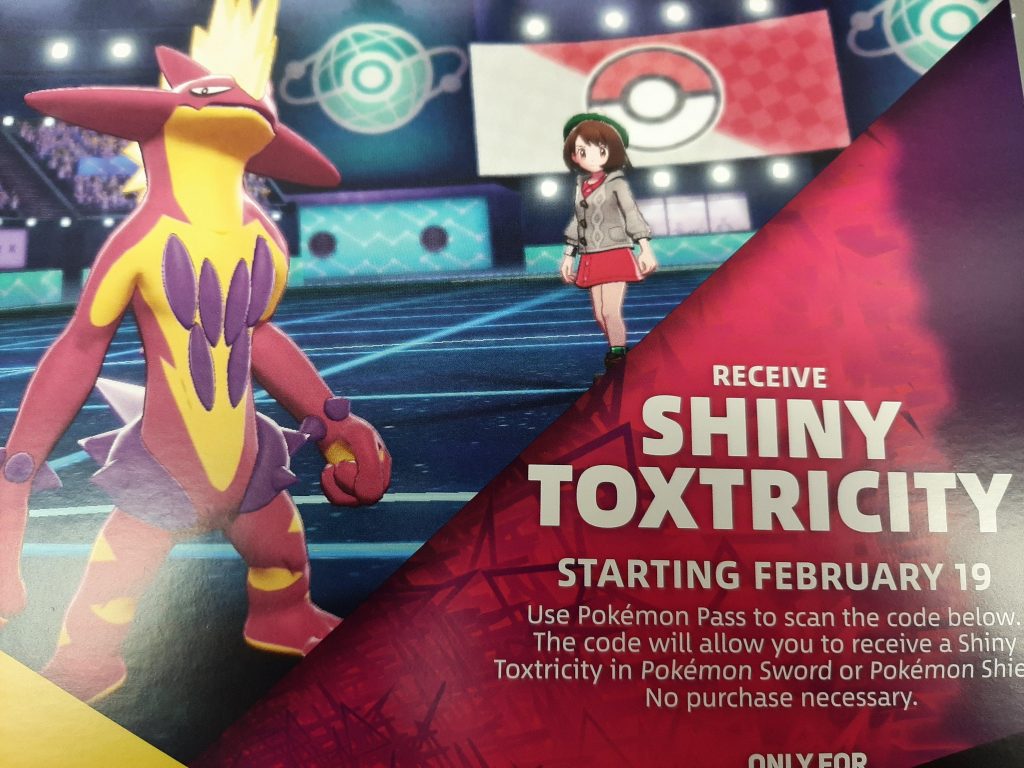 This promotion is currently planned for GameStop locations in the United States starting on February 19th, according to a promo card for the distribution. Other news outlets are also reporting that the promotion will be active at EB Games locations in Canada. Not much is known about the available moves or Nature of the Toxtricity, but the fact that it's Shiny makes it a hot commodity regardless.
While the Pokémon franchise is celebrating its 25th anniversary later this month, the distribution for this Shiny Toxtricity is to celebrate the upcoming (and highly sought after) Pokémon TCG expansion, Shining Fates, which is releasing the same day.
Leave a Comment