The Switch is a surprisingly beefy little console, with massive open world games like The Witcher running decently well, and smaller games like Animal Crossing: New Horizons looking borderline Pixar-esque at times. However, when it does run larger and more taxing games, such as the aforementioned Action-RPG from CD Projekt Red, there's always more than a few compromises. Those compromises often come in the form of lower resolutions and framerates, and less texture detail when compared to their counterparts on more powerful hardware. As a new console generation dawns, those compromises could become a potential liability for the hardware in the not-too-distant future.
Now, Nintendo is no stranger to selling weaker hardware when compared to its contemporaries, and has been wildly successful in the past while doing so. Yet, in the fast-paced tech world that we currently find ourselves in, the power discrepancies between the Switch and other consoles -including game streaming services- is rapidly growing. That's not to say that the Switch is doomed, however. In fact, the Switch has already become wildly successful thanks to its hybrid nature, Nintendo pedigree, excellent library, and aggressively affordable price tag.
Just yesterday, Nintendo confirmed in their latest earnings report that the Switch has outsold the Nintendo 3DS' lifetime sales in less than four years, which is astounding when considering the fact that the 3DS will be turning ten this month. That metric doesn't just crown the Switch as a bonafide success, but sets it as the clear and unquestionable future for the company — as if anyone needed any further confirmation.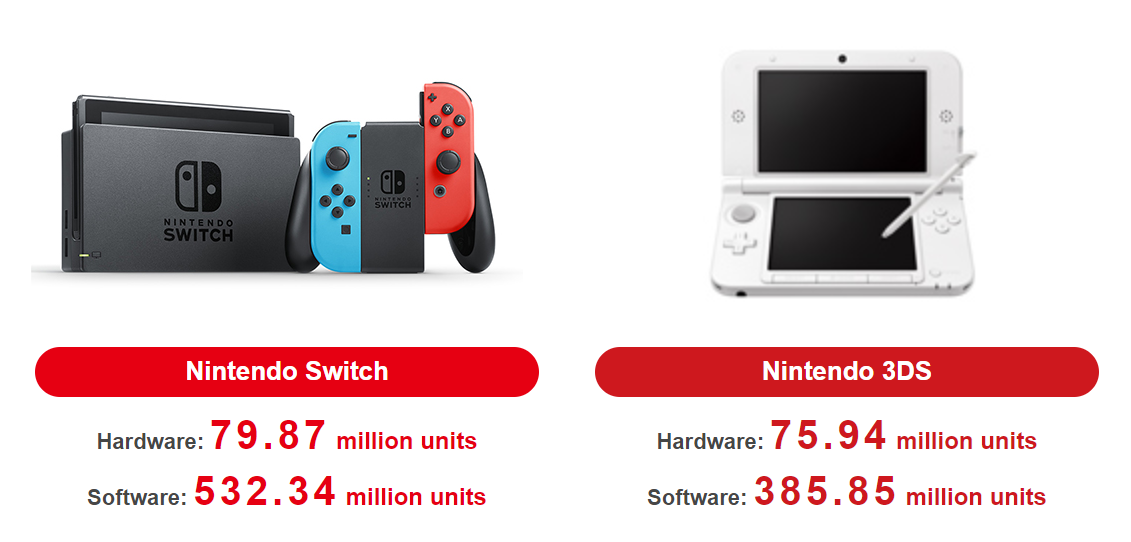 During the investor Q&A which followed the report, Bloomberg's Takashi Mochizuki reported that Nintendo's President, Shuntaro Furukawa, was asked about the possibility of the company announcing a more powerful Switch revision. Mr. Furukawa's response was simply: "Not anytime soon." That's it then, right? It's time to put the year-old rumors of a Switch Pro X Deluxe to bed for now? Well, not quite.
As mentioned above, the power gap has substantially grown, and while that's not an immediate problem, it could become one as developers pivot their efforts to next-gen hardware. If that wasn't enough motivation for the Big N to release a hardware refresh, some of their own titles have begun to struggle at times, such as last year's Hyrule Warriors: Age of Calamity. Nintendo Wire's own Daniel Del-Cornejo praised the game in his review, but had to comment on the games often-atrocious framerate.
In this writer's opinion, it's best to take Mr. Furukawa's words on the matter with a grain of salt — as much as you would with any of the rumors he's attempting to quell. Nintendo is a business, after all, and it would be foolish of them to announce a revision while riding this high with the Switch until they're absolutely ready to release it. Furthermore, Nintendo has a history of denying upcoming hardware revisions and replacements, with the company's "Third Pillar" statements coming to mind.
One interesting fact that I'd like to point out is the potential timing of the rumored revision. The Nintendo DSi released a few weeks before the fourth anniversary of the DS, and the New Nintendo 3DS line released a few months prior to the 3DS' fourth anniversary. Now here we are, in roughly the same timeframe of the Switch's life, with rumors of a mid-generation refresh swirling. That's more of an interesting piece of trivia than a smoking gun, but it may be a pattern to take note of if we do indeed get a revision this year.
Amidst all of the rumor spreading and rumor squashing, one thing is absolutely certain: The Switch is powerful enough and more than successful enough to keep trucking along for the next couple of years as it is. Now, the system most likely won't see ports of next-gen titles if they don't update the hardware soon, but what the Switch can run is almost certainly enough to sustain its success for the time being.
Regardless of whether or not the Switch's next iteration is labeled with a "Pro" or a "2" you can count on us here at Nintendo Wire to keep you posted!

Leave a Comment