As the holiday season starts ramping up with the end of December, you may want to kick back while you are trapped indoors and get yourself into the same rhythm as the chilly atmosphere you may be seeing outside your window or across the internet. Whether you're booting up your Nintendo Switch on your couch or digging up your Game Boy Advance to play a classic in bed, these are just a few snowy areas featured in Nintendo games that you can head on back to and traverse as the year comes to a close with everyone's favorite time of giving.
Catch a Cold in Shiveria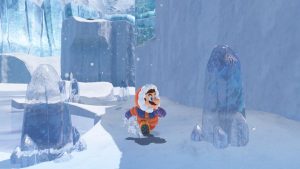 Grab your warm parka aboard the Odyssey and set your course for the snow kingdom! Super Mario Oddysey's blizzard inflicted area is packed with Moons to collect, puzzles to solve, and Bound Bowl Grand Prixs to conquer. Why not head over to the kingdom's local town, check-in on the Shiverians, and compete in their races? Or alternatively, you can always help Luigi hunt down some pesky balloons planted by some players across the map's surface area.
Turn Over a New Leaf, Head Back to The City, or Catch a Train Home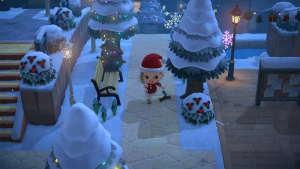 Animal Crossing: New Horizons' may have a tropical paradise to build snowboys in, but you can head back to the past and see what your other villages are up to this holiday. In New Leaf, you can grab yourself a to-go cup from Brewster's Café and peruse your last generation's town. You can also always take a trip to the shopping district in City Folk and listen to some specialized tunes, or, alternatively, pull a trick on the black nosed reindeer Jingle in the original GameCube entry. For those not interested in celebrating Toy Day, you can always hop back into Wild World, set your clocks to the second Monday of February, and watch villagers compete in the Bright Nights competition amidst snowfall!
Knockout Some Spinnys and Sidesteppers in This Classic Winter Hub
Do you happen to own Mario & Luigi: Superstar Saga or any of the Super Mario Advance remakes from the early 2000s? How about on the Wii U virtual console? A ton of titles on the Game Boy Advance came bundled with an enhanced version of the classic Mario Bros. arcade game from 1983. Anyone who is able to make it past Phase 9 will be treated to a change in scenery as the cold pipes transform into a cozy, little warmly lit cabin. It may be an infinite run until you break the score counter by yourself or with a friend, but spend some time flipping enemies and dodging fireballs to an appropriate setting if you happen to still own a game containing this classic's definitive form.
Sherbert Land or Frozen Hillside?
Whether you are looking at Walrus Cove in Diddy Kong Racing or Frappe Snowland from Mario Kart 64, there is guaranteed to be at least one or two slippery snow tracks to slide on in any of Nintendo's kart racing games. Sherbert Land from the Mario Kart series is, of course, an iconic track to peruse as you evade ice skating Shy Guys and Freezies amidst your ride to the finish line. Yet, why not kick it back to an earlier age of off-ground racing? Kirby Air Ride's Frozen Hillside will give you the chills as you find the best methods of when to hold down those trigger buttons. It might be more entertaining to play with friends, but there is always a reason to tackle these courses by yourself – of course, I am referring to the incredible orchestrations that accompany them.
To The Peak of Mt. Silver!
Between Snowpoint City's endless sea of snow and Route 217's Ice Rock location, the Pokémon world is packed with frigid places to traverse across almost all of its entries. In between the Kanto and Johto regions though lies one mountain that stands as a testament to the skills of every trainer. While you probably know who you'll encounter here in Pokémon HeartGold and SoulSilver, the familiar competitor at the ice top peak of Mt. Silver will surely give the vast majority of players a welcoming challenge to overcome. Make sure you bring some revives, an escape rope, and maybe even some Ultra Balls if you decide to head down to the bottom of the inner-caverns and try to catch Moltres.
Head downhill at the Great Plateau and Wonder Square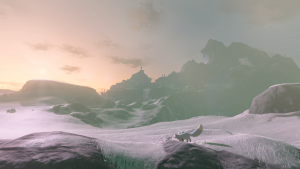 Riding a horse or Chocobo might be a cakewalk, but have you ever gone shield surfing and snowboarding amidst two impending calamities? While you can go down black diamonds with Mario and Sonic at the Olympic games, why not add some action and chaos to the mix! The Legend of Zelda: Breath of the Wild and Final Fantasy VII may have two world-ending catastrophes to face, but there is still plenty of time to visit some of the snow-covered areas and pull off some tricks. In Breath of the Wild, cook yourself a batch of spicy peppers, grab the best shield you can find, and surf down the frozen mountainsides of Hyrule. As for Final Fantasy VII, make it to Wonder Square and enter one of the intense snowboarding competitions to rack in some spare gill to acquire some great gear!
Will you be heading into any snow infested Nintendo areas in the final weeks of this year? It doesn't matter if you're heading to Freezeezy Peak's tree to collect some Jiggies or the lodge of the Secret Mine to capture some ghost because staying true to the season's esthetic is where it counts. Happy holidays!
Leave a Comment