No longer can fans complain about only having two pieces of Final Fantasy music in Super Smash Bros. As announced (and played) during today's Mr. Sakurai Presents "Sephiroth" broadcast, nine more Final Fantasy VII songs will be added into the game alongside the next DLC pack.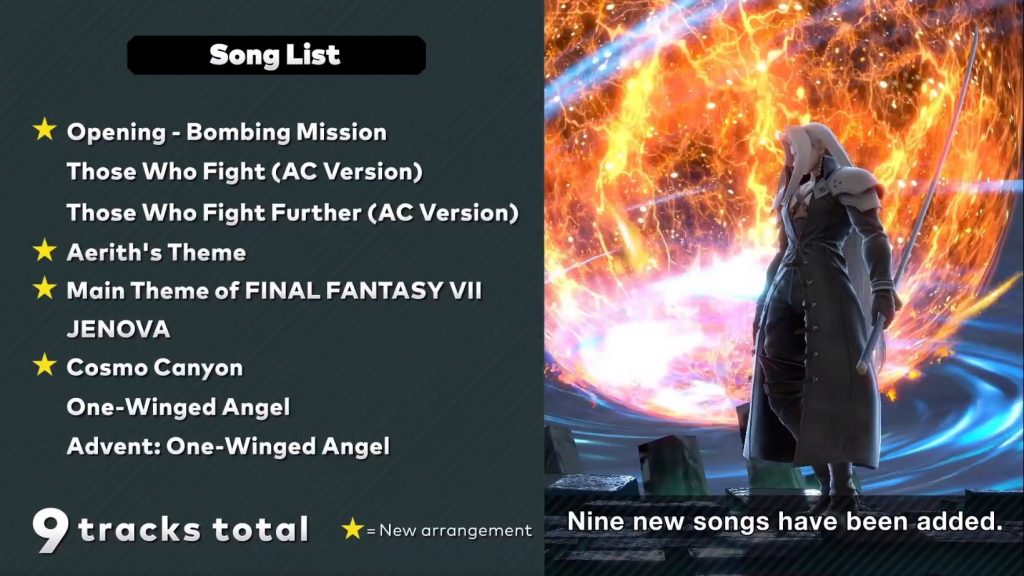 The songs aren't just from Final Fantasy VII either, as a few from Advent Children are joining in, presumably to make up for this multi-year dilly-dally shilly-shally to increase this section of the sound test.
Opening – Bombing Mission (New Arrangement)

Those Who Fight (AC Version)

Those Who Fight Further (AC Version)

Aerith's Theme (New Arrangement)

Main Theme of Final Fantasy VII (New Arrangement)

JENOVA

Cosmo Canyon (New Arrangement)

One-Winged Angel

Advent: One-Winged Angel
I'd say this managed to check off multiple essentials, bolstering what's been on offer well and complementing Sephiroth, the new Northern Crater stage, and even the older Midgar stage. You can listen for yourself plenty by clearing the special Sephiroth Challenge that's available in-game now, or once the full DLC set releases on December 22nd.
Leave a Comment