Update (January 6th, 2021): The collector's edition of Harvest Moon: One World is now available to pre-order on Limited Run Games! 
---
Today, Natsume Inc. has revealed the Collector's Edition for their upcoming farming sim game, Harvest Moon: One World. Previously, we've been treated to a plushie chicken pre-order bonus available at GameStop and a limited edition available at NIS America's online store (featuring a pin set, poster, and CD all contained in a special box). For the Collector's Edition, Natsume is partnering up with Limited Run Games to make something extra special for Harvest Moon fans! Check out this very, special set!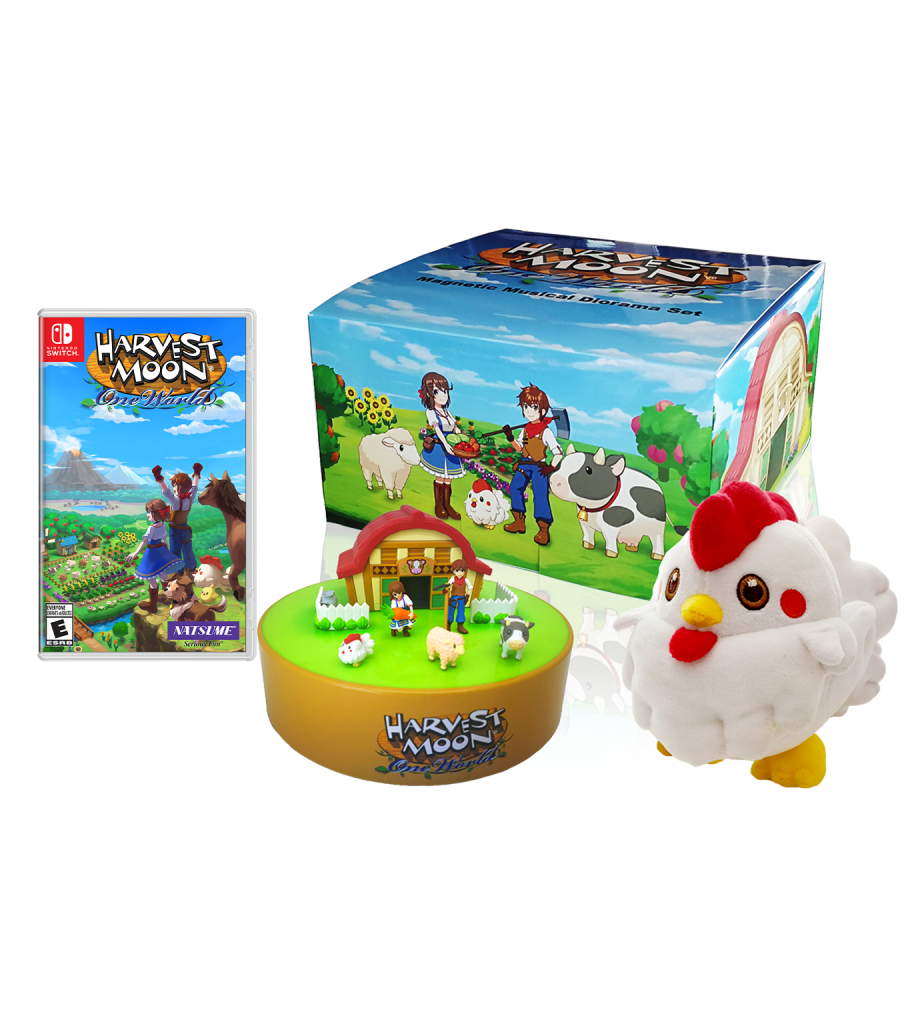 Natsume's Community Blog added a few more details about this exclusive diorama:
"The Harvest Moon: One World Collector's Edition includes a chicken plushie and a music diorama that features an original song, "Spring on the Beach" from the game. The diorama depicts a scene from the game with the male and female main characters and animals set to music. The characters are magnetized and interchangeable! The animals rotate while the music plays.

This amazing battery-powered diorama includes 5 interchangeable magnetic characters: male main character, female main character, cow, sheep, and chicken! The base of the diorama also features a barn! Simply place the magnetic characters where you like them, and the outer ring of the diorama will rotate when it is turned on."
You can pre-order this collector's edition of Harvest Moon: One World beginning on Tuesday, January 5th, 2021 at 9 a.m. PT for $99.99 only at Limited Run Games. Pre-orders will only be accepted for four weeks – after that, you'll have to buy the game elsewhere and miss out on the exclusive diorama! 
Leave a Comment