Update 4: Pokémon GO Trainers that are now level 24 and above can take part in Pokémon GO's connectivity to Pokémon HOME.
Attention, Trainers! Pokémon GO's connectivity with Pokémon HOME is now available for level 24 Trainers and above.

— Pokémon GO (@PokemonGoApp) November 13, 2020
Update 3: As of Thursday, November 12th, Trainers that are level 30 and up now have access to this feature.
Update 2: Niantic has issued more rollouts, the latest being that level 33 Trainers and up can use the GO Transporter (as of Wednesday, November 11th).
Update: On Wednesday, November 11th, the official Pokémon GO Twitter account announced that the feature has been made available to level 37 Trainers and higher.
---
This week, The Pokémon Company is delivering on its promise of Pokémon GO connectivity for Pokémon Home "by the end of the year", as announced back in September. Yet, specific qualifications must be met. Similar to previous new updates in the world of Pokémon GO, this feature is rolling out in waves based on one's trainer level. As of Tuesday, November 10th, this function is only available to level 40 Trainers.
Despite this caveat, the Pokémon HOME website has been updated to include pages showing you how to transfer and receive Pokémon by using this new feature as well as a Special Events page detailing promos, including the Melmetal you'll receive after completing a transfer. While this was announced back in September, we have more details about the liquid metal giant and its Gigantamaxing ability:
"It is capable of Gigantamaxing under the right conditions, such as during Max Raid Battles in the Pokémon Sword and Pokémon Shield games. You will not be able to feed Melmetal Max Soup, which is available in The Isle of Armor, the first round of content for the Pokémon Sword Expansion Pass and Pokémon Shield Expansion Pass. (Note: Full version of game required to use Expansion Pass for that game. Games and Expansion Passes sold separately or in special bundle packs.)"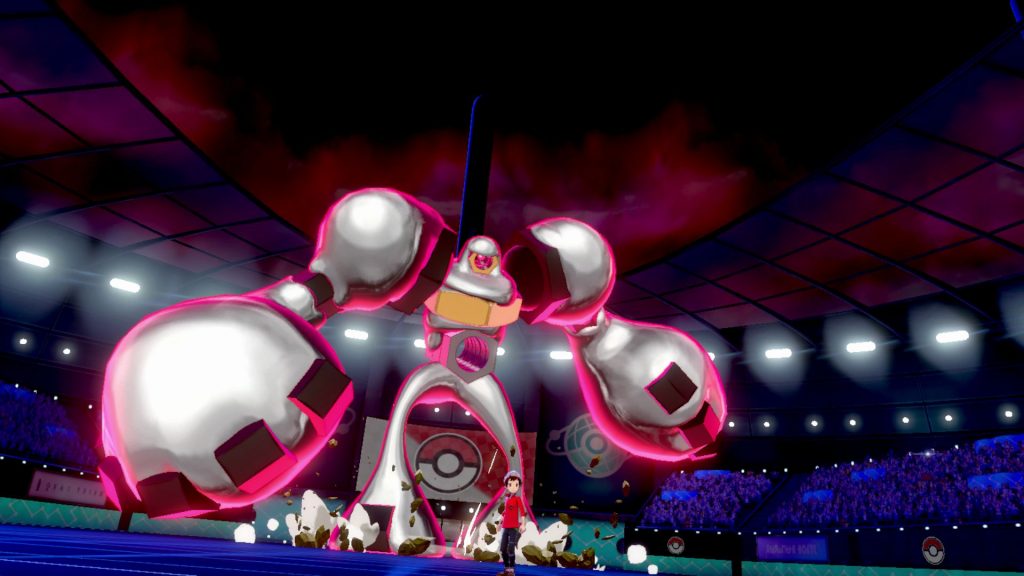 That's not the only bonus. Initially limited to Pokémon: Let's Go, Pikachu! and Pokémon: Let's Go, Eevee!, the Mystery Box feature that summons a swarm of Meltan in Pokémon GO will unlock thanks to Pokémon HOME. 
"After transferring a Pokémon from Pokémon GO to Pokémon HOME, Trainers can open the Mystery Box in Pokémon GO, causing the rare Mythical Pokémon Meltan to appear on the map for a limited time. Trainers can evolve Meltan into Melmetal by gathering 400 Meltan Candy."
This is a plus if you don't have either version of Pokémon: Let's Go!, but for those who do, you'll want to consider the following:
"Trainers will use a new feature in Pokémon GO called the GO Transporter to transfer Pokémon to Pokémon HOME. Every time you transfer a Pokémon, some energy will be drained from the GO Transporter. The energy used by the GO Transporter recharges over time, but it can also be replenished with PokéCoins. The energy cost to use the GO Transporter to transfer Pokémon varies depending on the Pokémon."
To plan out your energy usage, you'll want to still use Pokémon: Let's Go! transfer feature for Generation 1 Pokémon and focus on transferring others. There are some restrictions concerning which Pokémon you cannot transfer, as outlined on the Pokémon GO Support site:
Pokémon you can't send to Pokémon HOME

Some Pokémon cannot be sent to Pokémon HOME, and thus cannot be selected on the GO Transporter screen. Such Pokémon include Spinda, favorited Pokémon, Buddy Pokémon, Pokémon defending Gyms, costumed Pokémon, Shadow Pokémon, and Mega-Evolved Pokémon.

Lucky and Purified Pokémon will lose their Lucky and Purified statuses when sent to Pokémon HOME, and other Pokémon may change forms altogether during the journey, such as the below examples.

Origin Forme Giratina will become Altered Forme Giratina.

Sunshine Form Cherrim will become Overcast Form Cherrim.

Sunny Form, Rainy Form, and Snowy Form Castform will become Castform in its usual form.

As new Pokémon and Pokémon forms are discovered in Pokémon GO, the list of Pokémon that can't be sent to Pokémon HOME or that will change in some way when sent to Pokémon HOME may expand. The confirmation screen will indicate whether the Pokémon you are sending to Pokémon HOME will change forms along the way.
It's not out of the question to see any adjustments in the future. Between further rollouts to include more Trainers, watching for any errors/glitches that could occur, and fan feedback on the GO Transporter and its energy mechanic, Pokémon GO's addition to the Pokémon HOME family will be ever-evolving.
Leave a Comment