DOOM 64 is the latest Nintendo Switch game to receive a physical print run thanks to publisher Limited Run Games.
The Switch version of DOOM 64 will be getting two Limited Run physical editions: a standard copy as well as a "Classic Edition" with a handful of extras.
Slayers, it's time to Rip and Tear: @DOOM 64 pre-orders open on September 25 for Nintendo Switch and PS4 at 10AM ET. See you in Hell. pic.twitter.com/hzddYI5ixj

— Limited Run Games (@LimitedRunGames) September 14, 2020

The DOOM 64 Classic Edition will include DOOM 64 for the Nintendo Switch, a Classic Edition box designed like the original Nintendo 64 release's, a commemorative (non-functioning) N64 cart, a behind-the-scenes booklet, and a reversible 18″ x 24″ poster.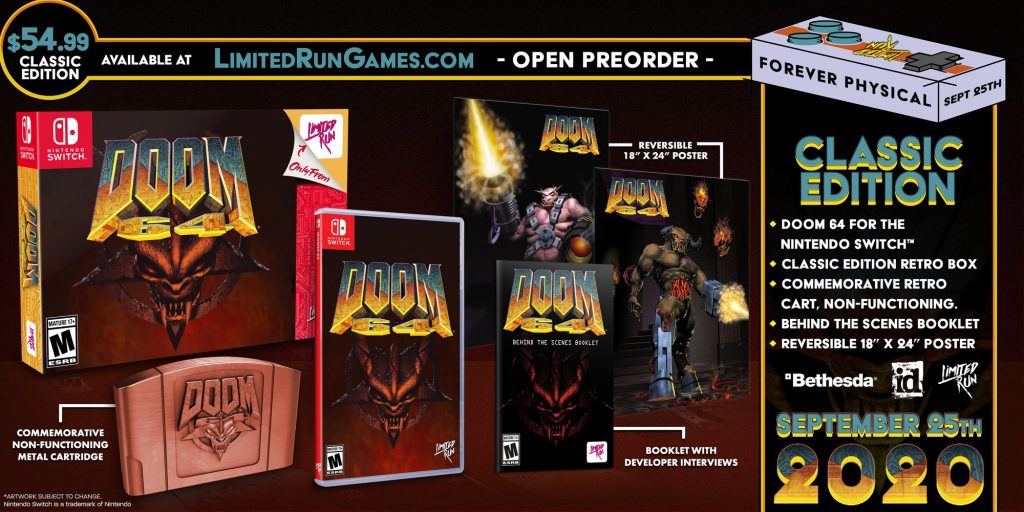 Both the standard and Classic Edition physical runs of DOOM 64 will go up for an open pre-order period on September 25th at 10 a.m. ET.
For those interested, a PlayStation 4 version of the standard version will also be available.
Leave a Comment