DOOM 64
Console: Nintendo Switch
Availability: Physical (from Limited Run Games) and digital
Genre: First-Person Shooter, Action
North American Release Date: March 20th, 2020
Japanese Release Date: March 20th, 2020
European Release Date: March 20th, 2020
ESRB Rating: M
Supported Play Modes: TV, Tabletop, Handheld
No. of Players: 1 player
Nintendo Switch Online Support: Online Play, Save Data Cloud
File Size: 161 MB
amiibo Compatibility?: No
Demo Available?: No
Developers: id Software


Synopsis
Celebrate DOOM's 25th anniversary with DOOM 64, originally released on Nintendo 64 in 1997. Take the fight to Hell at home or on-the-go with DOOM 64's triumphant return to Nintendo Switch!
Fight against demons in your crusade to hunt down the Mother of Demons and stop Hell's invasion. As you battle through more than 30 action-packed levels, be on the lookout for enhanced weapons and secrets to help you put an end to the demonic threat.
Special Editions
DOOM 64 Classic Edition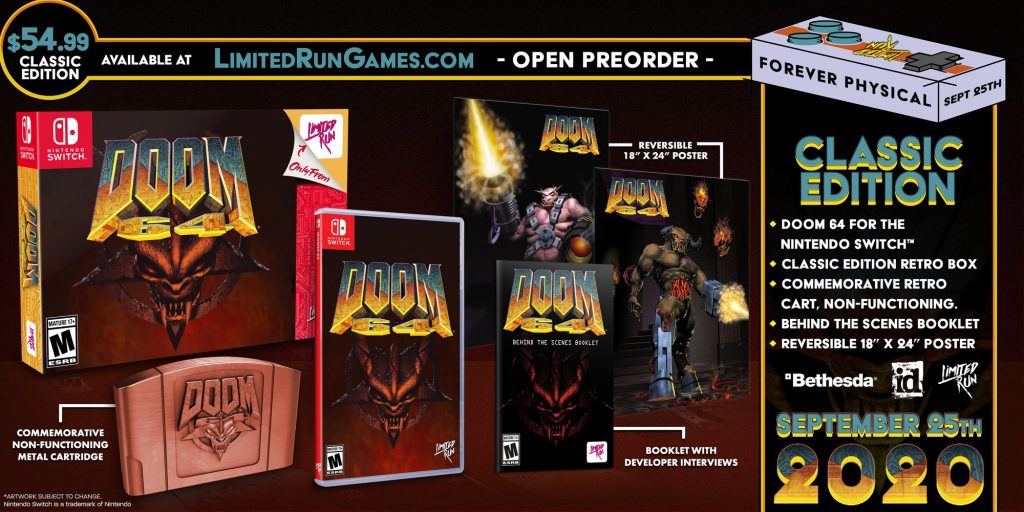 $54.99
DOOM 64 for the Nintendo Switch
Classic Edition box designed like the original Nintendo 64 release's
Commemorative (non-functioning) N64 cart
Behind-the-scenes booklet
Reversible 18″ x 24″ poster
Latest News and Articles
Guides
More from This Series
You might be interested in some more games from this series. Click a game below to learn more!
DOOM Eternal
[crfp]