18 music tracks from ARMS are headed to Super Smash Bros. Ultimate when Min Min and her stage arrive next week as part of the Fighters Pass Vol. 2 DLC.
The announcement was made during this morning's Mr. Sakurai Presents presentation on Min Min, where this graphic was also shown: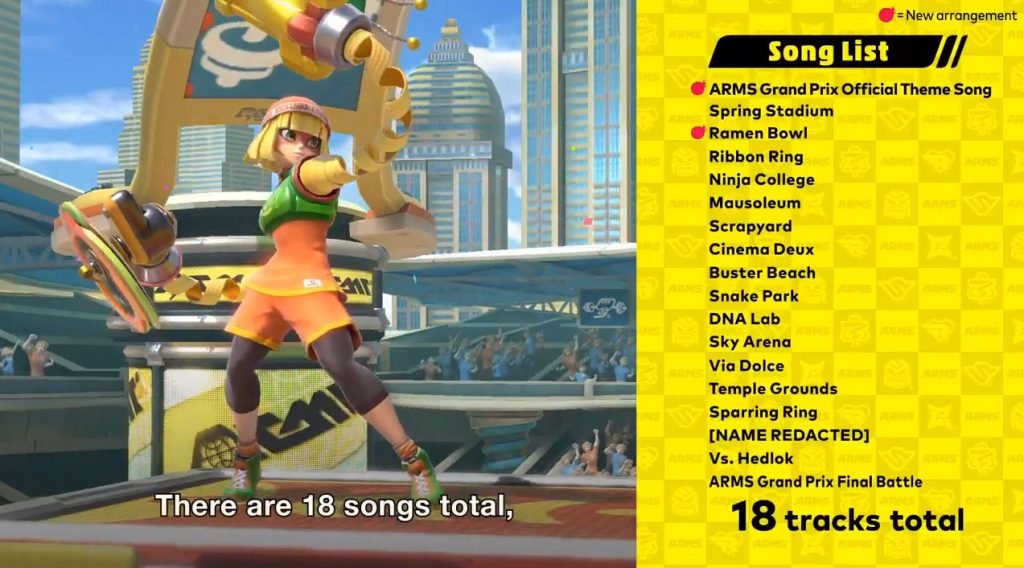 The tracklist includes two new arrangements, plus 16 songs pulled straight from ARMS.
Every single stage from ARMS is represented in Super Smash Bros. Ultimate via these selections, including the five tracks added to ARMS as free DLC — Max Brass's "Sky Arena," Lola Pop's "Via Dolce," Misango's "Temple Grounds," Springtron's "Sparring Ring," and Dr. Coyle's "[NAME REDACTED]."
Spring Stadium tracklist
The following ARMS music tracks will play on the new "Spring Stadium" stage:
ARMS Grand Prix Official Theme Song (New Arrangement)
Spring Stadium
Ramen Bowl (New Arrangement)
Ribbon Ring
Ninja College
Mausoleum
Scrapyard
Cinema Deux
Buster Beach
Snake Park
DNA Lab
Sky Arena
Via Dolce
Temple Grounds
Sparring Ring
[NAME REDACTED]
Vs. Hedlok
ARMS Grand Prix Final Battle
Players can enjoy all 18 of these tracks when Min Min and Spring Stadium launch next Monday, June 29th.
Leave a Comment