Live entertainment has had to change this year due to COVID-19 and quarantine orders. Because of that, televised sports have been put on hold and once a tv show runs out of new episodes it's back to reruns. Talk shows, day-time and late-night, have had to scramble into working with new formats. Most are using services like Zoom or have a space where a professional camera setup is ready to go. Despite having the ability to make daily shows, not every group or host has been hitting the mark.
We've reported on Animal Talking with Gary Whitta in the past, and since then, the show has grown and flourished. Various outlets are singing praises for the show; even The Verge is calling it "2020's Hottest Late-Night Talk Show." So how is a talk show that's livestreamed on Twitch, uploaded onto YouTube, and uses Animal Crossing: New Horizons and Discord earning these praises? It's all in the medium.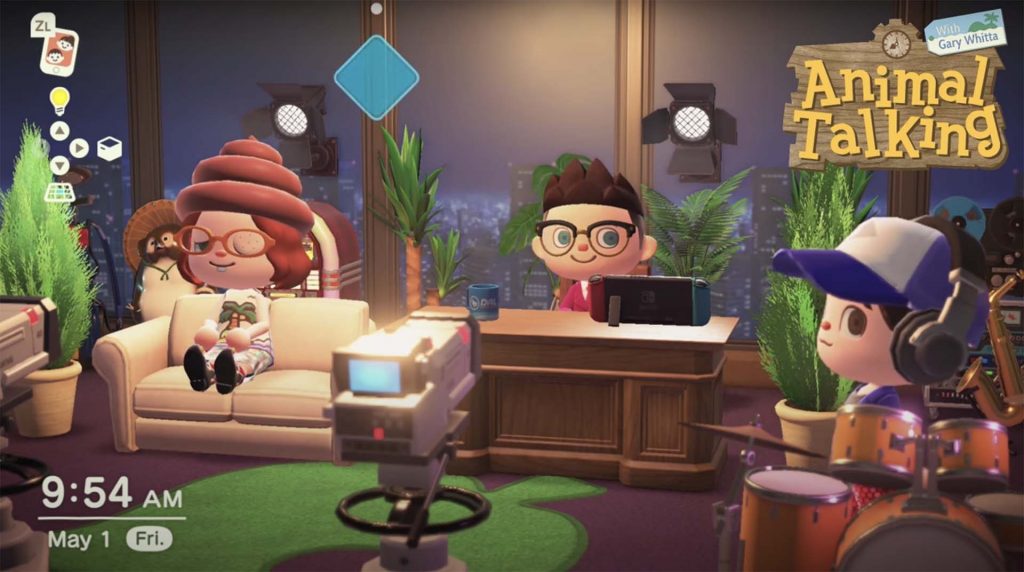 Animal Talking is confined to the possibilities and limitations of Animal Crossing: New Horizons. Unlike Zoom, there isn't a need to have a split-screen setup when you can have up to eight villagers visiting an island (or show set). Everyone has their own screen to view their perspective, and Animal Talking relies on only Whitta's screen. Any R-shoulder/Home button slip-ups from guests don't show up either, as only Whitta's user interface appears on the screen. If there's a slight delay in the audio, there's plenty of visuals to focus on instead of waiting for a five second delay to end. These details can be small for some, but they really stick out once you notice them.
Beyond the tech, Whitta's guest list has been extremely impressive lately, especially for Animal Crossing fans. 
Actors Elijah Wood and Danny Trejo, who have made or starred in tweets about playing the game, were part of Animal Talking's Wednesday night guests. That night's show has even inspired fan art of Danny Trejo's villager:
Watched the latest Animal Talking. Wonderful interviews with @officialDannyT @elijahwood @greggrunberg @directedbyrian @garywhitta has created such a magical show.

Here's some admittedly Danny-centric art, inspired by the episode. pic.twitter.com/N0K9d738TQ

— pandamusk (@pandamusk) May 15, 2020
What a wild world in this new horizon of entertainment!
We're still hoping to see Reggie Fils-Aimé on the show, as Whitta did reach out to him about making an appearance. Neither has publicly tweeted about an official appearance yet, but there's an update worth noting regarding another Nintendo guest, current president of Nintendo of America Mr. Doug Bowser.
Doug let's get you on the show! We would love to have you!

— Gary Whitta (@garywhitta) May 15, 2020

Animal Talking with Gary Whitta has expanded into three shows a week and has guests booked for all May episodes. The next episode will be on Monday, May 18th, at 9 a.m. PT | 12 p.m. ET, and it features Cliff Bleszinski (lead designer of the Gears of War series), Tom Nichols (U.S. Naval War College professor), and LDShadowLady (YouTube Gamer). You can tune in live on Twitch or catch an upload of the episode later on YouTube.
Leave a Comment