Following a brief delay as a result of COVID-19, Nintendo has released its latest financial results for the fiscal year ending March 31, 2020. While there are plenty of interesting tidbits of information, the stand-out star of the show is Animal Crossing: New Horizons.
We already knew it'd be a success, what with it selling 2.6 million copies in Japan alone during the tail end of March, but it turns out those opening weeks were significant worldwide. According to the earning's release, as of March 31, Animal Crossing: New Horizons sold 11.77 million units. In its first six weeks, it moved 13.41 million units.
A handy graph is shared that shows just how significant that is. In that short space of time, New Horizons outsold both Wild World and New Leaf. Not just their first 6 week sales numbers – their lifetime sales.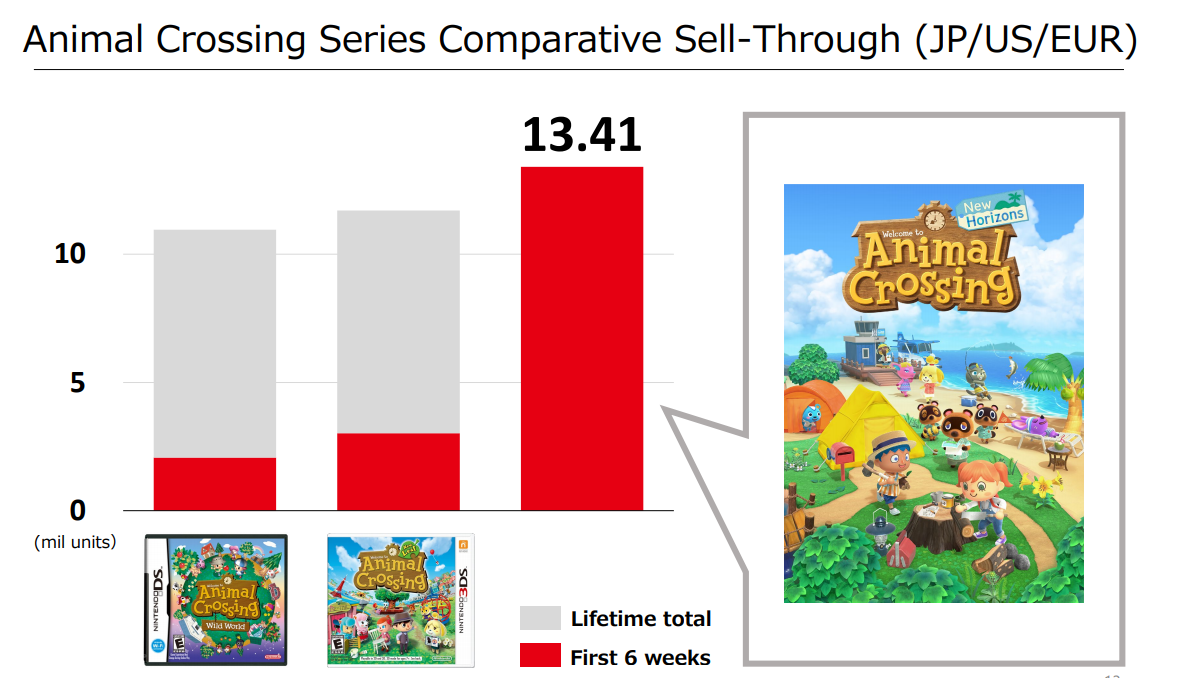 It's also started rocketing up the best sellers list for the Switch in general, already beating out Splatoon 2 and the six week figure takes it past Pokémon Let's GO.
As for those other interesting tidbits from the release, we learn a few more specifics about the potential effects of COVID-19 on Nintendo's business, though these seem more general. For instance, Nintendo acknowledges that it may prove difficult to sell games in certain regions, there might be delays, and there's even the possibility network services may be suspended, though it's also acknowledged that production and shipping seem to be gradually recovering.
We also get some numbers for Nintendo's performance over the whole year. 21.03 million Nintendo Switch units were sold, for instance, a 24% increase on the previous year. Software performed even more admirably, with 168.72 million units sold, a 42.3% increase.
Digital sales had the best year-on-year increase, however, with a whopping 71.8% jump from the previous year.
Finally, we get another update on the 3DS's expected gradual decline, with just 0.69 million hardware units and 4.99 software units being sold, a 73% and 62.3% decrease respectively.
Leave a Comment