April has felt like it's flown by, and we now have more statistics about March's gaming sales and mobile purchases. Surprising no one, Animal Crossing: New Horizons has been a juggernaut, breaking multiple sales records. The data that was made available didn't include the digital sales of the game initially, but SuperData research is filling in that blank today, thanks to their research about March 2020's gaming sales.
Get ready for your jaw to drop, because the digital numbers for Animal Crossing: New Horizons would make Tom Nook faint!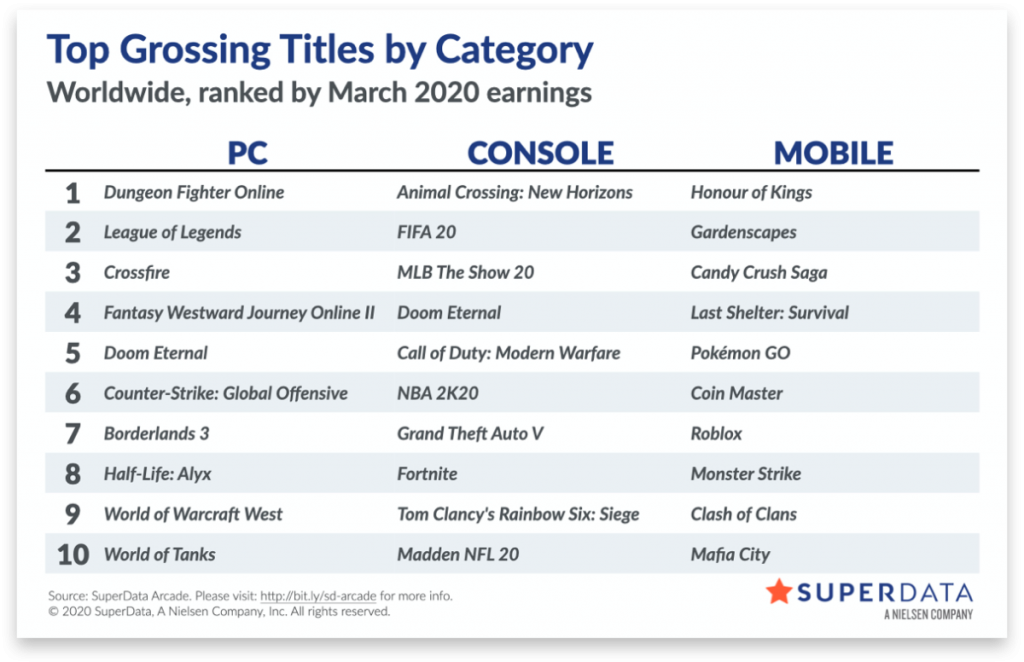 "Animal Crossing: New Horizons sold more digital units in a single month (5.0M) than any console game in history. The Nintendo-published title broke the console record for monthly digital game sales previously held by Call of Duty: Black Ops IIII. Animal Crossing: New Horizons also roughly matched the first-month digital sales of Super Smash Bros. Ultimate and Pokémon Sword and Shield put together. The game's combination of social features and a relaxing setting likely appealed to individuals stuck at home. Closures of brick and mortar stores also meant that a higher share of consumers purchased the game digitally compared to past Switch titles."
Five million digital. Throw in the numbers we have for physical copy sales, and we're looking at over 7.6 million units. The number is definitely greater than that, too, due to not knowing a number for physical sales outside of Japan. 
Animal Crossing wasn't the only winner last month either, as Pokémon GO snagged the 5th spot in Top Grossing Mobile Games (worldwide). "Pokémon GO revenue rose to $111M in March (up 18% month-over-month) after publisher Niantic made tweaks to the game to make it easier to play without physically moving."
Yes, both games were greatly influenced by COVID-19 and the need to escape reality or find a coping mechanism through a game. Having a bigger fanbase leads to the possibility of more content, updates, events, merchandise, and more. Granted, this year looks a bit uncertain due to the pandemic, but with all this data, Nintendo now has a clearer idea of what to do with Animal Crossing: New Horizons beyond its initial year-one updates.
Leave a Comment