Super Mario 3D World has been one of the most requested ports ever since the Switch launched, and in recent months we've seen a growing number of rumors suggesting that a version of the beloved Wii U 3D platformer is on the way, specifically as part of a 35th Anniversary blow-out.
Some more fuel has been added to the fire of speculation with Best Buy recently uploading a Switch version of Super Mario 3D World to its storefront, as relayed by Wario64.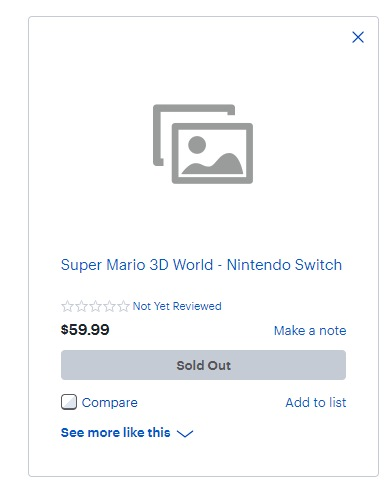 It's worth noting that while Best Buy leaks have been on the money on the past, with the likes of Dragon Quest XI and Super Smash Bros., they have also missed the mark, posting up Persona 5 and the Metroid Prime Trilogy, both of which have yet to materialize on the system (unless the former was a reference to the as-of-yet confirmed for the west Persona 5 Scramble).
Given prior rumors, however, 3D World seems like a safe bet. We'll be sure to bring you all the latest as it comes in.

Leave a Comment