Disney Classic Games: Aladdin and the Lion King are now available to pre-order on Amazon.
---
It's a whole new world: An HD-remastered collection of 16-bit classics Aladdin and The Lion King will be headed to Nintendo Switch later this year.
The collection, called Disney Classic Games: Aladdin and The Lion King, will allow both games to be playable in their original and 1080p resolutions and will include their original soundtracks.
Additionally, players can enjoy "instant save states" and a rewind feature, allowing them to jump back up to 15 seconds of gameplay.
The collection will also come with "Watch Mode," wherein players can watch the games play themselves and skip to any part they like, an unreleased "final cut" of Aladdin as well as a "trade show demo" of the game never before made public, and "behind-the-scenes interviews and art galleries highlighting the original development of the games."
The collection will include Sega Genesis, Game Boy, and Super Game Boy versions of Disney's Aladdin and The Lion King, plus the SNES version of The Lion King, and players will be able to play whichever one they like.
The news originated from Twitter users Wario64 and wolverinefactor, who shared that the announcement came from "GameStop con" — the 2019 GME Conference.
Aladdin and Lion King game remakes hitting October – all systems – just announced at GameStop con @Wario64

— W (@wolverinefactor) August 27, 2019


Later, YouTube channel GameXplain verified it, and also provided the photograph shown below.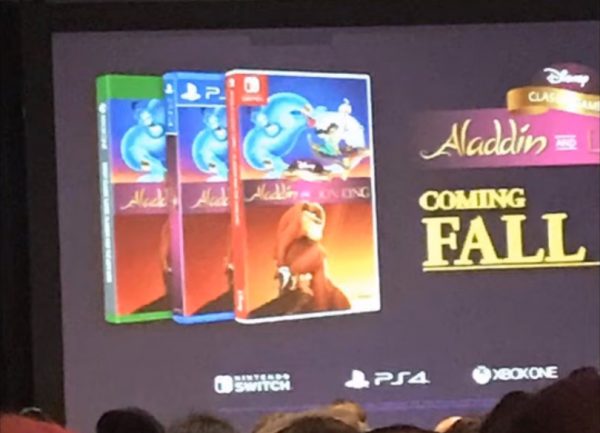 This morning, The Hollywood Reporter announced the game along with brand-new information.
Disney's Aladdin is a Virgin Games and Disney Software-developed platformer that originally launched in 1993 for the Sega Genesis, predating a similar game for the SNES that Capcom made.
Disney's Aladdin made its way to the Amiga, DOS, Game Boy, and Game Boy Color in the following years.
Meanwhile, The Lion King is another platformer developed by Virgin Games, published for both the SNES and Sega Genesis in 1994; the game was later ported to the NES, Game Boy, PC, Amiga, Master System, and Game Gear.
The collection will launch in both physical and digital versions this fall for Nintendo Switch, as well as PlayStation 4 and Xbox One.
Leave a Comment