The Splatocalpyse is over and the results of the final Splatoon 2 Splatfest are in, with Pearl and Team Chaos taking the win from Team Order with a score of 3-0.
Team Chaos beat Team Order in terms of popularity and Clout for both Normal and Pro matches.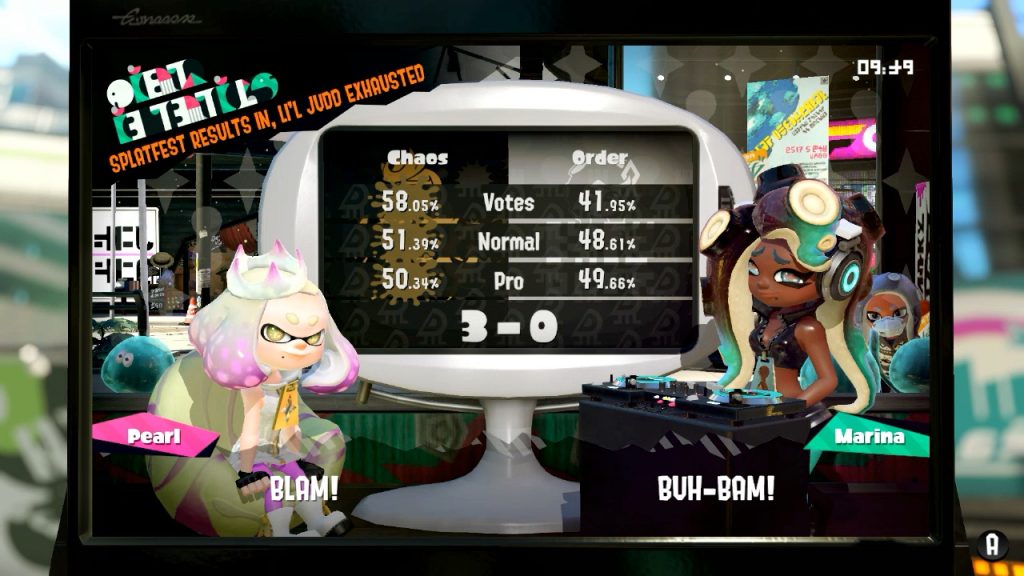 After some gloating from Pearl after the in-game winner announcement, she toys with Marina, suggesting the two are missing out on new experiences and hints their band Off the Hook should break up.
Just as Marina has a chance to mourn, though, Pearl assures her she's only kidding and says Off the Hook should instead break into new genres of music.
"You and me are gonna rock the mic together until the end of time!" Pearl says to her.
While Splatoon 2's regular Splatfests have now ended, there's a final content update headed to the game by the end of this month: the version 5.0 update, which adds a new mode dubbed "Turf War (Splatfest)" in private matches.
Following the version 5.0 update, players will be able to host their own private Splatfests with friends and have access to all 24 Shifty Station maps in addition to the 23 night-time versions of the game's standard stages.
What Team Chaos's win means for a potential "Splatoon 3" is unknown — Team Marie's win in the final Splatfest for the original Splatoon for Wii U affected Splatoon 2's story mode, with Callie (of the losing Team Callie) working as a mind-controlled antagonist in the game.
Will a Splatoon 2 sequel feature a Mad Max-style anarchist setting for its story mode? Time will tell, although series producer Hisashi Nogami has said development on a "Splatoon 3" hasn't begun.
What do you think? Were you one of Team Chaos's victors? Or were you on Team Order, now saddened by the loss? What do you think the outcome of this final Splatfest means for "Splatoon 3"? Let us know in the comments!
Leave a Comment