The good folks over at Yacht Club Games are hard at work on Shovel Knight's final two expansions, King of Cards and Showdown. While a release date has yet to be formally announced following April's unfortunate delay, a new blog post by the acclaimed developers unearthed a few treasures and tidbits regarding the games' development.
Most importantly, both King of Cards and Showdown are in the final throes of testing. Stages are being polished, bugs are getting squashed, and story dialogue for nearly every character has been localized.
For those not in the know, Showdown is a four-player PVP mode that pits over 16 classic Shovel Knight characters against each other, scrambling for gems and glory. Apparently, it's been more difficult to develop than originally thought, especially when it comes to striking a balance between combat and gem collecting for each AI controlled opponent.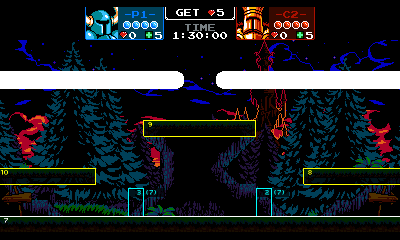 Fortunately though, things seem to be moving smoother now, with each knight acting more intelligent and lifelike with every passing day. We also learned about some exciting new features digging their way into the game, such as the inclusion of sexy palette swaps and a two-player story mode.

That about covers all the major highlights. Feel free to check out the blog post in full for the entire scoop, and remember to steel thy shovel right here at Nintendo Wire for future Shovel Knight news as it breaks.
Leave a Comment