BoxBoy! secured My Nintendo Rewards' May calendar, and now there are a few other goodies added to the site as well. Discounts, 3DS themes, and a Splatoon 2 character chart download have joined the lineup!
With more tentacles than an Inkopolis soap opera (ink opera?), the Squid Research Lab did their best in breaking down all the relationships in the Splatoon universe. For 10 Platinum Points, it might be a sound investment, especially if you squid-jumped your way into the franchise with Splatoon 2. If you haven't played Splatoon 2's DLC (Octo Expansion) yet, then maybe try not to look at the entirety of the document.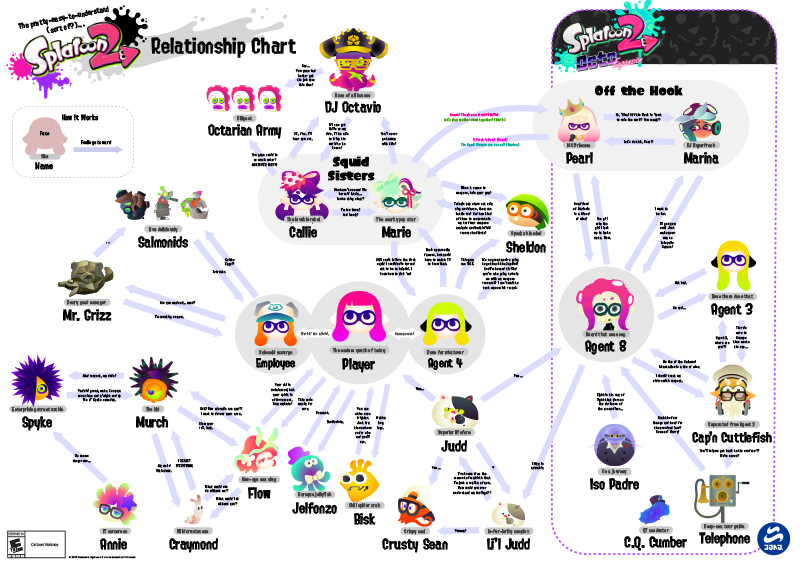 Outside of digital downloads for your computer and/or smart devices, two 3DS themes are available to spruce up your system with. One theme celebrates Animal Crossing and the spring season, whereas the other shows off Mario launching fireballs. You'll have to reach into your point banks for these, as they cost 100 Platinum Points and 20 Gold Points respectively.
Last but not least, the following games have their 30% off discount back online:
Kid Icarus: Uprising

Metroid: Samus Returns

Xenoblade Chronicles 3D

Pocket Card Jockey

Fire Emblem: The Sacred Stones

Dr. Mario: Miracle Cure

Pandora's Tower

The Legend of Zelda: Twilight Princess HD
What's next for My Nintendo? As much as I miss the physical, mailed rewards, it's still nice to see consistent updates in some form. We're approaching more conventions and E3 — here's hoping that we'll see goodies like the Super Mario Marker 2 stylus appear for us members!
Leave a Comment