Hey there, Trainers!
Pairing the Poké Ball Plus
With the release of Pokémon: Let's Go, Pikachu! and Let's Go, Eevee! today, I can imagine how excited all of you are to get started on your new Pokémon adventures. I'm also guessing that many of you, like me, got the Poké Ball Plus to accompany your game, and might be wondering how exactly the darn thing works.
Lucky for you, I'm here to help.
The Poké Ball Plus works a bit different than other Nintendo Switch controllers in that you do not pair it with the console from the main menu. (This is what tripped me up, originally.) In order to use the Poké Ball Plus with Let's Go!, you need to actually open the game first using your regular Joy-Con. Once you're in the game, you should get a prompt about what kind of controller you're using.

On this prompt, you'll see icons for the left and right Joy-Con, as well as the Poké Ball Plus. Here's where you're gonna want to hit that middle button and activate your new controller! Once you do, it'll take a few seconds to pair, and then you should see the the Poké Ball Plus option highlighted. Hit that middle button again and you'll be good to go!
Taking your Pokémon for a stroll
Of course, pretend-throwing the Poké Ball Plus isn't the only main appeal of the new controller. As I'm guessing most of you know, the Poké Ball Plus allows you to take a single Pokémon out into the real world when you're not playing. This feature, however, is hidden in a place you might not expect.
In order to place a Pokémon from your party or your box into the controller, you actually have to go to the Save menu. Under the save option is another option, labelled "Take your Pokémon for a stroll." This is exactly what it sounds like.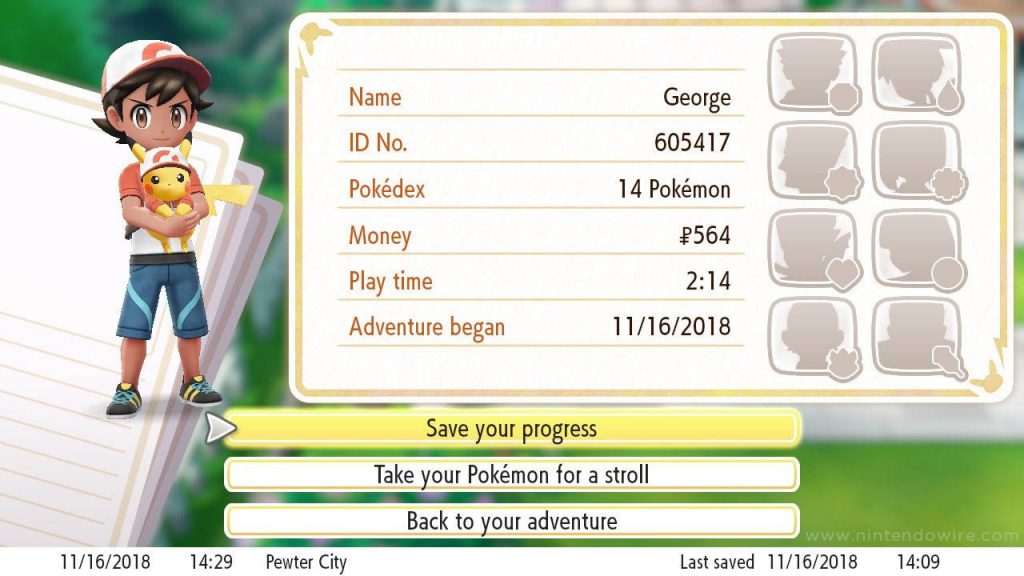 Click this, and you'll be taken to a separate menu where you can choose which Pokémon to send inside the ball!
While both these methods are pretty simple, the Poké Ball Plus is such an unconventional controller that I know a lot of people might have trouble figuring it out at first. I know I did!
Good luck, Trainers!
Looking for more help with Pokémon: Let's Go, Pikachu & Eevee? Check out our handy guide for how to retrieve Mew from your Poké Ball Plus!
Leave a Comment