Welcome to Speedrun Sunday: that sadistic time of the week when we dare to challenge both your D-pad's durability and sanity's stamina with the ultimate test in video game bragging rights.
Hot off the salted tears of our Binding of Isaac challenge comes another ruthless run that'll leave your tentacles tied in knots. That's right, fans of ink covered lakes and delicious Mem Cakes: We're swiping our CQ Cards for a ride down the Deepsea Metro's depths in Splatoon 2!
THE CHALLENGE
Who can burst all the targets the fastest in the Octo Expansion stage D06/C01 [Radical Rails Station]?
Our claim to fame is 00:27.71. The Octoling with the fastest time by 12:00 a.m. PT will win a coveted $10 eShop card (North America), along with the illustrious title Rider of Radical Rails.
THE RULES
You'll need to have purchased Splatoon 2's Octo Expansion to enter today's challenge.
Use any weapon you want, though our money's on the Jet Squelcher being the quickest.
All submissions must be made using the Switch's 30 second video capture feature ending with your Stage Clear time (as shown above). No photos necessary.
Since the Octo Expansion doesn't keep official tally of scores, we'll be eyeballing videos for the moment that last box bursts.
As we're dealing with a countdown timer, the player with the most time left on the clock will be the winner.
In the instance of a tie, we'll settle things in Smash live later during the week using various level 50 amiibo representing the winners.
Feel free to improve upon and submit new scores as many times as you like.
Follow @NinWire and @tater_n_tots on Twitter and retweet this post to qualify for today's cash prize. After that, simply share your video in the Twitter comments and we'll personally send both your winnings and a social media shoutout within the week.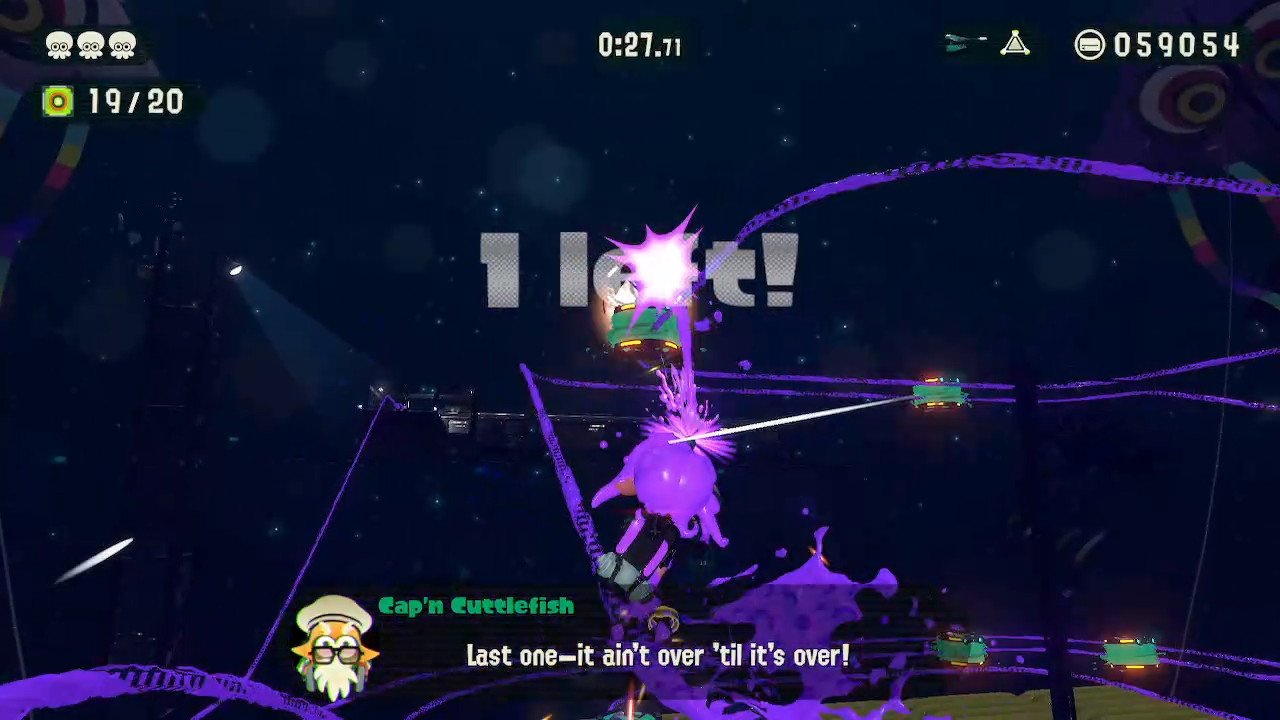 We'll be keeping score right here in the article all day, too, so you can easily keep track where your top rivals rank. Feel free to tune in to our Splatoon 2 livestream at 5:00 p.m. PT where I'll personally be contending alongside today's top competitors for fame and glory.
So whaddya say? Ready to ride the rails to freedom? To quote Inkopolis Square's dynamic duo themselves, "Don't get cooked… Stay off the hook!"
---
Rider of Radical Rails
1. @YuushiDaSuushi [00:39.85]
Masters of Tangled Tentacles
2. @Splat_AIDz [00:39.21]
3. @codbfush [00:39.48] or 40?
4. @DavimaxPL [00:39.01]
5. @Choochster15 [00:34.60]
6. @Eddible_ [00:34.35]
7. @tater_n_tots [00:27.71]
8. @wxyzswitch [00:15.51]
Leave a Comment