The soundtrack for Octopath Traveler was first announced for Japan back in April, and we were only given a glimpse of what it would provide excited RPG players at that time. Lucky for us, it looks like we now have even more information to give us an idea of what we can expect when the beautiful music compilation is released in July.
First off, Square Enix has provided us with a look at the soundtrack's cover art: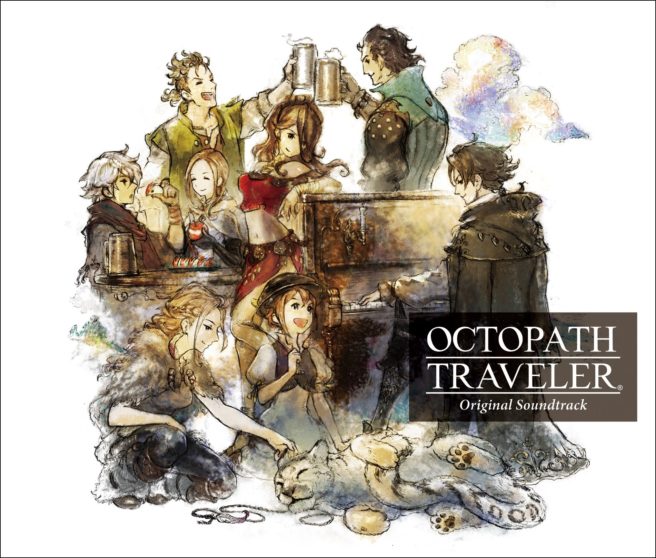 Reminiscent of beloved illustrations for RPGs of old, fans of the genre will undoubtedly be thrilled to add this memorabilia to their collections for the art alone.
We've also been given a much more solid idea of the music that will be included on the soundtrack. Listed below are the tracks that Square has shared on the official Octopath Traveler music page.
Disc 1

Octopath Traveler – Main Theme –
Ophilia, the Cleric
Cyrus, the Scholar
Tressa, the Merchant
Olberic, the Warrior
Primrose, the Dancer
Alfyn, the Apothecary
Therion, the Thief
H'aanit, the Hunter
The Frostlands
The Flatlands
The Coastlands
The Highlands
The Sunlands
The Riverlands
The Cliftlands
The Woodlands

Disc 2

Flamesgrace, Guiding Light
Melancholy
Atlasdam, Seat of Learning
Tranquil Days
A Sea Breeze Blows
How Amusing!
Cobbleston, Nestled in the Hills
Tension
A Brief Respite
Dark Caverns
Battle I
Victory Fanfare
Requiem for the Fallen
Sunshade, City of Pleasures
On a Knife's Edge
Clearbrook, by the Pristine Waters
Reminiscence
A Settlement in the Red Bluffs
Discord
My Quiet Forest Home
Determination
Beneath the Surface
Creeping Dread
Decisive Battle I

Disc 3

Battle II
Town Veiled in White
Gazing Over the Great Plain
Enveloped in Kindness
Grandport, Center of Commerce
Among Stately Peaks
Sorrow
The Trees Have Eyes
Despair
Decisive Battle II
Oasis in the Sparkling Sands
River of Life
Bonds of Friendship
Bolderfall, Atop the Precipice
Victors Hollow, Jewel of the Forest
Jubilation
Forbidding Corridors
An Ill Omen

Disc 4

Battle III
They Who Govern Reason
Stolen Dreams, Lost Light
Pure Evil
For Light
For Truth
For Treasure
For Redemption
For Revenge
For Succor
For Freedom
For Master
—
—
—
—
—
—
Bonus Tracks (Tracks 19-26)

These 85 songs will be available in Square Enix's online store next month, on July 13th, for 3,800 yen (roughly $35 USD). There's no word yet on a release for this in North America, but we'll make sure to share any news regarding its arrival, should it be announced. Until then, you can keep in mind that the Wayfarer's Edition (currently sold out on Amazon) includes a Sound Selection CD, but it's likely only a portion of the tracks will be available there.
Leave a Comment